The Office: Superfans Episodes Shows Stanley Almost Coming To Blows With Ryan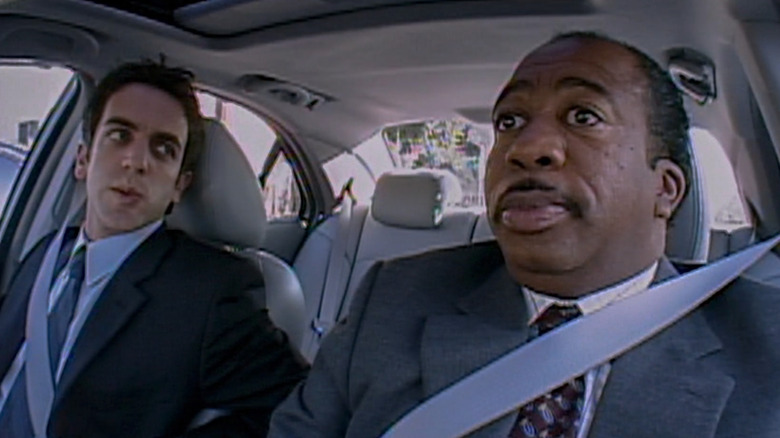 NBC
The extended cut episodes of "The Office" that have recently appeared on NBC's streaming service Peacock have given fans of the long-running show a look at many scenes that didn't make it into the originally aired episodes, while no doubt also helping steer viewers to the premium subscription service. 
Even before the so-called "Superfan" episodes became available, "The Office" was a streaming juggernaut, with more than 57 billion minutes streamed in 2020 alone, almost 20 billion more than the nearest challenger, "Grey's Anatomy." In Season 3, Episode 19, "The Negotiation," warehouse worker Roy Anderson (David Denman) nearly assaults salesman Jim Halpert (John Krasinski) in the office after learning that Jim kissed Roy's soon-to-be ex-fiancee, Pam Beesly (Jenna Fischer). If not for quick action from Dwight Schrute (Rainn Wilson) and some handy pepper spray, Roy would have certainly landed one or more punches, making for a very rare show of violence for the smash-hit workplace mockumentary. 
But the extended cut of the previous episode, "Cocktails," introduces a never-before-seen sequence outside the Dunder Mifflin offices where two other characters, Stanley Hudson (Leslie David Baker) and Ryan Howard (B.J. Novak) seemingly actually come to blows. However, the fight is not actually shown; it's just alluded to with some prior arguing and muffled sounds from behind a closed door. 
Stanley is convinced Ryan is interested in his underage daughter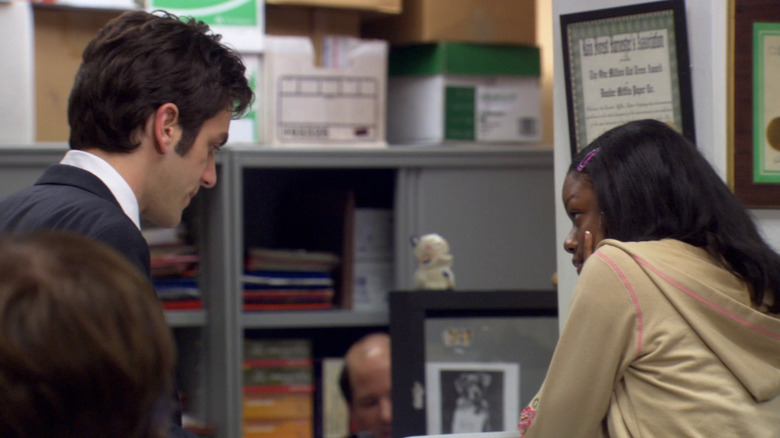 NBC
The scene takes place in a local bar where much of the Dunder Mifflin office and warehouse staff plus Roy's brother Kenny (Michael Patrick McGill) have gathered for some happy hour drinks. 
Stanley's 16-year-old daughter, Melissa (Jazz Raycole), gets into the bar with the help of a fake ID she purchased from Creed (Creed Bratton), and approaches Ryan to continue the flirtation she initiated in the previous episode, "Take Your Daughter to Work Day." 
That prior break room interaction led to a confrontation (viewable on YouTube) between Stanley and Ryan, with the irate father poking his finger at the clearly terrified young temp and shouting, "Boy, have you lost your mind? Because I'll help you find it." When Melissa approaches Ryan again in "Cocktails," a visibly jealous Kelly Kapoor (Mindy Kaling) is the first to notice the conversation, and, while sitting next to Stanley, asks, "Who the hell is Ryan talking to?" Stanley groans, "Oh, not again" and jumps up, rushing towards Ryan and Melissa, again jabbing his finger at Ryan, calling him a "low-budget Lothario." Ryan stammers a futile explanation, then escapes into the bar's men's room. Stanley follows right behind, still yelling, and some loud thumps are heard as the door visibly rattles on its hinges. Stanley continues to yell threats at Ryan, shouting, "I'll be on you like a hot wind." 
There was another memorable incident of near-violence in the following episode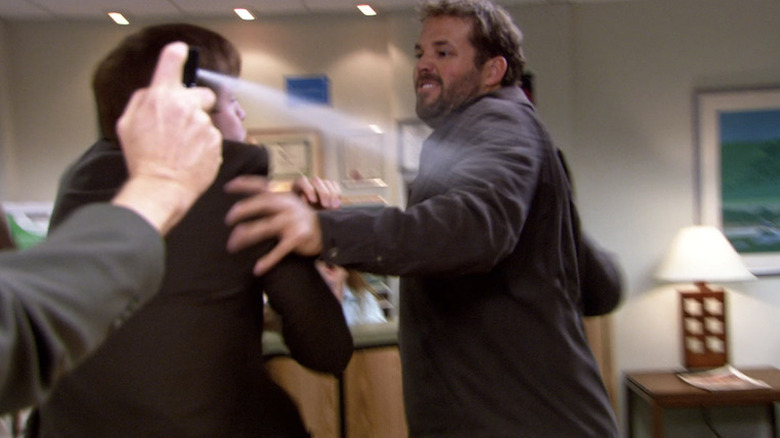 NBC
Considering the tremendous difference in size and temperament between the two men, if a fight did take place inside that bathroom it certainly would have been very one-sided, but considering that Ryan does not reappear with any visible damage to the face that earned him the "hottest in the office" Dundie award, we can probably assume that the fight was limited to a couple of shoves against the closed door and no actual punches were thrown. 
During the entire exchange, beleaguered Human Resources rep Toby Flenderson (Paul Lieberstein) stands just a few feet away, focused on winning a stuffed animal to give to Pam, who immediately hands it back to him, suggesting he give it to his daughter. More violence soon erupts when Pam confesses to Roy that she and Jim had recently kissed, and Roy and Kenny proceed to trash the bar in frustration. 
Roy's in-office confrontation with Jim comes in the following episode, making this three-episode mini-arc the most violent stretch of "The Office" until Season 9, Episode 14, "Vandalism," when another warehouse worker, Frank (Brad William Henke), moves to attack Pam and is stopped by PBS boom microphone operator Brian Wittle (Chris Diamantopoulos). In none of these three scenes are any actual punches shown on screen, keeping each episode free of content warnings for violence.