How To Train Your Dragon Is Getting The Live-Action Treatment
The "How to Train Your Dragon" movies are some of the more noteworthy additions to animation in recent memory. The first film, which was released all the way back in 2010, received unanimous acclaim from both fans and critics, and the following two films pretty much followed suit. They were mainly praised for their beautiful animation and smart, often emotionally resonant writing. The movies were also massive financial successes, with the franchise as a whole grossing well over $1.6 billion at the worldwide box office.
The story itself centered around Hiccup (Jay Baruchel) and his Viking family village, who are all dragon hunters. However, Hiccup ends up befriending the dragon Toothless and changing the way his village looks at the supposed dragon threat. This story continues across the three films, with Hiccup and his friends discovering more and more about the origins of dragons while battling against foes who have nefarious plans for the dragons. But while the third film seemed to wrap up the story of Hiccup, it doesn't appear that Hollywood is done with the property quite yet. Much like a lot of Disney animated films in recent memory, however, it seems that Universal is giving "How to Train Your Dragon" the live-action treatment.
The live-action How to Train Your Dragon is scheduled to release in 2025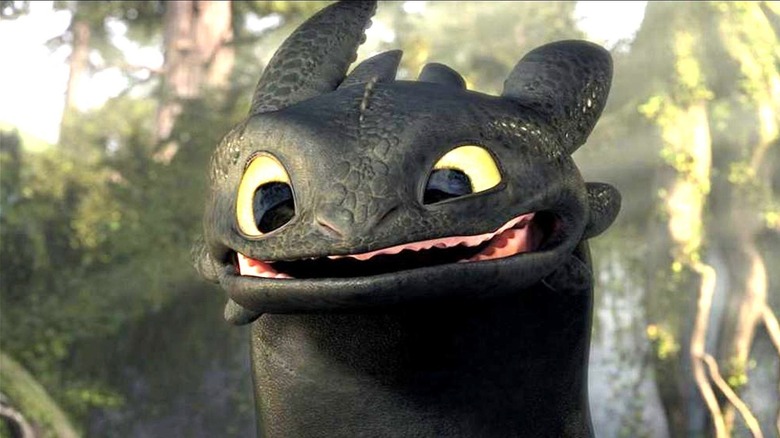 DreamWorks Pictures
Per Variety, Universal officially announced that a live-action "How to Train Your Dragon" movie is in the works, and it's scheduled to be released in theaters on March 14, 2025. Interestingly enough, Dean DeBlois, who co-wrote and co-directed the first film and wrote and directed the second and third films by himself, is set to return in a writing and directing capacity. There's no news yet on who will star in the film, but that's not exactly surprising given how early into development the forthcoming film seems to be.
This is an interesting move for Universal, but it's also not entirely surprising. The premise of "How to Train Your Dragon" lends itself well to the live-action treatment given the popularity of dragons in film, and given how successful Disney has been with their live-action remakes of popular animated films, this almost seems like it was inevitable. Again, there are really no other details available at the moment, including whether or not it will have the same story as the first film or if it will lean more toward the story told in the books. Either way, this is an exciting development, and hopefully, fans of the franchise will get a live-action film that measures up to the highly acclaimed animated films that came before.