Jennifer Jason Leigh's Hunters Research Included Recordings From Creator David Weil's Grandmother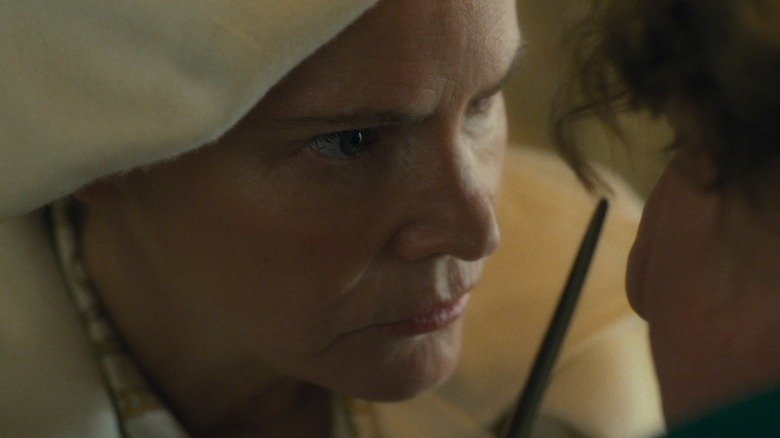 Amazon Studios
Since the late 1970s, Jennifer Jason Leigh has showcased her versatile range as an actor in television and film. Leigh's intensity shone on screen during the independent film explosion of the 1980s and '90s with chameleonic roles in "Last Exit to Brooklyn," "Short Cuts," "Mrs. Parker and the Vicious Circle," "Dolores Claiborne," and "Georgia." She is an actor that Roger Ebert once described as having "the face of an angel, and she plays roles from hell," which is a testament to her depth and earnestness as a performer. After years of being snubbed, this ferocity finally won her an Academy Award nomination for best supporting actress in Quentin Tarantino's "The Hateful Eight" in 2015.
After decades on the big screen, the "Single White Female" star turned to long-form acting on the small screen in the 2010s and '20s, including a part on Season 2 of "Hunters." The Amazon Prime Video drama series ended with its second outing, but not before revealing another powerhouse performance from the actor in her role as Jewish Nazi hunter Chava Apfelbaum. Leigh has revealed that her research for the character included listening to recordings from series creator David Weil's grandmother, which can help explain the lived-in realism Apfelbaum exudes every time she is on screen. 
Along with the recordings, Leigh also watched the 1985 Holocaust documentary Shoah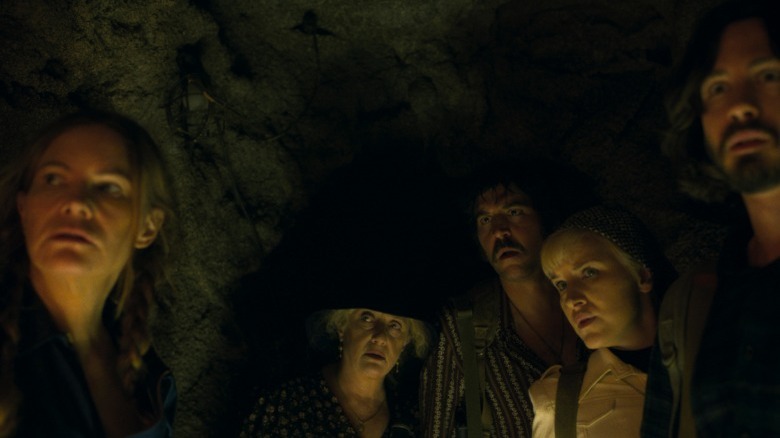 Amazon Studios
"Hunters" is set in the 1970s, and its period atmosphere and stellar production design stand in tandem with its poignant and often violent exploration of vengeance and justice. As a show about a group of Nazi hunters dedicated to finding and bringing those involved in the Holocaust to justice, it also shows how those themes can be blurred in moral ambiguity. In an interview with Jo Blo covering her part in the second season of "Hunters," Jennifer Jason Leigh revealed some intriguing backstories of how she approached her character in the show.
When asked about her research process and if that is something she does, the actor shared, "It is, actually. You know, David Weil was really helpful. He sent me recordings his grandmother had made and a letter she had written, and of course, I watched 'Shoah' again. And they printed 'Shoah' as a book so that you can read all of the interviews and everything, and it's so upsetting." She then shared how horrifying the 1985 documentary is.
Leigh also pointed out how the drama's superhero-esque narrative was unique. She praised Weil's ability to spin fantasy elements into a very real and very serious subject while never making it seem exploitative. The actor described the part as taking a "leap of faith," and "there's a lot of, obviously, wish fulfillment in that." Chava is yet another intriguing Jennifer Jason Leigh creation in a career of beguiling characters.