Elisabeth Shue's First Episode Of CSI Remains Her Favorite
Before she made the transition to long-form television, Elisabeth Shue's film career included numerous teen and young adult dramas and rom-coms from the 1980s. Her roles as Ali in "The Karate Kid," Chris Parker in "The Adventures of Babysitting," and Jordan in "Cocktail," helped to make her a familiar name and face of the decade. The 1990s saw the actor branch out into more serious fare, such as her performance as Sera in 1995's "Leaving Las Vegas" alongside Nicolas Cage. The part earned her an Academy Award nomination for best actress, in addition to numerous awards in the same category from critics groups.
By the 2010s the "Deconstructing Harry" star turned to the small screen with a lead role in "CSI," which she stayed on for three seasons until the show's ending in 2015. Her role as CSI Assistant Supervisor Julie Finlay was first introduced towards the end of Season 12, where she acted alongside Ted Danson who played D.B. Russell. 
Finlay and Russell's camaraderie together became a major part of the dynamic of the final three years of the procedural. Even with numerous installments to choose from, Shue says her very first episode in 2012 remains her favorite.
Shue loved establishing her and Ted Danson's characters' relationship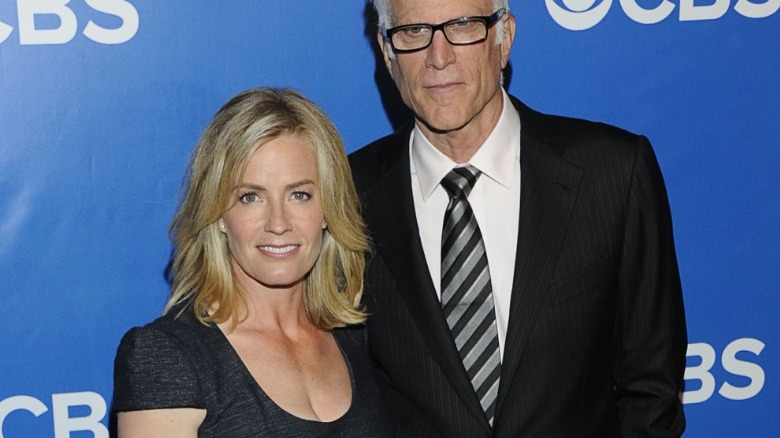 Eugene Gologursky/Getty Images
In a 2014 interview with The Killing Times, Elisabeth Shue revealed several details about her time on "CSI." When asked what her favorite episode of the program was out of 14 years worth of episodes, Shue responded, "I would say my first episode. I'll always look back and really appreciate just the feeling of nerves that I had and I was welcomed so wonderfully by everybody and so I have a really good feeling about my first episode." 
The actor then spoke about the dynamic between her character and Ted Danson's D.B. Russell. Shue continued, "And the writing I think was really good and I loved establishing Ted and my relationship. And so I'll always look back at that one as the one that was really special to me." When asked by the publication why she thinks the series had made it to 300 episodes at that point, she praised all the actors as "extraordinary." 
Shue also commended the hard work of the crew and the producers for always striving to create compelling entertainment for the audience. The actor gave credit as well to the intensity of the cases in each and every installment of the show.