Fire Country Season 2 - What We Know So Far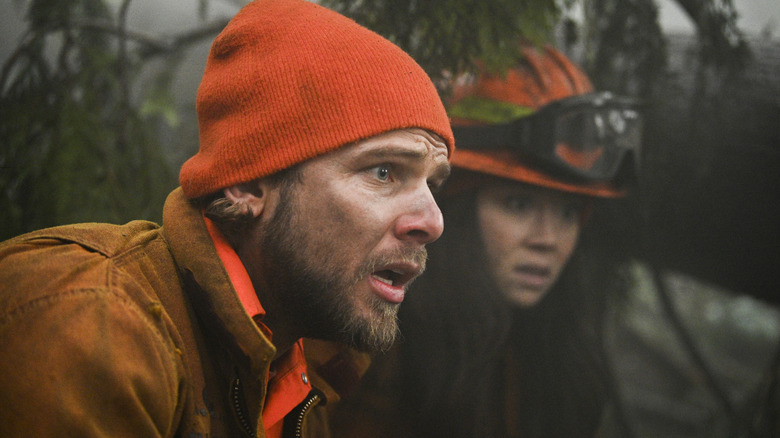 Sergei Bachlakov/CBS
America's got a fondness for firefighters — just look at how popular shows like "9-1-1: Lone Star" and "Chicago Fire" are. CBS' brand new hit, "Fire Country," is no exception to that rule and underscores this enjoyment big time.
The drama pulls focus on a group of California Department of Forestry and Fire Protection volunteer firefighters; some of them are prisoners looking for legal leniency, some of them are volunteers, and some of them are expert firefighters. The show's action centers around Bode Donovan (Max Thieriot), birth name Bode Leone, a criminal seeking to curtail his multiyear armed robbery sentence among other legal troubles by serving on the team through the California Conservation Camp Program. 
Bode finds himself back in his hometown where he was once a golden child who was expected to go far, and now must deal daily with his fall from grace. The heavily wooded Edgewater, located in Northern California, holds torments, charms, and secrets for him. There, he meets faces old and new as he works to become the best firefighter possible while seeking redemption for his previous crimes. 
"Fire Country" has been a breakaway hit for CBS this year; Variety reports that it, like "Ghosts," is pulling in over 10 million viewers across platforms and even secured a full season order only two episodes into its first run. Now it's been renewed for its second season. What can we expect to see happen to Bode and his friends? Here's what we know.
When will season 2 of Fire Country be released?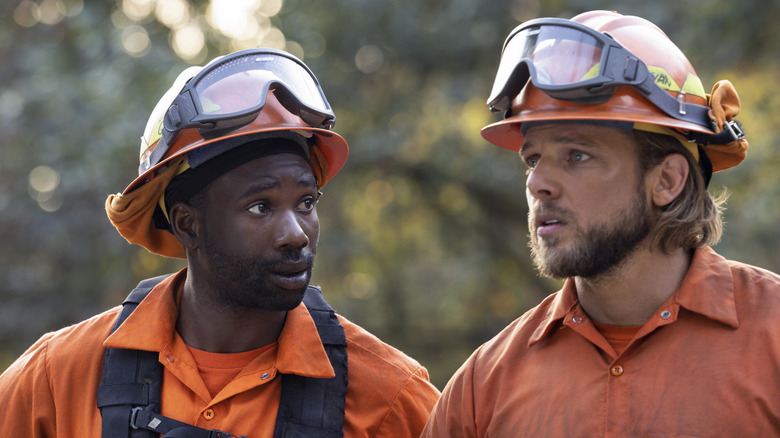 Sergei Bachlakov/CBS
As the first season of "Fire Country" is currently airing and will not likely conclude until April or May of 2023, it's impossible to know when the show's second season will air. But we can make an educated guess as to when it might emerge.
The first season of "Fire Country" debuted on CBS on October 7, 2022. CBS has a tendency to premiere new shows from mid-September to mid-October every fall season, with the string of episodes running with very few breaks from October through March. Considering the level of success of "Fire Country," look for the eye network to debut the show's second season as soon as possible. 
If they can get it out by early September, then they'll definitely do so. But in lieu of an official announcement, we can assume that you'll be watching Season 2 by late October 2023 at the very latest. Since the series boasted CBS' largest audience for any show airing this season with its post-AFC East championship episode on January 29th, more "Fire Country" can only be a good thing.
What's the plot of season 2 of Fire Country?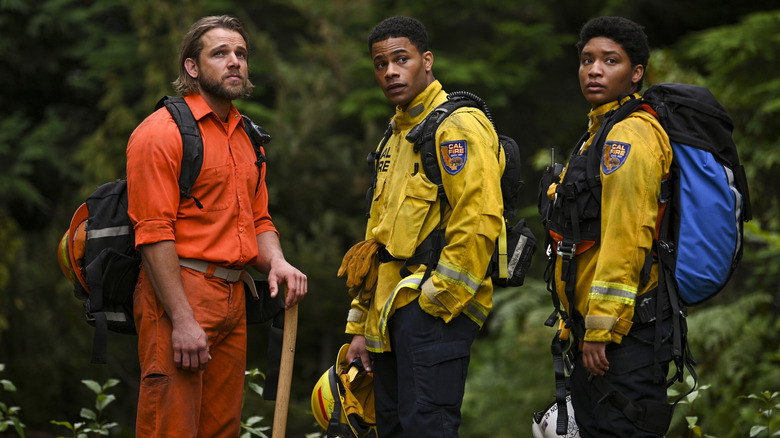 Sergei Bachlakov/CBS
As the first season of "Fire Country" is currently airing as of press time and will not likely conclude until April or May of 2023, it's not yet known what the plot of the show's second season will be about. But the series has certain continuing storylines that will definitely continue on into Season 2.
Bode's pursuit of redemption and a new life as a better man will definitely be centered in Season 2. His ongoing rivalry with Jake Crawford (Jordan Calloway) will likely continue, as will the love triangle between Bode, Gabriella Perez (Stephanie Arcila), and Jake. You can expect the team to keep on battling for respect and to be seen as whole human beings instead of criminals on a holiday. And with every episode, expect to see them deal with life-endangering blazes and explosions. Whether those blazes will be connected to the show's arsonist who seems to be behind the blazes plaguing Edgewater is currently unknown.
Vince Leone (Billy Burke), Bode's fire chief father, will continue to battle his guilt over the death of Bode's younger sister, Riley (Jade Pettyjohn), who passed away in a car accident. And, unless she manages to score a transplant or passes away before Season 1 ends, Bode's mother Sharon (Diane Farr) will either get a kidney transplant, remain in stasis, or finally allow Vince to tell Bode that they're a match. Unfortunately, if Bode donates, he won't be able to continue with the firefighting program, as he'll be too physically vulnerable to keep up with the program and will have to return to jail. Worse yet — Vince is a match, too, but hasn't told Sharon due to currently unknown reasons. Talk about a tangled web.
Who will star in season 2 of Fire Country?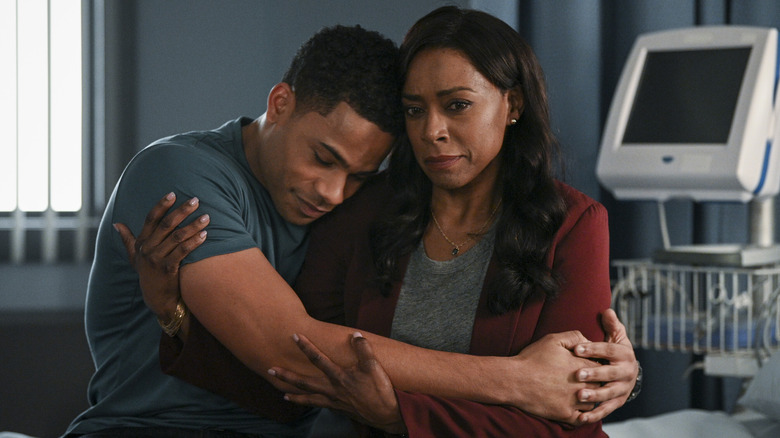 Sergei Bachlakov/CBS
Variety confirms that Max Thieriot (Bode Leone/Donovan), Billy Burke (Vince Leone), Kevin Alejandro (Manny Perez), Diane Farr (Sharon Leone), Stephanie Arcila (Gabriella Perez), Jordan Calloway (Jake Crawford), and Jules Latimer ( Eve Edwards) will all continue with the show into Season 2. Additionally, Zach Tinker, who was added to the show during Season 1 as the seemingly kind and humble Collin, seems a likely lock to keep with the show unless an unexpected twist takes him out of the series.
Actors such as Jade Pettyjohn (Riley Leone), W. Tré Davis (Freddy Mills), and Michael Trucco (Luke Leone) seem likely suspects to continue popping up on the series on a recurring basis during Season 2. And we know for a fact that we'll see Rebecca Madder of "Once Upon a Time" as Faye, the head of a private firefighting company who takes a professional and personal interest in Manny. Plus, Kanoa Goo of "The Rookie" will play a swimmer named Kyle who's into Gabriella.
Who will be the showrunner for season 2 of Fire Country?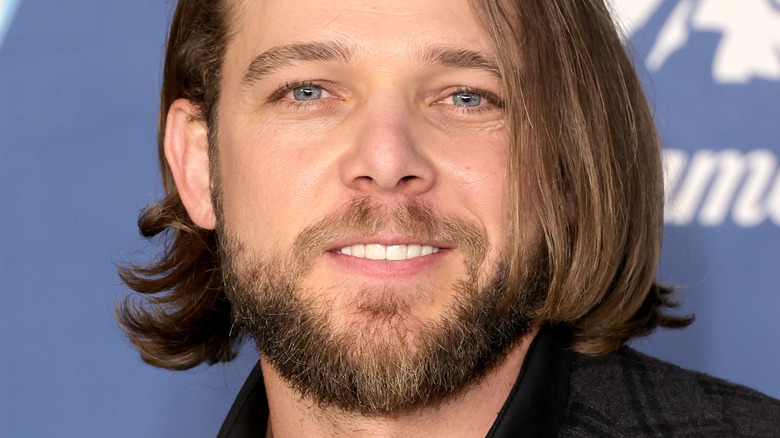 Michael Loccisano/Getty Images
Tia Napolitano appears to be continuing on as the showrunner for "Fire Country" into Season 2, per Variety. Napolitano previously worked on Freeform's "Cruel Summer."  Jerry Bruckheimer Television will continue to be the show's production company. Tony Phelan, Joan Rater, and Max Thieriot will continue to co-executive produce the series they co-created from a scenario provided by Thierot, who grew up in Northern California and was inspired by the scenery that surrounded him as a youth and its tendency to be susceptible to fire activity to conjure up Bode's life. Jerry Bruckheimer and KristieAnne Reed are also executive producers, both of them representing Jerry Bruckheimer Television. Rater, Phelan, and Thieriot have also written and co-written several Season 1 episodes, so possibly will write more for Season 2.
There's no word as to who will handle the majority of the directing work for the show's second season; a number of directors, including actor/director Sarah Wayne Callies, directed for Season 1.
Where to watch the first season of Fire Country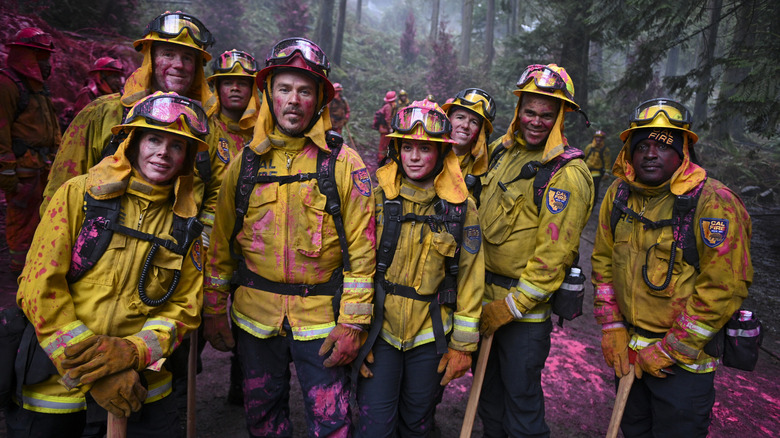 Sergei Bachlakov/CBS
If you're looking to catch up on Season 1 over the summer months or before its first season finale airs, you've got a number of options on your hands. CBS offers the show's last four episodes for free with ad support on their official website, with the rest of the season being unlockable with proof of a cable, satellite, or tv provider login. Pluto also offers the show's last four episodes with ad support for free.
But if you want to watch all of "Fire Country" with either limited or no ads at all on your own time and dollar, one has to go with Paramount+. For either $4.99 a month for limited ads or $9.99 a month to go ad-free, you can watch the whole show uninterrupted at any time you want to, without worrying that your access will expire before you can finish enjoying the episode in question.