Bob Odenkirk Barely Watched A Full Breaking Bad Episode Before Booking Saul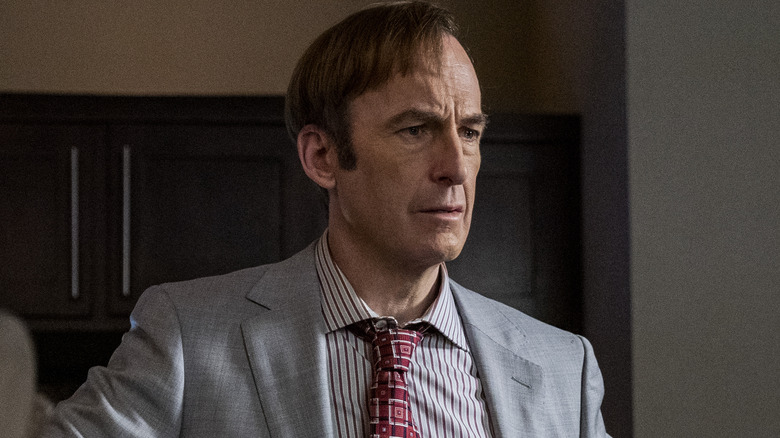 AMC
For over a decade, Bob Odenkirk has been known to audiences across America as a talented scene stealer and standout cast member of AMC's groundbreaking crime-drama "Breaking Bad." In the series, Odenkirk was introduced to viewers as Saul Goodman, a corrupt criminal defense lawyer who seeks to support (and reap profit from) Walter White's (Bryan Cranston) budding meth empire.
When the series came to a close after five critically acclaimed seasons, creator and executive producer Vince Gilligan devised his next project — a prequel series concerned entirely with Saul's early years as a hustling Albuquerque attorney trying to scam his way from paycheck to paycheck. This resulted in "Better Call Saul," which ran for six seasons and is regarded as one of the few prequels to meet its lauded predecessor's lofty expectations.
In addition to delivering emotionally satisfying character arcs across several years of carefully crafted storytelling (and giving other "Bad" breakouts Giancarlo Esposito and Jonathan Banks a chance to carry their narratives), "Better Call Saul" almost transformed Odenkirk's Jimmy McGill into the focal point of the entire "Breaking Bad" universe. To go from recurring guest star to franchise lead is undoubtedly an impressive feat, though one that is rendered even more shocking by learning about Odenkirk's time directly before taking on the role that would make him a star.
Odenkirk tried to watch an episode on the way to set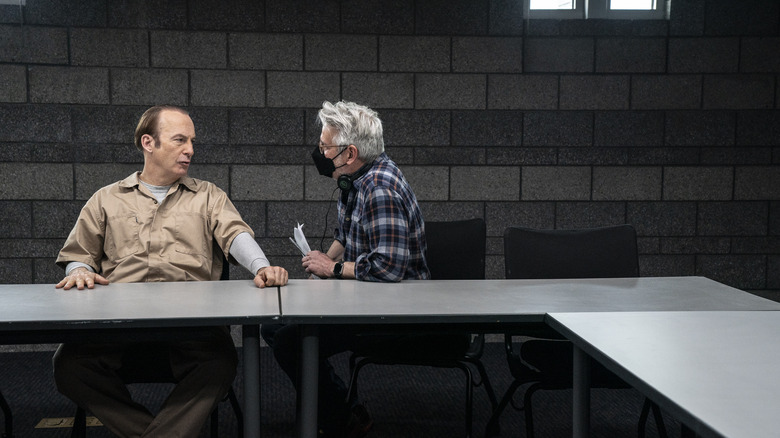 AMC
In a New York Times profile interview conducted during the production of the final season of "Better Call Saul," Bob Odenkirk got surprisingly candid about what his mindset was going into his "Breaking Bad" experience. It's a rather infamous piece of trivia at this point that when he was first approached about the role of Saul Goodman in 2009, the actor was teetering on the edge of financial ruin — so much so that his agent ordered him not to turn down the job. Thus, Odenkirk immediately accepted his new role and made the trek to New Mexico to shoot his scenes — his preparation beforehand was less than comprehensive.
Assuming impending rewrites, the "Nobody" star opted not to memorize the dialogue of his notoriously verbose character — Peter Gould, the show's writer, had no plans for such rewrites. Moreover, Odenkirk hadn't even seen an entire episode of the series, having given one a chance on the flight to Albuquerque. This wasn't due to his disliking of the series; instead, the actor felt he didn't need to sit through an entire hour of television to understand the tone and story. Whether or not Odenkirk's lack of familiarity ultimately helped his performance is up for debate, though it can't be ignored that his character commonly breezed into scenes with a refreshing — if morally abhorrent — air about him.
His performances as Saul Goodman, Jimmy McGill, and Gene Takavic turned Odenkirk into a household name and one of the most in-demand actors working today. Having starred in major feature films like "Little Women," "The Post," and "Nobody," Odenkirk is set to make a quick return to TV with the upcoming AMC series "Lucky Hank."