Did Parks And Recreation's Amy Poehler Actually Invent Galentine's Day?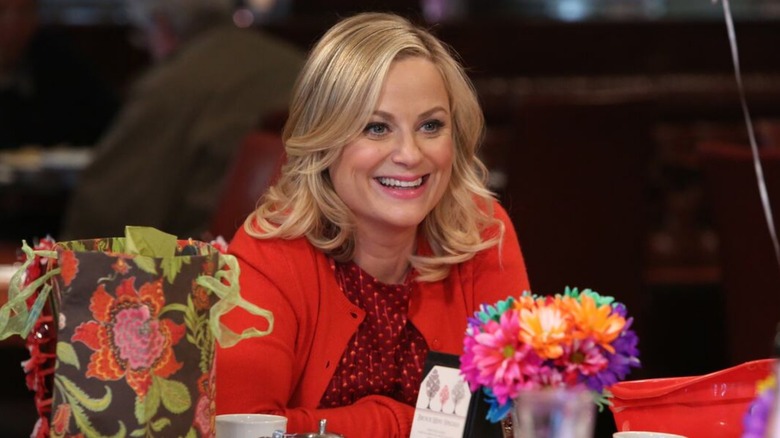 Danny Feld/NBC
It's Valentine's Day, which means that couples across the world are spending the day letting their significant others know how much they mean to one another through chocolates, date nights, and whatever other signs of affection people use to show they care. However, for those who don't have that special someone in their lives, or who do but want to let their friends know they care about them just as much, there's also Galentine's Day, celebrated on February 13 for lady friends to spend time together.
Anyone who has seen "Parks and Recreation" knows that Galentine's Day is a holiday that, within the canon of the show, was created by Leslie Knope (Amy Poehler) to give gifts to and spend time with her gal pals on the day before Valentine's Day. However, many people don't know whether the holiday was created by the show, or whether the show incorporated an already-existing tradition.
Galentine's Day is a creation of Parks and Recreation
Although it might feel like Galentine's Day has been around forever, it is indeed actually an invention of "Parks and Recreation," specifically from Season 2, Episode 16, titled "Galentine's Day." The episode aired a few days before the actual Galentine's Day, on February 11, 2010. To explain what the holiday is, we'll let Leslie herself describe it.
"What's Galentine's Day?" Leslie says in the episode. "Oh, it's only the best day of the year. Every February 13, my lady friends and I leave our husbands and our boyfriends at home and we just come and kick it, breakfast style. Ladies celebrating ladies. It's like Lilith Fair, minus the angst. Plus the frittatas."
Although the holiday didn't exist before the show, it certainly does now, and you can celebrate it with your friends however you please. So go out there, hang out with your gals, give them gifts if you want to, and overall just show them that you care about them just as much as you might care about any significant other.