How GLOW's Cancellation Impacted Alison Brie And Dave Franco's Somebody I Used To Know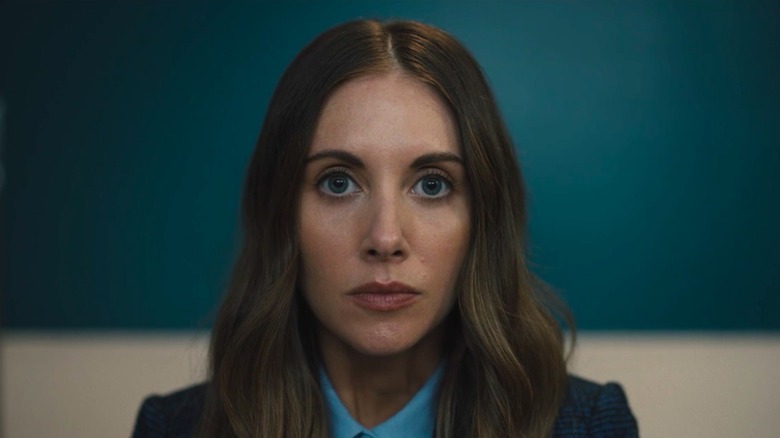 Amazon Studios
The recent Amazon Prime Video romantic comedy, "Somebody I Used to Know," was written by the real-life married couple — and frequent collaborators — Alison Brie and Dave Franco. (Franco also directed the film.) It follows Ally (Brie), a showrunner of a recently-canceled reality TV show, who runs into her ex, Sean (Jay Ellis), while visiting her mother in Leavenworth, Washington. The two reconnect and Ally realizes she still has feelings for Sean — only to find out that Sean is now engaged to someone else, a woman named Cassidy (Kiersey Clemons).
Brie is perhaps best known for playing Annie Edison in 110 episodes of "Community." But one of her most notable roles of recent years was Ruth "Zoya the Destroya" Wilder on "GLOW," the Netflix comedy-drama series about women's professional wrestling circuit of the 1980s. In 2019, the series was renewed for a fourth and final season, but production had to be halted soon after because of the COVID-19 pandemic. And a month later, Netflix sadly canceled the fourth season entirely. Suffice it to say, it was a major disappointment for fans of the series, as well as for the cast and crew.
Despite not being able to finish the series, one good thing did come out of it for Brie. It influenced the writing of "Somebody I Used to Know" — here's what the writer-actress had to say on the matter.
Ally's professional life mirrors Brie's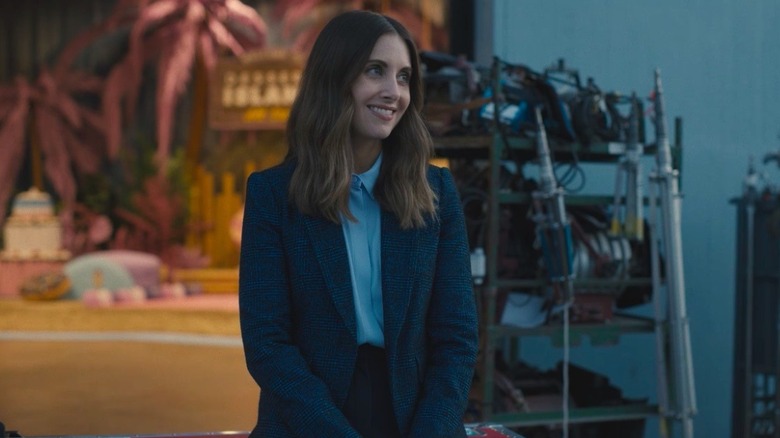 Amazon Studios
In an interview earlier this month with Vanity Fair, Alison Brie and Dave Franco discussed the process of bringing "Somebody I Used to Know" to life. They wrote it while quarantining at home in 2020 — right around the time that "GLOW" was canceled. The interviewer pointed out that Brie's character, Ally, is also facing the professional disappointment of her show getting canceled and asked if she was inspired by her own experience with "GLOW."
"It's probably not an accident that Ally's show is brutally canceled between its third and fourth season," Brie said. As it turns out, when Brie and Franco began writing, she still thought she would be returning to set. The actress continued, "We were already shooting the first two episodes of 'GLOW' Season 4, which was why we had a special urgency [to finish the script]. We were like, 'Oh, we have these two weeks and then I'm going to go back into production on the show.' I guess that just wove its way in."
Franco said that Ally's career reflects plenty of other moments that he and Brie have gone through in their professional lives before. "On top of that, there have definitely been moments in our careers where we feel like we've been holding on a little too tight because we're scared that it'll all go away," the director added. "You almost forget why you got into it in the first place. And what ends up happening is you stop taking risks."
The GLOW cancellation was a 'heartbreak'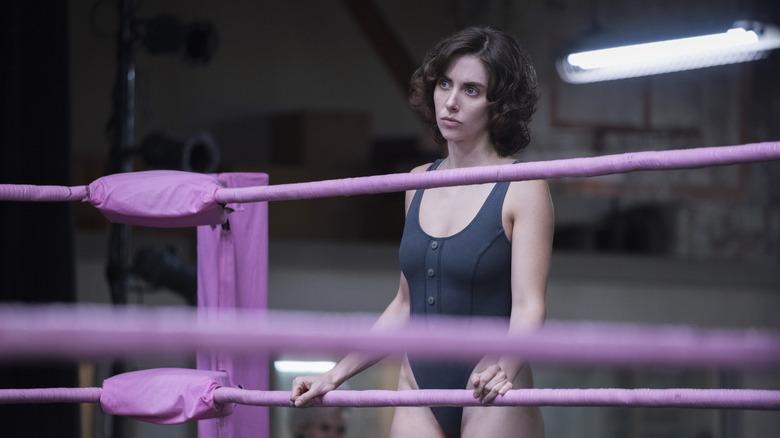 Erica Parise/Netflix
Alison Brie has previously addressed "GLOW" being canceled too soon. In a chat with Decider in August last year, when the interviewer brought up their disappointment about the Netflix series' cancellation, Brie was quick to express her own feelings of discontentment.
"It's the great heartbreak of my career," Brie said. "But it will forever live on as, like, this great thing. I loved working on it -– maybe more than anything I've worked on! –- and I miss it a lot." That said, the feelings aren't all negative. Brie added, "But I feel very grateful for the time I had on the show."
The actress also opened up about how she took the news, admitting that the scope of the COVID-19 pandemic helped in being more accepting of it. "It was surprising! But it was sort of eclipsed by the shock of everything that was happening globally," Brie said. "You know, so in a way, it was almost like it put things in perspective."
Though it will never get the conclusion it deserves, the first three seasons of "GLOW" are streaming on Netflix. "Somebody I Used to Know" is on Prime Video.