Eugene Levy Worried Whether Dan Levy Had What It Takes To Make Schitt's Creek A Success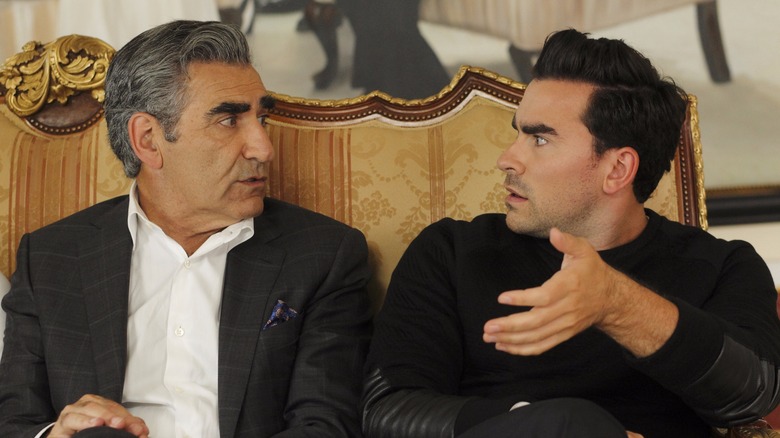 CBC Television
Considering the incredible amount of critical acclaim that "Schitt's Creek" received during its six seasons on air, it's sometimes hard to remember that the show began as something of a hidden gem. Premiering in 2015, the first two seasons of the Canadian comedy series earned their fair share of awards but remained relatively unknown in the United States until 2017 – when "Schitt's Creek" moved from Pop TV to Netflix.
The arrival of "Schitt's Creek" on Netflix caused the show to explode in popularity, and over the next three years the series earned 19 Primetime Emmy nominations, winning nine Emmys for its sixth and final season. The show's meteoric rise from cult classic to Emmy darling was particularly sweet for series co-creators (and real life father and son) Eugene and Daniel Levy — who developed the series together and starred alongside one another as Johnny and David Rose.
Although both Levys earned an incredible amount of praise for their work on "Schitt's Creek," Eugene Levy actually had plenty of doubts about the show at the very beginning – worrying specifically that his son Daniel didn't have what it takes to make the series a success.
Eugene Levy woke up in a cold sweat worrying about his son
During a recent appearance on the "Smartless" podcast hosted by Jason Bateman, Sean Hayes, and Will Arnett, Eugene Levy spoke at length about the development of "Schitt's Creek" and his early concerns that Dan Levy might not succeed in creating the series. "We started this thing when he said, 'Do you want to work on a show?' I said, 'Yeah, that would be good.' I never thought that would happen," Levy admitted.
Levy went on to say that he went into the project intending to simply cherish the time with his son, given that this was a once-in-a-lifetime experience that he ought to make the most of – though eventually his anxieties about working with Dan caught up with him. "At one point I had a nightmare, I woke up in a cold sweat thinking, 'What if he doesn't have it?' I mean, we're gonna keep working on this idea and if I know that he doesn't quite have what it takes, how long are we gonna keep working on this as a project?"
Levy said that he worried about having to sit his son down and explain to him that he "just doesn't have it," though thankfully that conversation never came to pass. Considering the incredible success and acclaim that Dan Levy has enjoyed due to "Schitt's Creek," these early anxieties seem somewhat laughable – though they represent some of the difficulties about working with your family members and wanting to see them succeed.