Yellowstone's Wendy Moniz Says Season 1's Script Felt Like 'Another Language' To Her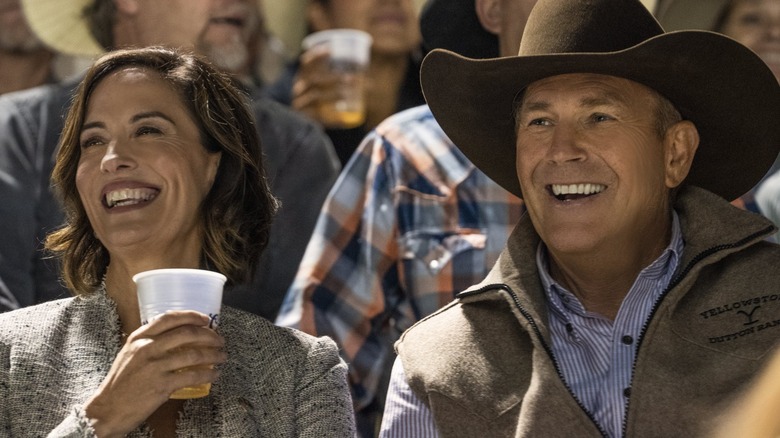 Paramount Network
It is safe to say that there is no other show on television quite like "Yellowstone." Though family-driven soap operas such as "Succession" aren't exactly new concepts, Taylor Sheridan's modern western takes a decidedly different turn. Taking place on the titular cattle ranch far from either coast, the Duttons use their power and influence in a world not often featured in entertainment. In Montana, cattle is an industry unto itself, and John Dutton (Kevin Costner) will do anything to hold onto it. He propels his son Jamie (Wes Bentley) into politics while he uses his daughter Beth (Kelly Reilly) for whatever underhanded plot needs handling.
The cattle ranch is so serious that John even has a habit of employing criminals whose loyalty is contingent on them working at the ranch. With the barbaric "Y" shaped brand that John gives these ranch hands comes the promise that they will go as far as to murder at the behest of their cattle overlord. In "Yellowstone," the wild west appears to have never ended. If this shocked viewers, that goes double for Wendy Moniz, who plays former Governor Lynelle Perry in the series.
The wild west is a whole new world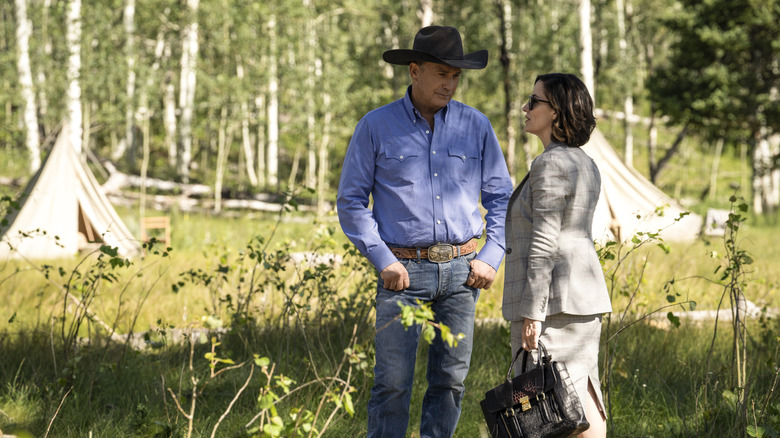 Paramount Network
When "Yellowstone" Season 1 first opens, it gives you little time to breathe. Almost immediately, John Dutton euthanizes a horse after a car wreck, and viewers explore an alien world of cowboys, ranches, and territory disputes. Even though "Yellowstone" takes place in a modern era, it still upholds many of the ideals of the wild west. These types of conflicts may seem from an era long since past, but as Wendy Moniz realized, it is all very real.
"It was like another language," Moniz admitted to Monsters & Critics, "like the way the laws are with the livestock commission and what was going on with the reservations." Life on Indian Reservations is a particular focal point of the series, depicting the hardships and specific experiences of the people that reside there. Tribal police handle disputes within reservation land, and when there is conflict, such as there typically is in "Yellowstone," these borders can get complicated.
Moniz felt motivated to do additional research in this area when she embarked on the role. She said: "I did Google the region's governors to get a sense... mostly I just looked up what it was, what goes on in that part of the country." If there is one thing to take away from the lives of the people in "Yellowstone," cattle isn't just an industry. It's a way of life.