Who Played John Knight, ESU Captain On Blue Bloods?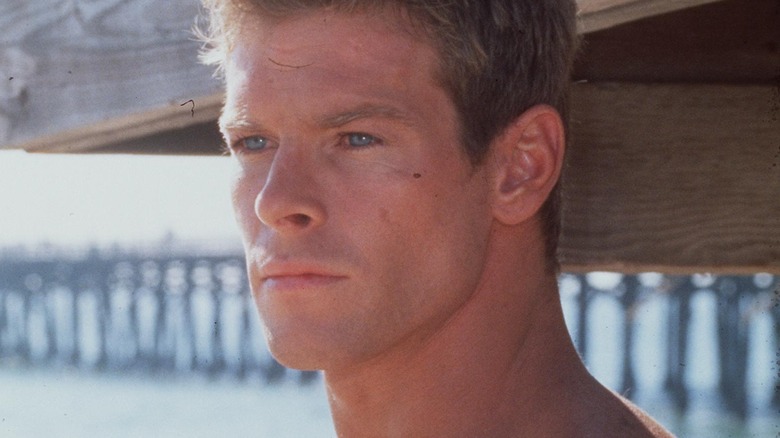 Getty Images/Getty Images
It might be difficult to believe, but there are more than just members of the Reagan family tree working at the NYPD in "Blue Bloods." Whether it's fellow detectives working alongside Danny to crack a case or Frank bristling against bureaucrats in the upper hierarchy of the system, the series has actually featured a ton of personnel staffing the NYPD over the years. Just one of the many faces of the force to pop up for an episode is John Knight, captain of the Emergency Service Unit.
Knight appears just once in "Blue Bloods," that being for the Season 6 premiere episode "Worst Case Scenario." There's no denying that he's a fairly minor character, especially in the grand scheme of the series. However, the actor behind the captain nevertheless has a pretty impressive list of credits, ranging from a major Marvel movie, to one of the biggest video games of all time, to a cavalcade of other beloved TV procedurals.
Timothy Adams has done a lot
The actor behind "Blue Bloods'" John Knight is none other than Timothy Adams, who has built a career of guest starring in all manner of big-hitter properties across film, TV, and even video games. The longtime performer's credit list started off with a bang, as he appeared in a minor role in the 1995 movie "Die Hard with a Vengeance" starring Bruce Willis (via IMDb). From there, he spread out across media, appearing in projects like 1999's "The Virgin Suicides" and starring in the soap opera "Sunset Beach."
Some of Adams' more notable credits include a cameo in the 2014 superhero blockbuster "The Amazing Spider-Man 2" as a pilot. He's also involved with Rockstar's "Grand Theft Auto" video game franchise, serving as a motion capture performer and the voice of recurring character Brucie Kibbutz. Perhaps Adams' oddest role, however, is his relationship with another major procedural franchise. The actor has played a stunning number of "Law & Order" characters, appearing multiple times across four separate shows. All told, he's portrayed as many as six doppelgängers in the "Law & Order" universe.
Outside of acting, Adams works as a professional model and has even featured on the cover of several published romance books (via The New York Post). He also spends a lot of time exercising and challenging himself to strenuous physical challenges. "It's a lifestyle for me, but I give all the credit to my mom for making [me] this way," Adams said.