Why Timothy Dalton Called Filming 1923 'A Nightmare'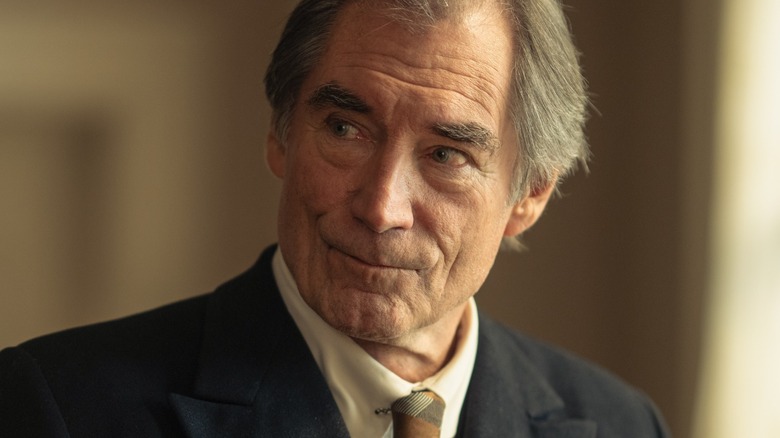 Christopher Saunders/Paramount+
Taylor Sheridan's "Yellowstone" franchise has grown beyond all expectations, and like a runaway train, it shows little sign of slowing down. Fans just can't get enough of its characters, stories, and thought-provoking themes, among other elements. The latest production to come from Sheridan is the Paramount+ exclusive series "1923," which focuses on the fabled Dutton family during one of the most complicated periods in United States history. It's a fascinating watch, to say the least, and it's only made better by an all-star cast of seasoned acting veterans, up-and-coming Hollywood stars, and more.
Leading "1923" are two of the biggest stars to ever grace the cinema, yet they're not exactly familiar faces on the television front. Harrison Ford and Dame Helen Mirren play Jacob and Cara Dutton, who have taken ownership of the Yellowstone Ranch that sits at the center of Sheridan's shared universe. In addition to these silver screen icons, fellow big screen legend Timothy Dalton — a man who has taken on roles ranging from Bond, James Bond (twice) to Dr. Niles "The Chief" Caulder on "Doom Patrol" — also pops up on the show in the role of Donald Whitfield.
Even though "1923" is a great credit to have on his filmography, Dalton has admitted that working on the show was pretty rough. Specifically, he referred to it as "a nightmare."
Dalton didn't love the weather conditions during filming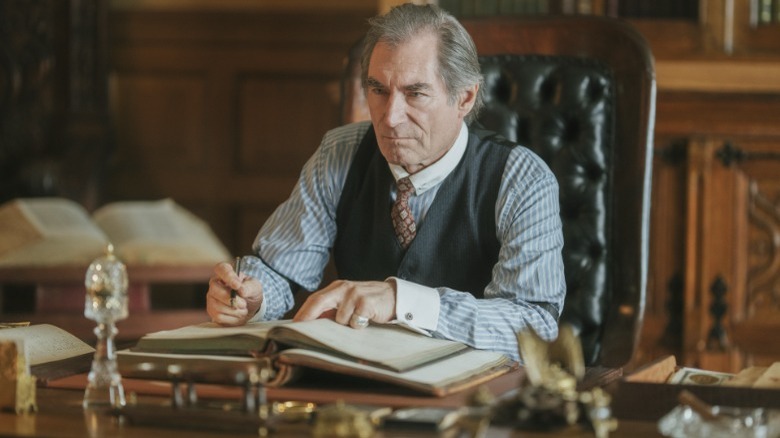 Christopher T. Saunders/Paramount+
Speaking to the New York Times, Timothy Dalton shed some light on what it was like to portray Donald Whitfield on "1923." Surprisingly, he didn't seem to have a very good time, which he attributes to the frigid weather during the shoot. "It was a nightmare. We are on top of a hill with a blasting wind coming at us. The cameras freeze up. Your toes freeze up," he shared, making it clear that filming "1923" was far from comfortable. Dalton admits that his co-star Harrison Ford handled the chilly conditions much better than he did.
This little anecdote gets a bit funny when taking into account the amount of trust Dalton put into Taylor Sheridan when he signed on for the show. In an interview with Entertainment Tonight, Sheridan recalled that when he asked Dalton to be a part of the program, he didn't have much of anything to present him with. "He said, 'Taylor, what are you asking me to do? There's no script, there's no nothing!' And I said, 'You've just got to trust me,'" Sheridan said. One has to imagine that trust was at least a little bit shaken when Dalton found himself in the bitter cold.
Of its many highlights, Timothy Dalton's take on Donald Whitfield was a genuine high point of "1923." It's a good thing he stuck it out despite the less-than-ideal weather conditions.