Henry Cavill Enjoyed Bringing A Three-Dimensionality To The Witcher With Kim Bodnia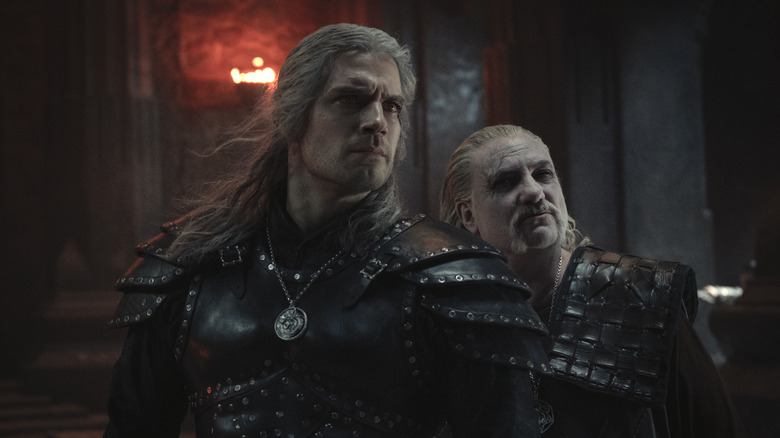 Susie Allnut/Netflix
By this point, everyone knows that "The Witcher" was a dream role for Henry Cavill. Hollywood's resident nerd made it well-known that he grew up a fan of Andrzej Sapkowski's best-selling novel series and CD Projekt Red's critically-acclaimed video game series, playing through the hundreds of hours of story multiple times. 
It's no surprise that when news broke that Netflix was working on a live-action adaptation of Sapkowski's work, Cavill didn't hesitate to ask about the role of Geralt of Rivia. "The Witcher" showrunner Lauren Hissrich admitted that, when she first met with the actor, he was more knowledgeable about the "Witcher" world than she was, which eventually helped Cavill land the role. With "The Witcher," Cavill put himself in an opportunity that actors don't usually find themselves in: play a character you already know and love, expand on it, and make it your own. 
To Cavill's credit, he succeeded in bringing Geralt of Rivia to mainstream audiences, and fans loved him in the role. While inspired by the books and games, his portrayal doesn't take too much from the source material. Instead, he forges the character as his own as fans watch Geralt grow from a grizzled hunter of few words to a father protecting Ciri. Regardless of how accurate "The Witcher" is to the source material, it never forgoes character development. That continued growth excited Cavill the most going into future seasons of "The Witcher," especially when it involved bringing in Kim Bodnia as Vesemir.
Cavill and Bodnia worked hard to give Geralt and Vesemir more depth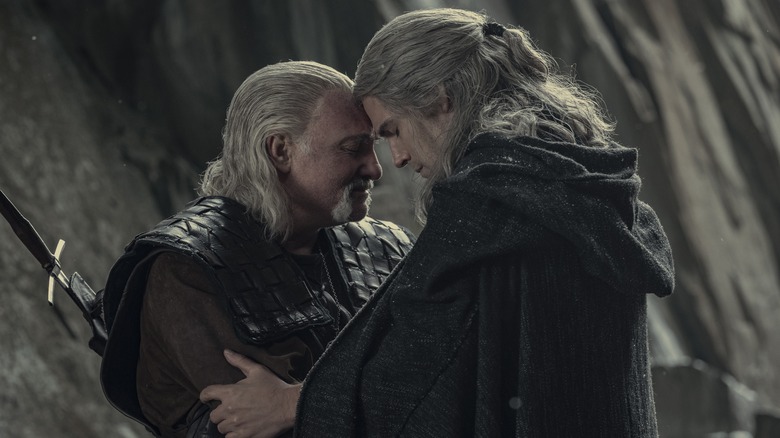 Jay Maidment/Netflix
While on their "The Witcher" Season 2 press tour, Stream Wars interviewed the cast, asking them their favorite moments from Season 2. Henry Cavill had an interesting response, choosing his time spent deepening his character with Kim Bodnia's Vesemir as his standout moment of the season. "I enjoyed a lot of the scenes I did with Kim Bodnia, who plays Vesemir," the actor revealed. "We worked very hard together to bring something, which wasn't necessarily on the page, a three-dimensionality to these male characters who live up in the mountains ... who could potentially be seen as one tonal unless dealt with very carefully. So Kim and I just worked very hard at bringing that stuff to the fore, and there's a number of scenes in there where we show a soulfulness and an emotionality between them."
"The Witcher" succeeded with its introduction of Bodnia's Vesemir, who plays a father-like figure, but also brother-like, to Cavill's Geralt. Their relationship is, in a sense, mimicked through Geralt and Ciri's, as not many characters in the "Witcher" universe are directly related, but many of them are a family. In an interview with Entertainment Weekly, Cavill had nothing but praise for Bodnia's portrayal of Vesemir, reiterating that working alongside him was a highlight of Season 2.
Unfortunately, Cavill only experienced those familial relationships with Bodnia and the rest of the cast for two seasons, deciding to leave the show ahead of Season 4. Cavill announced his departure on his Instagram, revealing that "Hunger Games" star Liam Hemsworth would take over the role of Geralt of Rivia.