Khary Payton's Role On The Walking Dead Has Earned Him A Royal Nickname In Real Life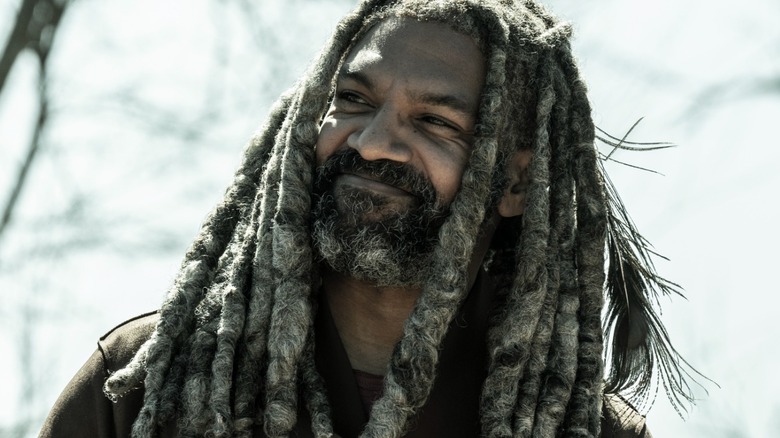 Jace Downs/AMC
One of the hallmarks of AMC's "The Walking Dead" was its near-constant introduction of new characters. After all, in a world full of zombies and murderers, the roster would get thin every now and again, so introductions were necessary. Not to mention, the series is based on Robert Kirkman's comic book series of the same name, so there were plenty of fresh faces fans were eager to see adapted into live-action. One of the most popular of them all was King Ezekiel Sutton, who is played by actor Khary Payton on the show.
Introduced in the Season 7 episode "The Well," Ezekiel stood out compared to most "Walking Dead" characters. He took on a regal appearance, sat on a throne, and kept his pet tiger, Shiva, by his side. Sadly, as his tenure went on and the settlement he presided over, the Kingdom, fell into disarray, he lost many of the elements that made him so unique. Nevertheless, he remained a key part of the "Walking Dead" story right up to the end of the 11th and final season — a run that would change Payton's life in a surprising way.
By becoming ingrained in the "Walking Dead" world as Ezekiel, Khary Payton earned himself a royal nickname in the real world.
Even without his throne, Payton is still called the king
As it turns out, since taking on the role of King Ezekiel, Khary Payton has become closely linked to his "Walking Dead" character. In fact, as he shared with Den of Geek, friends and strangers alike address him by his royal title in real life. He said, "I have so many friends of mine who just won't stop doing that. It's not just people who are fans or whatever. It's literally like my boys would be, "My king! What's up?" Payton highlights that one friend of his has known him for around 20 years, but thanks to the show, he'll more than likely never call him by his real name again.
Even though it might be a bit strange to be called "king" all the time by virtually everyone, it seems that Khary Payton holds no irritation toward King Ezekiel because of it. He actually seems to appreciate his character and his fan following, according to comments he made during an interview with Decider. "They seem to give Ezekiel some interesting and devastating ways of getting knocked down, but I think that's a testament to his resiliency and why he connects with so many people, as far as that never give up attitude," Payton said, noting that as Ezekiel has gone through his ups and downs, he has chosen to maintain a positive outlook no matter what.
As the "Walking Dead" franchise continues to expand in all directions, we'll have to wait and see if Khary Payton gets the chance to return to the regal role of King Ezekiel in the coming years.