Sequels For Toy Story, Zootopia, And Frozen Are In The Works At Disney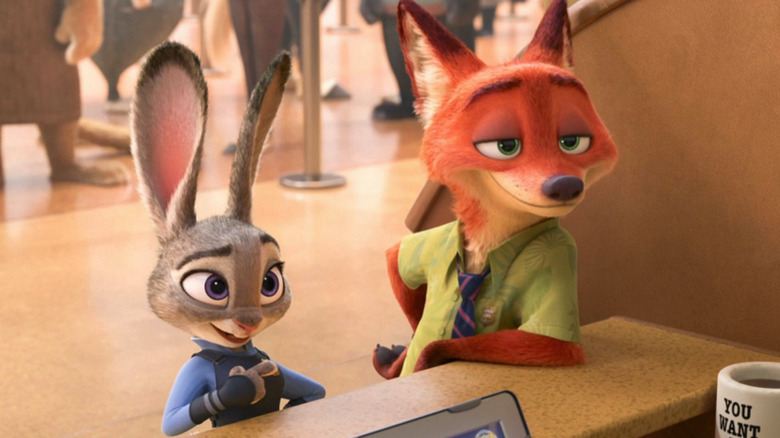 Walt Disney Studios Motion Pictures
Between its two animation studios, Pixar and Walt Disney Animation, Disney has produced some of the most beloved animated movies of all time. That, consequently, means the studio has created and overseen some of the most successful and popular animated movie franchises in Hollywood history. Disney, to its credit, hasn't let the opportunities presented by its ownership of so many animated franchises pass it by, either.
Over the past several decades, both Walt Disney Animation and Pixar have released sequels to some of their most beloved titles. Some of those films have, inevitably, been more well-received than others, but nearly all of them have succeeded in keeping moviegoers interested in their respective franchises. Now, it looks like Disney is intent on trying to keep that trend going for the foreseeable future.
Indeed, thanks to a new update from Walt Disney Company CEO Bob Iger, animation fans now know that they can look forward to seeing, at the very least, three major animated sequels that are currently in development.
Disney is developing three high-profile animated sequels right now
Walt Disney Studios Motion Pictures
During the Walt Disney Company's Q1 earnings call on Wednesday, Bob Iger announced (via Deadline) that both Walt Disney Animation Studios and Pixar are in the midst of developing new installments in their ongoing "Zootopia," "Frozen," and "Toy Story" franchises.
"Today I'm so pleased to announce that we have sequels in the works from our animation studios to some of our most popular franchises, 'Toy Story,' 'Frozen,' and 'Zootopia,'" Iger announced. The Disney CEO added, "We'll have more to share about these productions soon."
As his latter comment suggests, Iger did not go on to reveal any specific details about the three sequels, including what their plots will be or who will star in them. Iger's comments do, however, come nearly four years after "Frozen 2" and the most recent "Toy Story" sequel, "Toy Story 4," were released in 2019. The CEO's announcement also confirms that Disney is finally developing its first feature film follow-up to 2016's "Zootopia."
Despite that film's success, Walt Disney Animation has yet to actually produce a theatrical sequel to it. A spin-off TV series, "Zootopia+," was released on Disney+ in November 2022, though. Pixar similarly released the "Toy Story" spin-off, "Lightyear," in theaters last year.
With all this in mind, while Iger's announcement today will likely come as welcome news to animation fans everywhere, those same viewers will have to hold tight for the time being and wait for more details to be revealed about Disney's newly announced "Toy Story," "Zootopia," and "Frozen" sequels.