Jason Alexander Agreed That Seinfeld Changed, But That Wasn't A Bad Thing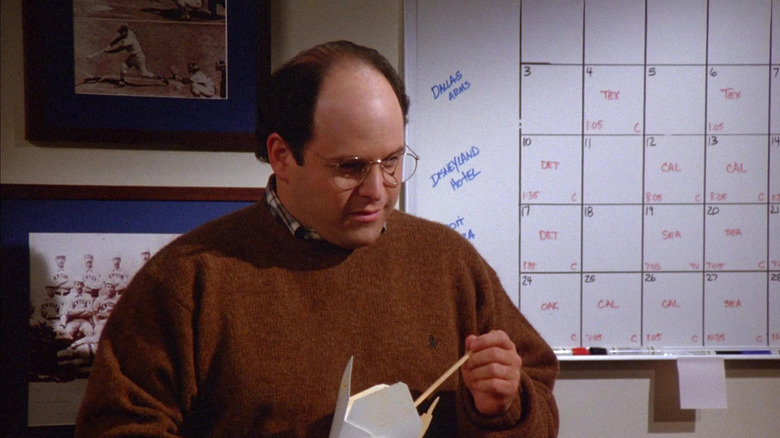 NBC
By their nature, TV shows evolve. Writers, actors, and directors discover things about their characters as the show progresses, and a character who was secondary at the beginning might become a co-lead by the end. In other cases, staffing shake-ups can create an entirely different dynamic than the one the show started with. 
"Seinfeld" is no exception. True, some fans might think "Seinfeld" is overrated, but it stands the test of time as one of the best sitcoms ever created. Even so, the show definitely changed over its nine-season run on NBC from 1989 to 1998. The biggest change happened after the Season 7 finale, when co-creator and co-showrunner Larry David left the show. Critics noticed the tonal shift from Season 8 onwards. In 1996, John J. O'Connor of The New York Times wrote that the new direction was "truly wacky" and "[stretched] the bounds of 'Seinfeld' lunacy."
It's true that early "Seinfeld" was more grounded than late "Seinfeld." The entire plot of Season 4 is about George (Jason Alexander) and Jerry (Jerry Seinfeld) trying to sell a sitcom about their lives, which obviously did actually happen for their fictional counterparts. Meanwhile, the Season 8 premiere, "Bizarro Jerry" is about as wacky as a concept gets.
Jason Alexander is among those who agree that "Seinfeld" got sillier as the series went on. In an interview Charlie Rose (via YouTube), he gave a few reasons why.
Seinfeld got wackier after Larry David left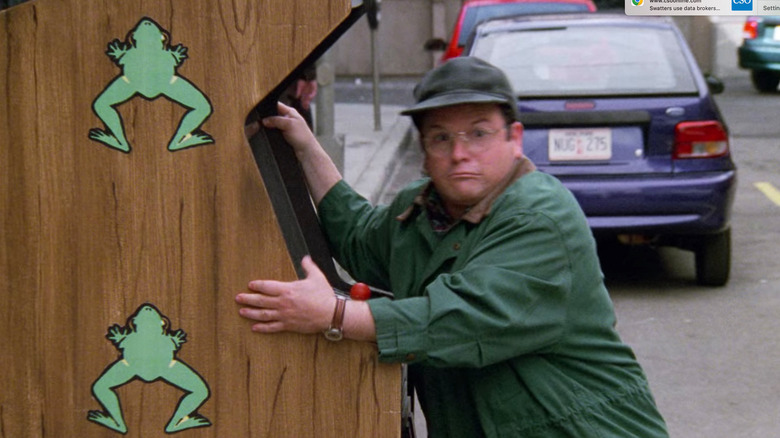 NBC
Alexander's interview with Rose was broadcast in April 1998, which was about two years after Larry David left the show following the Season 7 finale, and about a month before the "Seinfeld" series finale aired. In the interview, Alexander pointed to two reasons why "Seinfeld" changed post-David. 
One, Larry David is inimitable. During the David years, Larry David established the show's somewhat darker and bitter tone. The writing staff, mostly men in their 30s and 40s, could embody those feelings. After David left, however, the writing staff got younger. "They weren't particularly dark people," Alexander said. "So instead of living in it and expressing it, they were kind of writing a semblance of it. So I think the reality of the experience was one step removed."
Two, according to Alexander Jerry Seinfeld wanted to "spread his wings." Seinfeld is a big fan of "The Abbott and Costello Show," which aired during the 1950's. Humor-wise, Abbott and Costello were a lot more slapstick- and absurdism-driven than the observational and situation-driven style that David and Seinfeld established early on.
"I think we started to look less and less at the minutia of things, and our intrinsic storylines got broader in their scope," Alexander continued. "A little wackier, a little–in a good sense–juvenile."
"Different" doesn't mean "worse," however. Plenty of Season 8 and Season 9 episodes rank among the series' best. Variety puts 7 episodes from either Season 8 onwards among the show's top 20–episodes like "The Comeback," "The Chicken Roaster," and "The Strike," aka the episode that gave us Festivus. As Alexander noted, the audience kept laughing.