The Winchesters Fans Are Losing It Over Charles Shaughnessy's Appearance In Season 1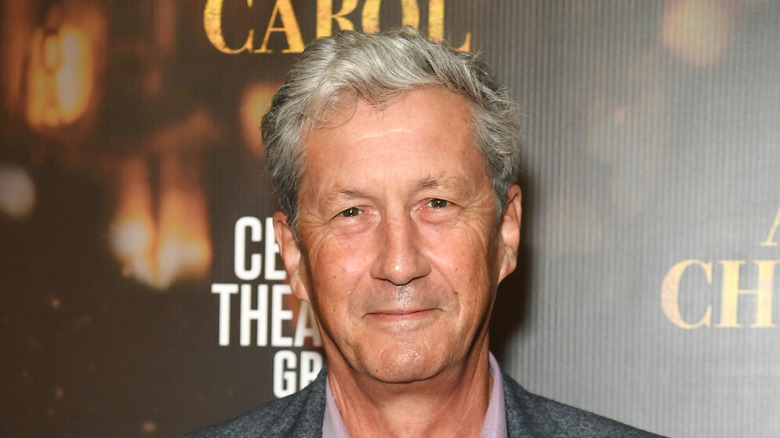 Jc Olivera/Getty Images
"The Winchesters" serves as a prequel series to the beloved dark fantasy drama "Supernatural," which focused primarily on the monster-hunting duo of Sam and Dean Winchester (played by Jared Padalecki and Jensen Ackles, respectively). "The Winchesters" takes us back to the 1970s to explore how Sam and Dean's parents, John Winchester (Drake Rodger) and Mary Campbell (Meg Donnelly), first fell in love amid a monster hunting adventure to find their missing fathers.
While several episodes of "The Winchesters" play out in a similar fashion to the first season of "Supernatural" (with John and Mary traveling to a new location each episode to tackle a new monstrous foe terrorizing the locals), the overarching story of Season 1 has been the otherworldly threat of the Akrida: bloodthirsty monsters attempting to invade earth. Episode 10 saw the pair of monster hunters turning to a retired Man of Letters named Porter Hobbes (Charles Shaughnessy), who claims to know the secret to defeating the Akrida.
Unfortunately, this turns out to be a trap, as the man alleged to be "Porter Hobbes" is revealed to be Jack Wilcox: a man expelled from the Men of Letters for his grotesque human experimentation. Wilcox certainly makes for a terrifying villain in Episode 10, though some fans were praising the character for a different reason –- having remembered Charles Shaughnessy's previous work on the hilarious sitcom "The Nanny."
Fans online are stunned to see Mr. Sheffield as a deranged Man of Letters
For the uninitiated, "The Nanny" is an American sitcom from the 1990s which focused on a loudmouthed fashion designer named Fran Fine (Fran Drescher) who becomes the nanny of three children in the upper class of New York City. Fran's employer is a high-society broadway producer named Maxwell Sheffield — played by none other than Charles Shaughnessy. Fans of "The Winchesters" could not contain their excitement at seeing Mr. Sheffield play a twisted Man of Letters and took to Twitter to praise Shaugnessy's role in the series.
"It's Charles Shaughnessy! So Mr. Sheffield is a Man of Letters," wrote @bewitchingtabz. "Charles Shaughnessy on #TheWinchesters is just really frigging cool," echoed @SmokeandAsh. Users @flybaby34 and @Larrs9325 were in complete disbelief at seeing Mr. Sheffield in "The Winchesters," with the latter tweeting, "IS THAT CHARLES SHAUGHNESSY?! OH, MY GODDDDD."
Indeed, plenty of fans were in awe at the choice of Charles Shaughnessy for this vicious Man of Letters; not only because of his past work as the lovable Mr. Sheffield but because he made for a highly compelling villain as well. For many fans who knew him only as Mr. Sheffield, seeing Shaughnessy expand his range to play the terrifying and deranged Jack Wilcox is undoubtedly exciting — and there's no question that this episode will be a highlight of the season for many fans of "The Nanny."