Vikings: Valhalla's Frida Gustavsson Weighs In On Harald And Freydis' Split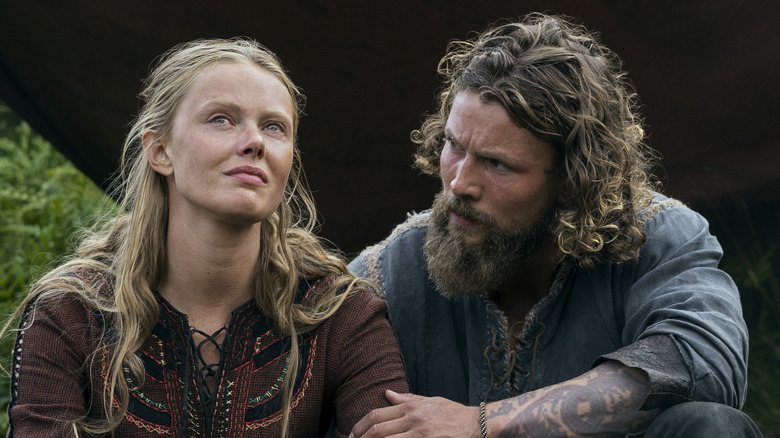 Bernard Walsh/Netflix
Contrary to what television may have indicated, it wasn't all doom, gloom, and axe-swinging Norseman invading foreign lands during the Viking era. Sometimes a little bit of romance was thrown in there for good measure; at least, that's what "Vikings: Valhalla" creator Jeb Stuart has suggested. In his sequel series set 100 years after "Vikings," the Netflix show follows three core heroes who all find their own place at the end of an era. Among this trio are Harald of Norway (Leo Suter) and Freydis Eriksdotter (Frida Gustavsson). 
Star-crossed lovers in the first season, both have opposing views about the future of the Viking people. Harald has left behind the old ways and beliefs, converting to Christianity, with Freydis still set on keeping her pagan faith alive. Season 2 saw the pair part ways to go off on their own personal journeys, putting an end to their complicated relationship. That is until it was revealed that Freydis was pregnant with Harald's child. Cue the longboat drums to roll out a dum, dum, dum.
Unfortunately, we didn't see romance blossom in the second season, given that they were seas apart from one another. While some hoped that they patched things up, one half of the not-so-happy couple was sad to see things end too. Following the second season's debut, Gustavsson chimed over the break-up revealing that it led to losing one of the things she enjoyed most about working on the series that we might never see again.
Frida Gustavsson is pretty cut up about Freydis and Harald breaking up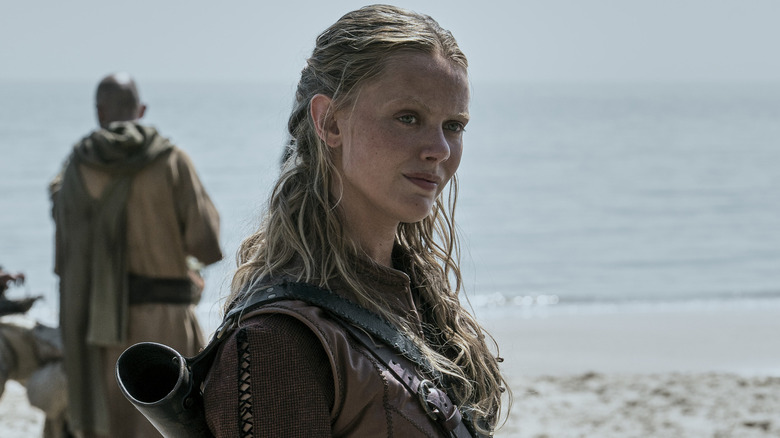 Bernard Walsh/Netflix
If there's one thing that Frida Gustavsson, who plays Freydis, can attest to, it's just how much of a rough time her character has had in the first two seasons of "Vikings: Valhalla." In an interview with Netflix, Gustavsson said about her role on the show, "All the other plotlines for Freydís are very dark and heavy. There's a lot of loss and grief." There's no denying that, given how Season 2 ended. After being tasked as "The Keeper of the Faith," Freydis was betrayed shortly after she arrived in Jomsberg, having to retaliate and protect her newly born child. The unfinished business with Olaf Haraldsson (Jóhannes Jóhannesson) also needed addressing, ending in a bloody battle to the death.
Speaking about her on-screen love interest, Gustavson expressed her upset about the relationship that could've been between her character and the future king of Norway. "The scenes with Harald provided a beautiful glimpse of hope and love," she added. "I was sad to see that go because I also lost my scene partner. We have so much fun working together." As for the other half of this impressive on-screen pair, the feeling is certainly mutual.
Leo Suter is taking the 'if you love them, let them go approach' with Harald and Freydis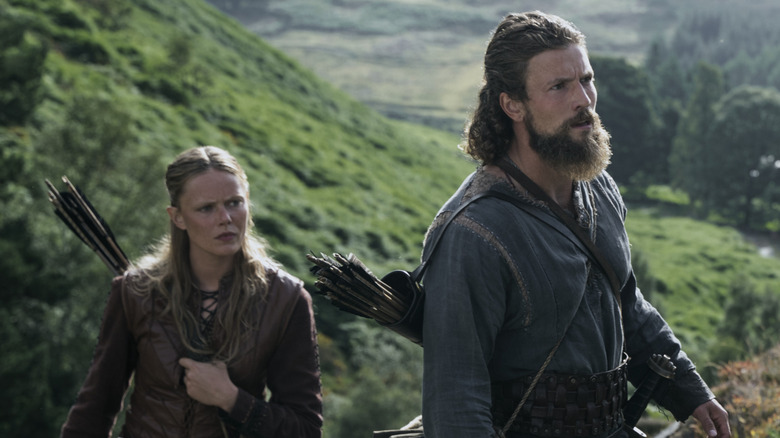 Bernard Walsh/Netflix
As with any good relationship, communication and compromise are key ingredients to a relationship. Alas, sometimes even the ones that you really want to work on can't necessarily end well. It's what Leo Suter, who plays Harald in the series, was quick to notice in the case of his character's relationship with Freydis that began as quickly as it ended across "Vikings: Valhalla."
As much of a "good time" he had working with Gustavsson on screen, he felt that the creative element is what helped Harald and Freydis' parting be a necessary one. "I think Jeb Stuart wrote this because it is a relationship that we root for," Suter posited. "We like these people together. But for them to fulfill their destinies, they have to separate, and that's a really painful thing."
Of course, it was eventually revealed to Harald that he was a father when Leif Eriksson (Sam Corlett) revealed the truth near the end of Season 2. "He's so torn when he discovers that Freydís is the mother of his child. I think the fact that it's so gut-wrenching and difficult is important for the show to work." Here's hoping there's a chance they patch things up when Season 3 eventually sets sail.