Wendy Was Originally Supposed To Die During Sons Of Anarchy's Pilot Episode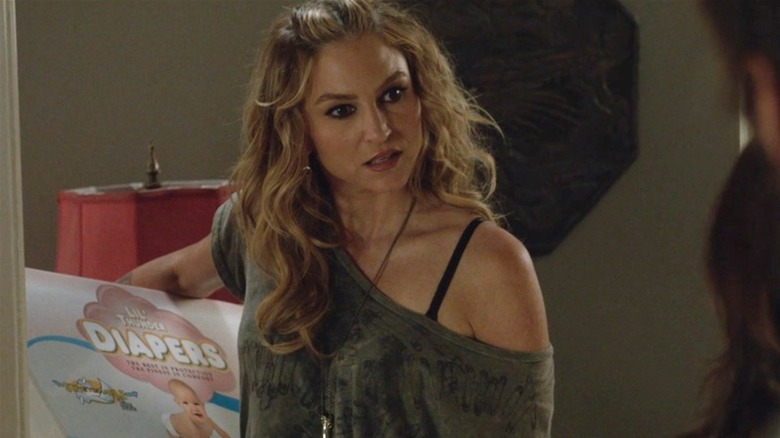 FX
There are a lot of colorful characters on FX's hit series "Sons of Anarchy," but none boast quite the story of redemption as Wendy Case (Drea de Matteo). When audiences are introduced to her in the pilot, she's several weeks away from having the baby of SAMCRO leader Jax Teller (Charlie Hunnam). However, these two aren't out shopping for toys and onesies.
Instead, as a result of Wendy's severe drug addiction, they're at the hospital, where baby Abel is fighting for his life after a premature birth. Her substance abuse takes its toll, with Abel suffering from a torn abdomen and heart defect. This angers Jax, as well as his mother, Gemma Teller Morrow (Katey Sagal), who gives Wendy a Bible and a hypodermic needle — a tool to help her end what she is sure will be a lifetime of bad parenting. Wendy obliges and begins foaming at the mouth as hospital staff rush to save her.
But Gemma doesn't get her wish and Wendy's situation drastically improves. She gets clean and, eventually, is introduced to Abel as his true mother. In fact, when Jax makes the tough decision to exit this world, he leaves Abel and Thomas Teller II — his son with Tara Knowles (Maggie Siff) — with Wendy. He tells her, "You're a good mom, Wendy. Everything's gonna be fine."
It's a touching moment, one that's nearly impossible to imagine while witnessing Wendy foam at the mouth seven seasons prior. That's because, in the original script, Wendy never leaves that hospital bed.
Wendy's story of sobriety and redemption almost didn't happen
In a Reddit AMA thread, Drea de Matteo revealed a surprising fact about her "Sons of Anarchy" character: in the original pilot, Wendy doesn't survive her overdose. She said, "That was supposed to be the end of the character, it was only meant to be a cameo." But de Matteo, a true fan of what Kurt Sutter created, didn't want this to be the end. After appearing in a few early episodes before briefly leaving to film "Desperate Housewives," she returned as a series regular on "Sons of Anarchy."
At first, Sutter was unsure what sort of storyline to give her. Eventually, a trajectory of redemption seemed fitting. Not only does Wendy get clean, but she also outlives Gemma, Tara, and others who once doubted and judged her. de Matteo said, "[S]he was the only character who got put away in a rehab, people HATED her for being a drug addict, yet she was the only one working on her mental well-being, learning about her self-worth ..."
Sutter shared the same sentiment on his "WTF Sutter" series. In fact, he compared Wendy's sobriety journey to that of Christopher Moltisanti (Michael Imperioli), de Matteo's love interest on "The Sopranos." He said, "That's always interesting to throw that into the mix in this sort of outlaw culture ... how do you play the concept of spirituality and honesty and recovery in an environment that is just not meant to contain it?"
If Sutter had simply killed Wendy off in the pilot, such big questions may not have been tackled on "Sons of Anarchy." Additionally, if he forced Wendy to relapse like Christopher, her bittersweet ending — earning sole custody of Abel — probably wouldn't come to fruition.