Rick & Morty's Justin Roiland Was Allegedly Beyond Inappropriate In The Writers Room According To Colleagues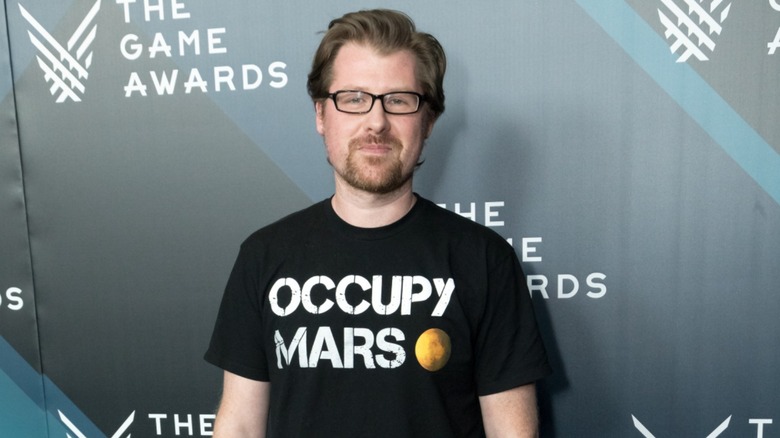 Greg Doherty/Getty Images
The man who was one creative mind behind the mighty "Rick and Morty" empire has reached the end of the road. Justin Roiland is most known for co-creating the popular Adult Swim series with "Community" creator Dan Harmon, but now he is known for something much darker.
In the past, the series has been tarnished with reports of sexual harassment during "Community," in addition to a lack of women in the "Rick and Morty" writer's room (via The Hollywood Reporter). However, this all pales in comparison to the dissolution of Roiland as a pop culture icon — and it seems to just be getting worse.
Allegations against the creative have not just stopped at his formal charges. Following news that he had been arrested for felony domestic assault, co-workers on "Rick and Morty" have come out of the woodwork to reveal what it was really like to be in the same room with Roiland. And unfortunately, it is not exactly surprising.
The Rick and Morty writers' room was not a safe space
To some, "Rick and Morty" can be an acquired taste. Humor is, after all, subjective, and Season 1 is admittedly a work in progress. But as characters like Summer (Spencer Grammer) and Beth (Sarah Chalke) evolved to become more fully-developed complex figures, the same can not be said for the writers' room.
In a thorough piece released by The Hollywood Reporter, Roiland's colleagues reported that his chaotic energy segued into harassment in many instances. When Roiland wasn't being dismissive or creatively absent in the room, he was making it a terror for everyone else. The "Rick and Morty" voice actor would often discuss sex life with his then-fiancée, including intimate details about threesomes.
"It was something we just ignored because it was disgusting," one source stated about the incident. Despite the bravado of including female writers in Season 3, Roiland was embroiled in an accusation of sexual harassment at the time. While the world at large may have been surprised by news of domestic violence charges, many who knew him have seemed to spot a disturbing pattern.