Tig Notaro Clearly Doesn't Watch Ghosts Or Pay Attention On Airplanes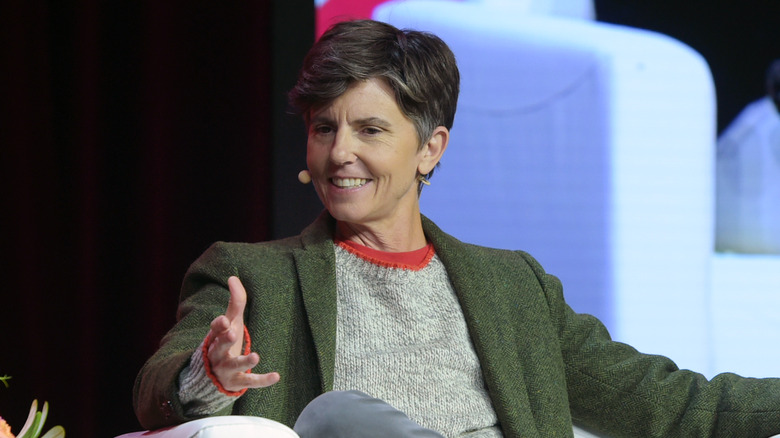 Vivien Killilea/Getty Images
Comedian, actor, and podcast host Tig Notaro is no stranger to hilarious encounters with other celebrities. Notaro, who played Commander Jett Reno on "Star Trek: Discovery" and Barb on "Transparent," had multiple "Groundhog Day"-like encounters with 1980s pop star Taylor Dayne that she turned into a side-splitting comedy routine, which eventually found its way onto an episode of "This American Life" (available on YouTube).
More recently, Notaro had another close encounter with a famous actor on an airplane that revealed a sizable gap in her own pop culture knowledge and the impact COVID restrictions can have on our public interactions. Notaro appeared on two consecutive airings of "The Tonight Show Starring Jimmy Fallon" and told of the flight where her seatmate was repeatedly recognized and complimented by passengers, many of whom noted that they would "know that face from anywhere or even with a mask on. Look at you, I know that hair," Notaro relayed. 
A baffled Notaro, still unable to fill in the gaps in the evident visual clues sufficiently enough to figure out who she was seated next to, stealthily snapped a picture of the woman and shared it with friends, none of whom were able to help her identify her. Fallon was also of little help, suggesting that it might be Debra Messing or Jenna Fischer, but sharp-eyed "Tonight Show" viewers identified the mystery celebrity as an actor who currently stars on the CBS comedy "Ghosts."
Rebecca Wisocky told her side of the story on The Talk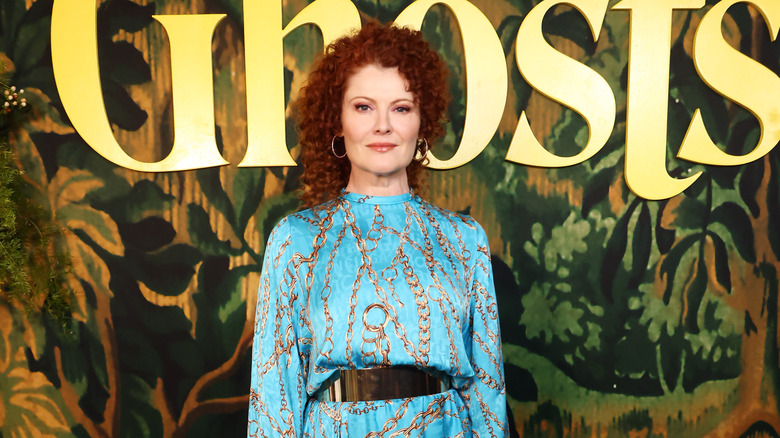 Tommaso Boddi/Getty Images
While "The Tonight Show Starring Jimmy Fallon" viewers were able to quickly recognize Rebecca Wisocky's distinctive curly red hair with its sharp widow's peak, Tig Notaro didn't get an answer to her puzzle until she returned to Fallon's show the following night, ironically on her way back to the airport to catch another flight. 
Wisocky appeared on an episode of "The Talk" with her "Ghosts" co-stars Sheila Carrasco and Devan Long to relay her version of the encounter and its aftermath. Wisocky said that since meeting on that plane, she and Notaro had "shared a couple of very lovely messages together."
Wisocky noted that she knew of Notaro's public reputation for self-effacing cluelessness (Notaro once hosted a Funny or Die program called "Under a Rock") and added that she was a "huge Tig Notaro fan." She explained that she'd recognized Notaro immediately but initially chose to respect her seatmate's privacy, but soon had "dug a hole of politeness" that she could not find her way out of. Wisocky also mentioned how grateful she was that Notaro returned to "The Tonight Show" to conclude the story and give a plug to "Ghosts," a program that is clearly not programmed into Notaro's DVR (at least not yet).