Eddie's Water At The Latest Blue Bloods Family Dinner Has Fans Very Suspicious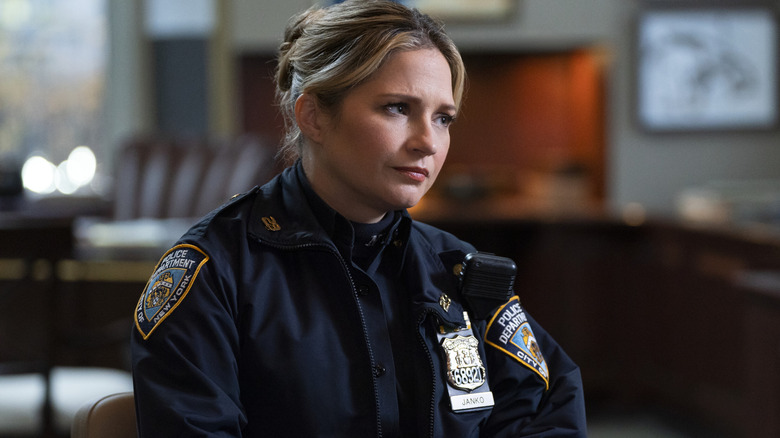 Patrick Harbron/CBS
"Blue Bloods" is all about family. That's why pretty much every episode contains a scene of the Reagans sitting down for Sunday dinner with one another. It gives them an opportunity to talk about their various cases of the week or, occasionally, just talk about more light-hearted fare like movies or the latest pop culture trends. But those dinners help separate the show from other police procedurals by emphasizing just how much the Reagans rely on each other. 
But within the overarching family are sub-units where all of Frank's (Tom Selleck) kids have families of their own. Danny Reagan (Donnie Wahlberg) has a couple of sons, while Erin (Bridget Moynahan) has a daughter. Meanwhile, Jamie (Will Estes) and Eddie (Vanessa Ray) are one of the newest family units, seeing how they got married a few seasons back. Ever since they tied the knot, fans have been chomping at the bit to know when they're finally going to have kids (if they have them at all). The showrunner has spoken about the problems that would arise story-wise if they got Eddie pregnant, but some fans seem to think something's up from the latest episode. 
Why did Eddie toast with water instead of wine?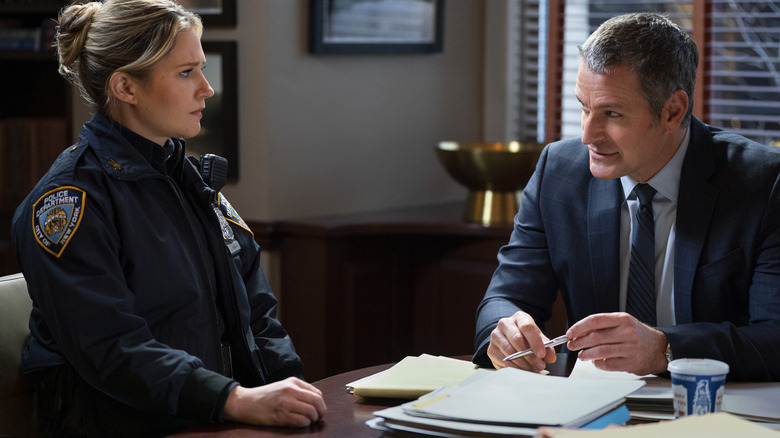 Patrick Harbron/CBS
In the latest "Blue Bloods" episode, "The Big Leagues," one fan noted something peculiar about the familial toast at Sunday dinner. Redditor u/cdg3739 pointed out, "Last night's episode (S13:E12), the end of the show toast to better days. Everyone but Eddie toasted with wine, she looked like she was drinking water? Thoughts?" Wine is a common drink at Reagan dinners, and Eddie has partaken in it before. So it's a bit odd she wouldn't drink wine this time around. Unless, as some users have noted, she were pregnant. 
Some have speculated actress Vanessa Ray is pregnant, which is why she wouldn't drink wine on set. However, as u/2795throwaway noted, they drink grape juice instead of wine on set, so she could technically still drink it if her character wasn't pregnant. Plus, looking at Ray's social media, there are no pregnancy announcements, and it doesn't look like she has a baby bump. Eddie drinking water could suggest the character is pregnant or soon to be. Twitter user @TheLonelyWolf_NFB suggested, "Eddie was drinking water while everyone else was drinking wine? Does she always drink water? Or is this some long term story telling?"
It's possible in the "Blue Bloods" universe, Jamie and Eddie are trying for a baby, so she's avoiding wine just to be safe. It could set the stage for a pregnancy announcement to come later on, and if that does come to pass, fans can take solace in noting the Easter egg well in advance.