I Know What You Did Last Summer Is Getting The Legacy Sequel Treatment With Two Former Stars In Talks For A Return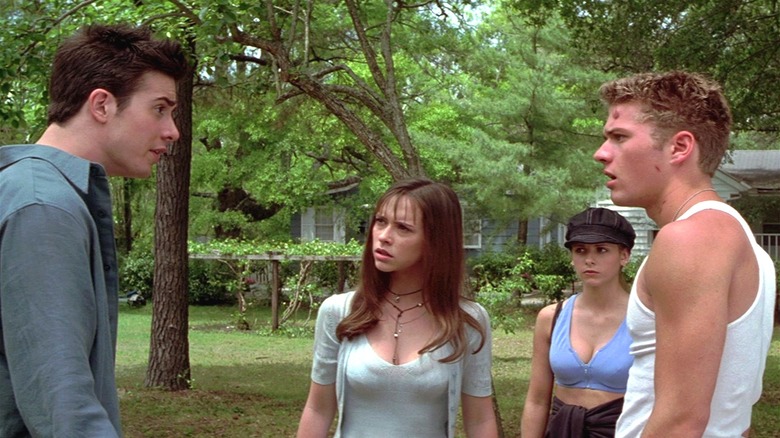 Columbia Pictures
Are you ready to find out about some summertime crimes?
It looks like the "I Know What You Did Last Summer" franchise — famous for its fisherman-outfitted hook-handed killer, who stalks a group of teenagers that left him for dead after running him over one drunken summer night — is set to return to big screens worldwide sometime in the future. And unlike the 2006 direct-to-DVD sequel "I'll Always Know What You Did Last Summer" and Prime Video's 2021 reboot series (which lasted a single season), this one is going to be a legacy sequel. That means we're going to encounter some familiar faces while The Fisherman stalks some teenagers. Think 2018's "Halloween" threequels and Netflix's "Texas Chainsaw Massacre" series, which returned some very familiar faces to each long-lived franchise.
But which familiar faces will this "I Know What You Did Last Summer" sequel give us? It turns out that two of the film trilogy's most famous faces from its storied cast are willing to take another whack at fighting off their former fishy foe.
Jennifer Love Hewitt and Freddy Prinze Jr. may return
According to Deadline, which exclusively announced the sequel, Jennifer Love Hewitt and Freddie Prinze Jr. are in negotiations to return to the "I Know What You Did Last Summer" franchise. Hewitt portrayed the central heroine Julie James and Prinze Jr. played her boyfriend, Ray Bronson. The teens were the sole survivors of the first movie's massacre, and also lived to tell the tale spun by the film's sequel, "I Still Know What You Did Last Summer." Their on-again-off-again romance added a note of bittersweet tension to the already dramatic onscreen slayings.
Deadline reported that Jennifer Kaytin Robinson of "Do Revenge" will helm the sequel. Neal H. Moritz is currently being considered to produce the film, with Leah McKendrick ("Scrambled") set to write. Apparently, the film sold on the strength of McKendrick and Robinson's pitch, which was so unique the studio gave them an eager greenlight.
There's no word as to what the plot currently contains, other than it's supposed to be a "torch passing" film where Julie and Ray's legacy will meet a new cast of teens. At the moment the movie's in the early stage of pre-production, so you might have to wait a while until you see the flick. But at least fans of the franchise can look forward to seeing how Ray and Julie's somewhat tortured love story is doing these days.