Rick And Morty's Sarah Chalke Loves Voicing Different Versions Of Beth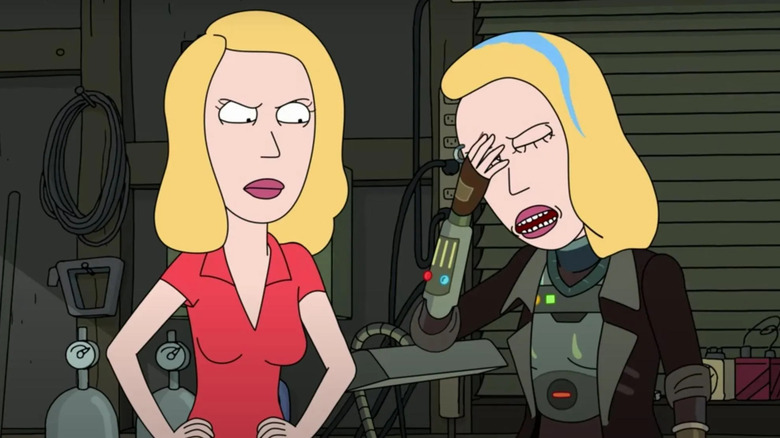 Adult Swim
As the daughter of the smartest man in the universe, Beth Smith has a lot to live up to in "Rick and Morty." However, actress Sarah Chalke has always infused the character with equal parts wit and rage, making it entirely plausible that she could carry on Rick's legacy. While Beth was always a standout on the show, she received even greater pathos in Season 3 when she had her father make a clone of her so that she could both explore the cosmos and stay with her family. However, Beth had second thoughts and told Rick that he should decide whether she should be the one to stay with her family or have fun space adventures. 
Rick couldn't commit either so he shuffled them, not knowing which one is the real Beth. It causes Beth a fair amount of anguish initially, as she doesn't know whether she's a clone, but she ultimately gives into the existential ennui. As such, Space Beth has come back into the picture multiple times over the last few seasons, bringing plenty of clone-like hijinks with her. 
Of course, the two characters are functionally the same despite their different paths, and they're both voiced by Chalke. This presents a unique challenge for the actress as the characters naturally sound the same but have contrasting attitudes on life. 
Sarah Chalke tries to bring an edge to Space Beth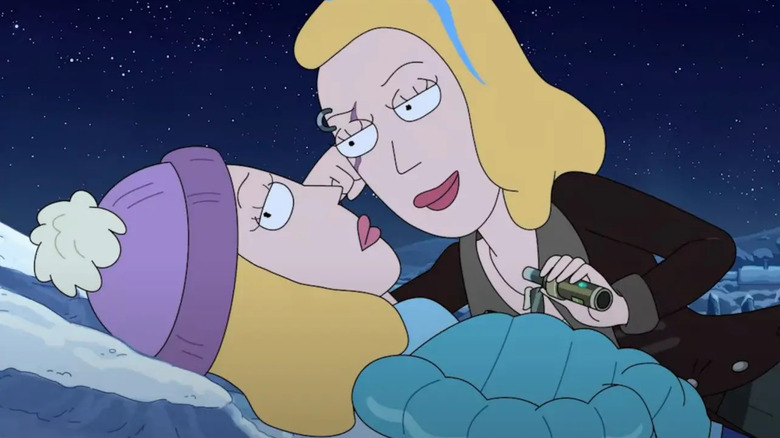 Adult Swim
Space Beth has really become a part of the Smith family, especially in Season 6. She's frequently at the dinner table and has plotlines devoted to her. As such, there are many scenes where it's effectively Sarah Chalke talking to herself, and she spoke to Screen Rant about what goes into that process and how she tries to differentiate the characters. As she put it, "We record them each separately, and go through all of Domestic Beth first, and then all of Space Beth second, because I'll try and clear my throat a bunch in between, and make her a little more raspy. She's got a bit more of an edge, and it is different, because even though we're always recording on our own, it's different when the scene is just actually with yourself."
This can most readily be seen in Season 6, Episode 3, "Bethic Twinstinct." Beth and Space Beth develop a romantic bond that they try to hide from Jerry (Chris Parnell), lest he discovers it and freaks out. There are many scenes where it's just Beth speaking to her clone, and Chalke was more than game to dive into the recording booth to nail down both characters: "I thought it was great, and I just loved how they wrote it, and I loved how it kind of becomes a love story between these two characters, and kind of catches you off guard, but that's what's gonna happen, and I like that you get to see this whole new side of both Beths."
Going into Season 7, Rick may be busy hunting down Rick Prime, but the Beths have more than enough on their plate(s) to keep them busy.