Michael Schur Was Nervous Parks And Recreation Would Ruin Amy Poehler's Career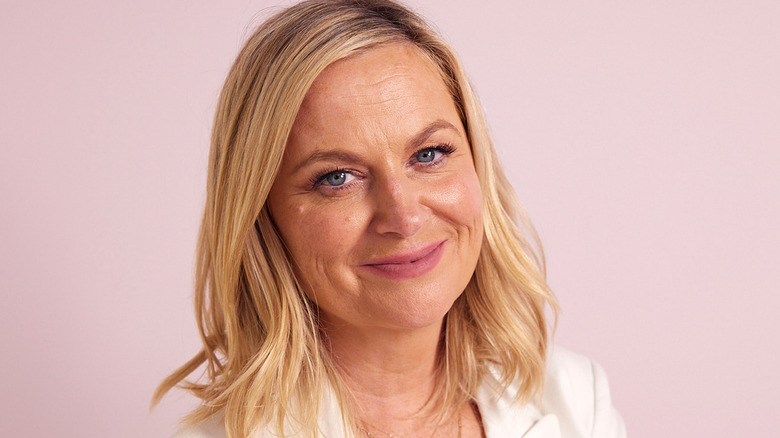 Corey Nickols/Getty Images
"Parks and Recreation" is one of the more beloved sitcoms to come around in recent memory. Not only was the show a big hit with critics and audiences, but it was nominated for 14 Emmy Awards during its seven-season run, including multiple lead actress nominations for Amy Poehler. While "Parks and Recreation" is remembered for its side-splitting ensemble cast, Poehler's Leslie Knope was the central focus of the series throughout. The character starts as the deputy director of the Parks and Recreation department in her town of Pawnee, Indiana but goes on to have a delightfully improbably political career. 
As the series progressed, both the show itself and the character of Leslie Knope grew and changed in a variety of ways, especially when looking all the way back to Season 1. Not only does Leslie become a much more rounded character, but the tone shifts away from a bumbling, workplace comedy similar to "The Office" and takes on its own, distinct identity. However, despite the success that the show would go on to have, "Parks and Recreation" co-creator Michael Schur was initially extremely worried that the series would inevitably end up ruining Poehler's career, and he has some very solid reasons for why that is.
Schur believes that Leslie Knope did not work well in Season 1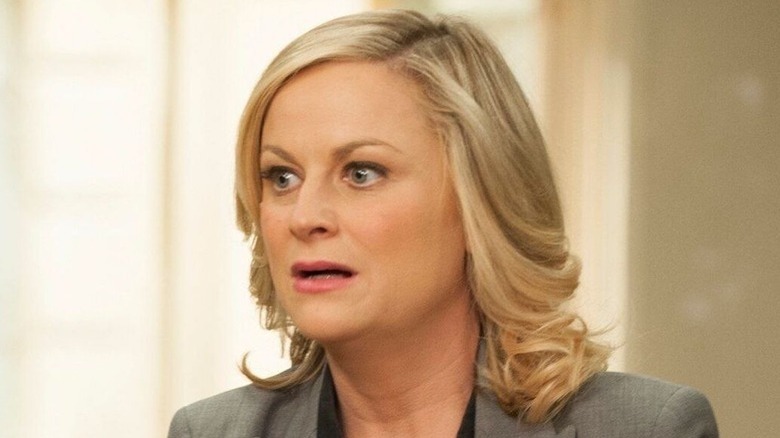 NBC
In 2019, The Guardian sat down with the cast and crew of "Parks and Recreation" and co-creator Michael Schur didn't hold anything back when it came to discussing his initial fears of the show. Principal among them was his worry that playing Leslie Knope was going to end up ruining Amy Poehler's career. The reason? He believes her character just did not translate well in Season 1. Instead of the earnest and smart political figure who fans would eventually come to know and love in later seasons, he lamented that she came off as less than smart in the initial outing of the series.
"With Leslie Knope we had a vision of an incredibly smart, optimistic and forward-thinking woman who believed in her soul that the mission of local government was to help people," Schur said. "We didn't do a great job at first. Instead of coming off as a smart, driven person with no political acumen, Leslie came off as a buffoon." Schur was apparently in so much distress over the bungled characterization that it kept him up at night. "I had a recurring stress nightmare that I was going to ruin Amy's career. My happiness was based on whether the actors were better or worse off than if they had never done the show," he explained.
Obviously, things went much better than Schur initially feared, and "Parks and Recreation" ran for seven successful seasons on NBC. But it's completely understandable that he had these fears, as the initial reviews for the show weren't exactly glowing with praise. Season 1 is by far the lowest rated on Rotten Tomatoes, with a 68% critics score.