Even BTS's Jungkook Can't Escape The Power Of Chainsaw Man's Opening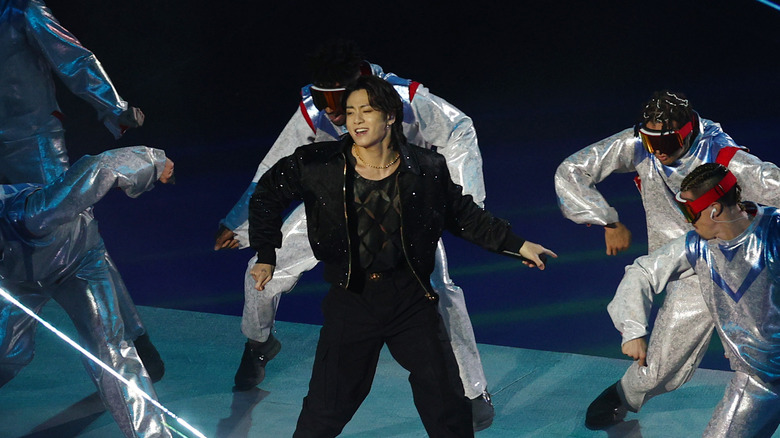 Elsa/Getty Images
There's something special about anime intros. Usually punchy and catchy, the theme songs to these often manga-adapted television shows have a tendency to get into one's head and stay there for quite some time. Of course, a show like "Chainsaw Man," which has been absolutely dominating the discourse around anime, would have a corresponding theme song that matches the tone of the show. According to Game Spot, 2022 saw the popularity of "Chainsaw Man" grow at an exponential rate and even the source material on which the show is based won a Harvey Award for Best Manga. In addition, the manga also reached the milestone of having 20 million copies in circulation as of November 2022. This means that "Chainsaw Man" definitely has a far-reaching grasp.
Speaking of far-reaching grasps, the Korean musical group BTS is one of the most popular in the world, and as Time reported, the fandom surrounding BTS is one of the most devoted in the industry. BTS' official fan group, called ARMY, boasted a membership of around 40 million individuals in 2020, which helped to make a streamed performance by BTS during the Pandemic one of the most watched in the world. 
Considering both the popularity of "Chainsaw Man" and "BTS," it was only a matter of time before the two worlds collided, and it seems like BTS member Jungkook is a big fan of the anime focusing on devils and chainsaws.
Jungkook sang along with Chainsaw Man's intro during a long live stream
For those who enjoy anime, the intros and outros can be a big draw of a series, with the music acting as both an introduction and conclusion to each episode. The popularity of these songs shouldn't be underestimated. This is probably best highlighted by the efforts of CBR, which points out many popular anime songs gathering millions of clicks on Spotify, with "Gurenge" from "Demon Slayer" having well over 300 million listens as of September 2022. One can see that the intro song to "Chainsaw Man" over on YouTube is also insanely catchy and upbeat, which probably helps to explain why BTS' Jungkook can't resist its power.
Crunchyroll noted that during a long live stream, BTS' Jungkook decided to do his own rendition of the intro for "Chainsaw Man," which is called "Kick Back" by Kenshi Yonezu. Luckily, several fans and members of ARMY were able to capture clips of this performance, which they have shared on Instagram and Twitter. The clip starts with Jungkook looking toward the camera and bumping his head to the beat of the song. 
Once the lyrics start, Jungkook looks away from the camera and begins to sing into a microphone, and it becomes immediately apparent that the BTS member is a big fan of "Chainsaw Man." This definitely makes one wonder if the famous K-Pop band will ever do an official cover for "Kick Back," especially considering the status of both BTS and "Chainsaw Man."