Criminal Minds: Evolution Fans Just Want The Writers To Give Them Garvez Already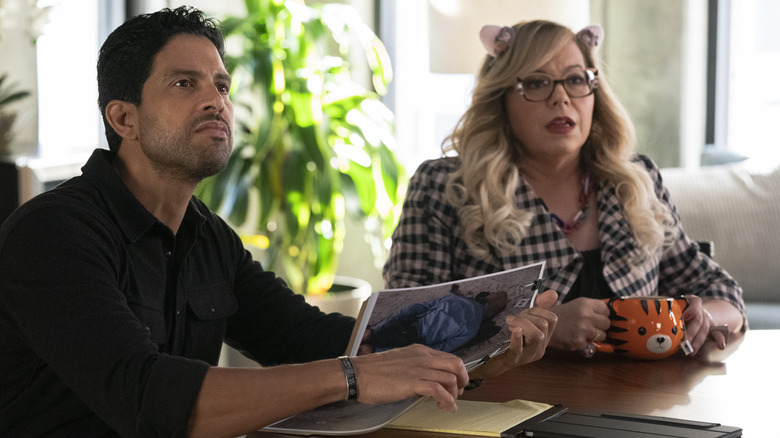 Michael Yarish /Paramount+
The following article contains spoilers for "Criminal Minds: Evolution" Season 1, Episode 9 — "Memento Mori."
To deeply ship a couple in a procedural can be a painful process. Sometimes you find yourself attached to a couple that ends up embroiled in a decades-long process of pining and backing away — pouring one out for you, Bensler fandom. Sometimes your favorite couple will get together and even get married, only for actor-dictated or ratings-dictated circumstances to tear the couple apart; see Stellaride AND Brettsey on "Chicago Fire." And some couples are eternally teased but never delivered upon. 
Such has been the case for Penelope Garcia (Kirsten Vangsness) and Luke Alvarez (Adam Rodriguez), who have had a banter-filled relationship that's played out over the course of "Criminal Minds." Fans have been yearning to see the two friends become much more than that — especially after they went out on a coffee date together back in 2020 during the "Criminal Minds" series finale. Unfortunately, the events of Season 1, Episode 9 of "Criminal Minds: Evolution," titled "Memento Mori," have several viewers furious and begging Paramount+ to just pull the trigger on the relationship already — hopefully in the show's upcoming 2nd season.
Fans hate what Criminal Minds: Evolution has done to Garvez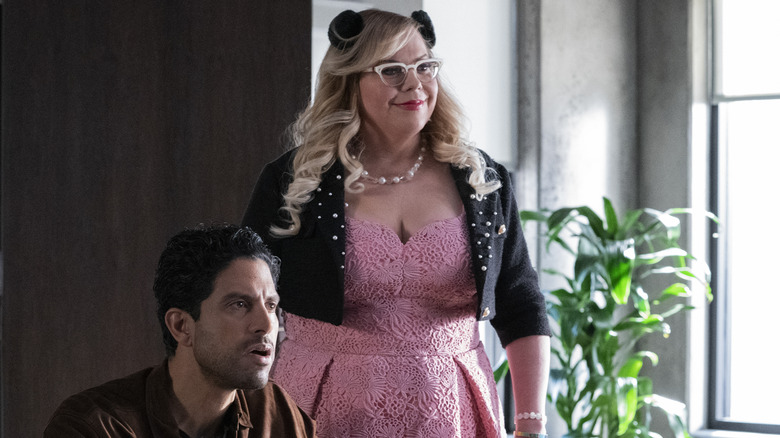 Bill Inoshita/Paramount +
During "Memento Mori," it's revealed that the date between Penelope Garcia and Luke Alvarez that was hinted at in the series finale of "Criminal Minds" went poorly and awkwardly. Luke observed, "With us, there absolutely is something there, but not that." With the twosome agreeing to stay friends and saying there are other persons out there for them, it looks like all hope for the pairing has been squashed, which has not sat well with fans of the Garvez pairing.
Many Twitter-bound "Criminal Minds" fans claimed that the ship was perfection and that their hearts have been broken by the storyline choice. They were even more aggravated by the introduction of Tyler Green (Ryan-James Hatanaka) as Penelope's possible person. "The way luke alvez is still comforting penelope garcia in this very moment when she's out there getting attached to tyler green instead of seeing what's been right in front of her for years," said @siIverskyy, adding a broken heart emoji. Their sad conclusion: "garvez nation we just keep losing." 
Reddit fans were equally dismayed by the twist. "Garcia needs better taste in men," wrote u/22AgentBrown in a post for fans to discuss the season's penultimate episode. 
But some fans had a sense of humor about the show's choice to axe the ship. @evanpetersholic parodied a meme that has sprung up from the series finale of "How To Get Away with Murder," complete with a clip of the scene in question. "GARVEZ STAY WITH ME!!! GARVEZ I CAN SAVE YOU!!! PLEASE!!!!! JUST STAY WITH ME!!!!!" they wrote. It just goes to show that sometimes laughing through the ship-based pain can help.