The Untold Truth Of Jabba The Hutt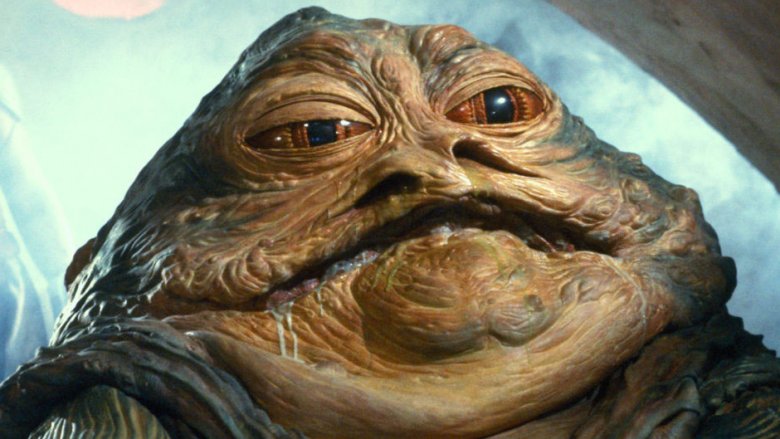 Jabba the Hutt isn't just a crime boss — as far as the Star Wars universe is concerned, he is the boss. But Jabba is more than just a lazy and corrupt blob. He's got a history that's just as gross and bizarre as his slime-coated skin. Behind the camera, the Jabba puppet used in Return of the Jedi is one of the biggest and most ambitious practical special effects ever created for a film, and required input from many of the very best people in the effects industry to pull off.
Or, to put it another way, Jabba's a big deal whether he's rubbing shoulders with bounty hunters or making George Lucas' life a living hell. As Jabba proves, you don't need good looks to build a criminal empire, and you can't climb to the top of the dung heap without putting a few skeletons in your closet (or your rancor pit).
He wasn't always a slug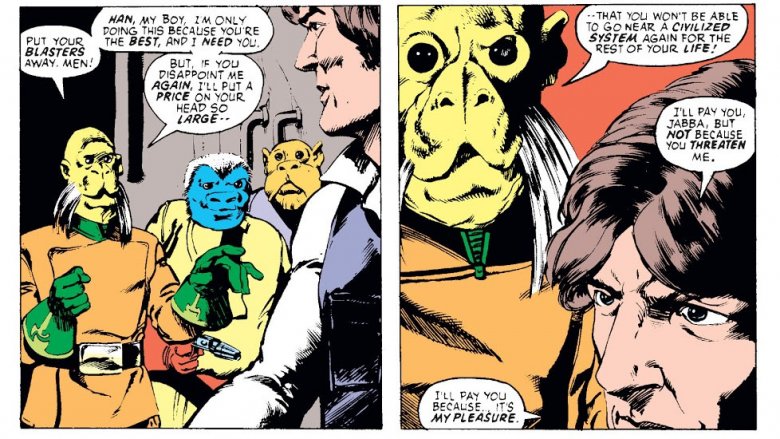 Even outside the Star Wars universe, Jabba the Hutt is famous for his bulbous body and slug-like features. In the decades since Jabba debuted in Return of the Jedi, he's gone on to become a symbol for gluttony, avarice, and corruption — and it's all thanks to his iconic and thoroughly disgusting bod.
But Jabba could've looked quite different, and Lucasfilm's team of artists, sculptors, and other creators went through a number of different takes before settling on Jabba's final designs.
In George Lucas' original Star Wars script, Jabba is simply a "the grossest of the slavering hulks," with facial scars that show off his battle prowess (lines describing Jabba as slug-like were added later, when the script was reprinted). In the original concept art, Jabba stands on two legs and looks vaguely like the Muppets' Sweetums. In the Marvel Comics Star Wars adaptation, Jabba is a yellow humanoid with a snout and a beard — a look he'd keep in the comics for years and years.
It's only when Return of the Jedi entered pre-production that Jabba started to take his now-familiar form. According Star Wars: The Annotated Screenplays, Lucasfilm artist Ralph McQuarrie's attempts to bring Jabba to life included an "ape-like" design. Another one resembled a small, squat goblin. Other designs were rejected for looking too human or too snail-like. Eventually, Lucas combined everything together, refined it a bit, and the galaxy's most famous gangster was born.
A multitude of Jabbas
Even though it takes entire teams to bring  Star Wars' classic droids and aliens to life, many of the franchise's creatures are closely aligned with a single actor. Without Muppeteer Frank Oz, there's no Yoda. Ditto Chewbacca and his actor, Peter Mayhew. R2-D2 was brought to life by Kenny Baker, while Anthony Daniels seems happy to play C-3PO in everything from the films to video games novelty Christmas albums.
Jabba is different. He's been a multi-man operation since the beginning. By our count, he's been played by at least eight different people — and that number just keeps going up. Declan Mulholland got the first shot, playing a very human Jabba the Hutt in a scene that was ultimately cut from the first Star Wars (it was later revived for the Star Wars Special Edition, albeit with Mulholland replaced by a CGI creation). For Return of the Jedi, three main puppeteers — David Barclay, Toby Philpott, and Mike Edmonds — brought Jabba to life. Other performers moved his eyes with a remote control and helped animate the tail. Larry Ward, who also voiced Greedo, did the heavy lifting in terms of vocals.
It doesn't stop there. For the Return of the Jedi radio drama, Jabba is brought to life by The Mary Tyler Moore's Show own Ed Asner, who's been nominated for 20 different Emmy Awards (and won seven). In The Clone Wars, he's played by veteran voice actor Kevin Michael Richardson. Michael Donovan, David W. Collins, and Clint Bajakian voiced Jabba in various video games. As for Jabba's appearance in The Phantom Menace? That one's a mystery — as per the movie's end credits, Jabba was only played by "himself."
A debt to classic cinema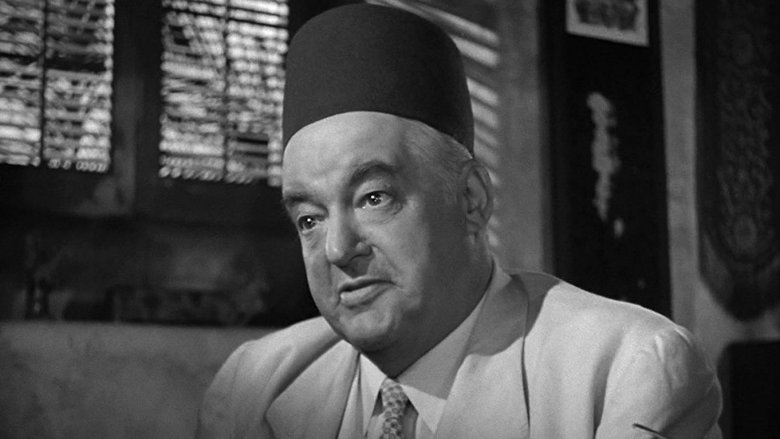 George Lucas has never been shy about Star Wars' influences. The filmmaker famously started writing Star Wars when he couldn't get the rights to Flash Gordon. Some Star Wars scenes, plot points, and characters are lifted directly from Akira Kurosawa films like Yojimbo and The Hidden Fortress. In order to get Star Wars' space battles right, Lucas cut together a black-and-white version of the Death Star attack using footage from old World War II movies.
Similarly, Jabba's character is cobbled together from pieces of classic movies. "There's always been rotund, evil sultans who sit on their beds while others are tortured in front of them," Lucas has said, and he reportedly based Jabba on one of the very best actors at playing those characters: Sydney Greenstreet, who starred alongside Humphrey Bogart in The Maltese Falcon and Casablanca. In The Maltese Falcon, Greenstreet played a crime boss known as "the fat man." In Casablanca, Greenstreet portrayed Signor Ferrari, the man who's got his fingers in every dirty, crooked scheme unfolding in the city. Heck, in early designs, Jabba even sports a fez, just like Greenstreet's Casablanca character.
Naturally, Francis Ford Coppola's crime drama The Godfather was a big influence on Jabba, too. Lucas cited Marlon Brando's Vito Corleone as one of Jabba's onscreen predecessors. Star Wars: The Annotated Screenplays reveals that Jabba's death scene, in which an enslaved Princess Leia strangles him with one of her chains, was inspired by Luca Brasi's garroting at the hands of a Corleone family rival.
George Lucas isn't a fan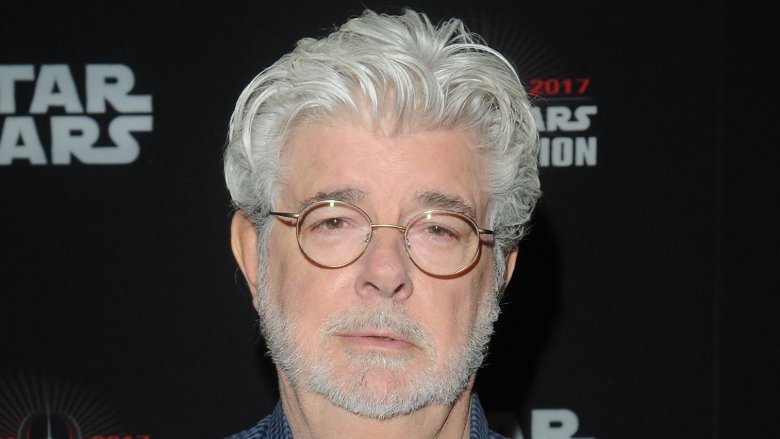 Getty Images
Despite Jabba the Hutt's grotesque appearance and utter lack of morals — or maybe because of them — he's gone on to gather a legion of fans. George Lucas isn't one of them. While filming the original Star Wars trilogy, Lucas could never get Jabba realized onscreen to his satisfaction, and he wasn't happy at all with the puppet that he ended up with.
In the fan-made documentary Life Inside Jabba the Hutt, puppeteer Toby Philpott reveals that Lucas "wasn't... impressed" by the Jabba rig, which took three months and half a million dollars to build. "He wasn't satisfied that Jabba couldn't walk around, for instance," Philpott said. "Where I quite like that fact that he obviously was gigantic slug who rarely goes anywhere." Chris Taylor's How Star Wars Conquered the Universe echoes similar sentiments, saying that Lucas considered puppets and prosthetics "constrictions on his imagination." As Taylor writes, "You might have enjoyed the rubber puppet fest of Jabba's Palace, but it made the Creator wince."
On the Return of the Jedi DVD commentary track, Lucas even outright says that, had CGI been an option, he would've used it to bring Jabba to life in 1983. Maybe it's best that he didn't. In 1997, Lucas finally realized his dream of a CGI Jabba the Hutt in the Star Wars Special Edition. It's aged poorly. That gargantuan puppet, however, still looks just fine.
He's got serious mother issues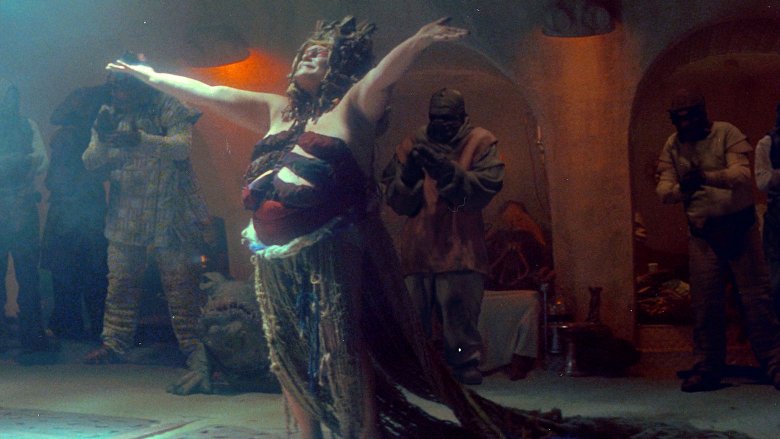 Jabba is a mobster from a family of mobsters, so of course his family reunions get a little complicated. We'd expect nothing less. In 2008, Star Wars: The Clone Wars introduced fans to both Jabba's duplicitous uncle, Ziro the Hutt, and his son, the flatulent little guy known as Rotta. Later, the cartoon series expanded Jabba's family tree by bringing in Jabba's grandparents, including the obese Hutt matriarch Mama, into the fold.
Jabba's parents don't play as big of a role, although they clearly had a big impact on the young Hutt. Too big, from the looks of things. According to The Star Wars Character Encyclopedia, which was co-written by Lucasfilm Story Group member Pablo Hidalgo, one of Jabba's dancers has been molded in his mother's image. During the dance scene in Jabba's palace, you can see Yarna d'al' Gargan. Yarna was played by veteran British actress Claire Davenport, who was often cast for her "ample proportions." If she seems a little Hutt-like in Return of the Jedi, that's not an accident. As the Character Encyclopedia explains, Jabba had Yarna's body "enlarged" and forces her to wear makeup that makes the woman look like his mom.
Yes, it's all a little untoward, even for Jabba. Employing an exotic dancer because she can look like your mother? Yuck. Still, this is Star Wars — twisted parent-kid relationships are kind of the series' whole thing, and it wouldn't be the first time that we've seen characters in a galaxy far, far away getting a little too close to their family members.
He speaks ancient Incan (sort of)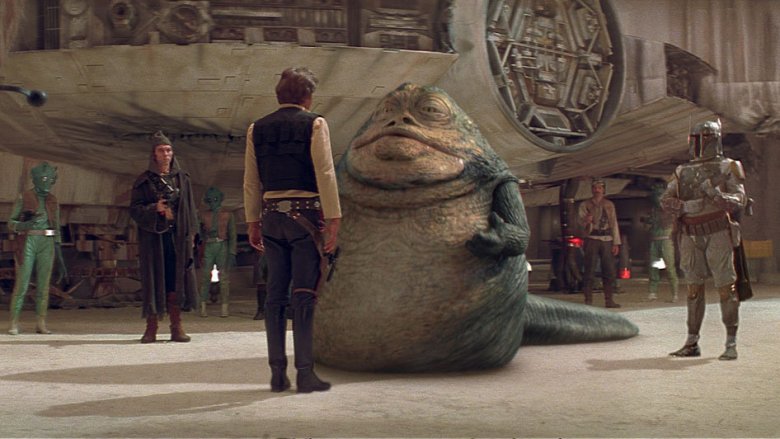 You can't actually learn Huttese, the dialect that Jabba speaks in the original Star Wars trilogy. It's not a real language. It is, however, based on one.
On the DVD commentary track for A New Hope (as well as an old behind-the-scenes CD-ROM called Behind the Magic) Lucasfilm sound designer Ben Burtt says he based Huttese on Quechua, a collection of loosely affiliated South American languages that date back to ancient Incan times, and which are still spoken today. As the story goes, Burtt located an instructional tape and played it for Larry Ward, a young linguist. Ward didn't speak Quechua, but he could memorize and imitate the sounds just fine, and went on provide the voice for both Greedo and Jabba.
Huttese isn't actually Quechua. Huttese doesn't have any formal structure and borrows words from English, Polish, and Hindi, too. It's simply a spiritual ancestor. Not that anyone on set would've noticed, of course: During filming, Jabba's puppeteers delivered all of his lines in English. The Huttese was added in post-production, during which it was designed to fit Jabba's already filmed mouth movements.
He's a cheapskate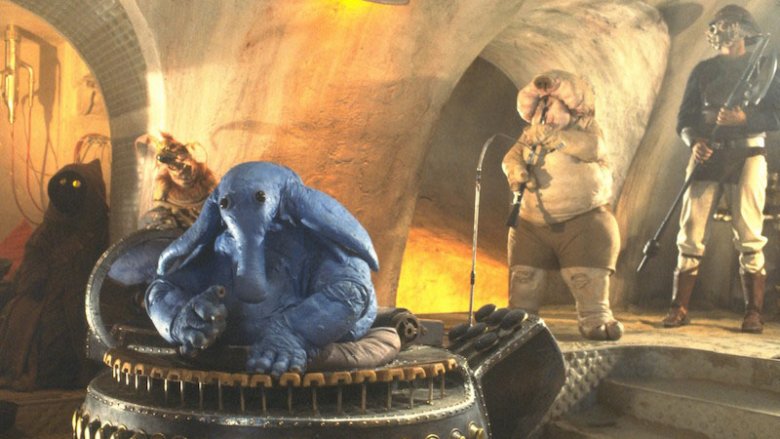 Jabba the Hutt has his own fully staffed palace, a retinue of servants, and a luxurious sail barge. The dude is filthy with money. That doesn't mean he likes to spend it, though. Sure, Jabba will put a bounty on a smuggler's head if he needs to, but if he can get someone's help without parting with any precious cash, he'll do it.
We're not talking about Jabba's slaves, although he famously has a bunch of those. We're talking about his house band. Led by blue and vaguely elephant-like Ortolan named Max Rebo, the appropriately named Max Rebo Band is a 12-member outfit that includes accomplished musicians like Droopy "Snit" McCool, the double-threat drummer and bodyguard Umpass-stay, and the bounty hunter-turned-singer Sy Snootles, who previously seduced and killed Jabba's no-good uncle Ziro before turning to music full-time.
According to The Star Wars Character Encyclopedia, the Max Rebo Band's performance at Jabba's palace — the one that's interrupted when Jabba decides to feed his dancer, Oola, to his pet rancor — isn't a one-off thing. Jabba loves the Rebo group's sound so much that he's given the band a "lifetime gig" at his palace. That sounds like a cushy setup, but there's a catch: as revealed in the Star Wars Visual Dictionary, Rebo loves food more than anything else, and gladly signed a contract that "pays only in free meals." Naturally, the Encyclopedia notes, the rest of the band wasn't too pleased.
He got the rancor as a birthday gift
The rancor, a.k.a. the creature that lurks underneath Jabba's throne room and eats anyone Jabba doesn't like, isn't just a fearsome beast. He's a pet, and he's got a surprisingly tender backstory — well, tender for a man-eating monster, anyway.
Not only were the rancor's sounds made by Ben Burtt's neighbor's dog, but as sources like The Star Wars Character Encyclopedia and Ultimate Star Wars describe it, Jabba's majordomo, or chief of staff, Bib Fortuna gave the Hutt the rancor for one of his many birthdays. Jabba put the rancor under the care of his animal trainer, a former circus performer named Malakili. Malakili named the animal Pateesa, which is Huttese for friend (aw!), and loved him despite the creature's savage nature. That loyalty goes both ways, too — once, when the Sand People attacked Malakili, Pateesa came to his master's rescue, saving the human's life.
In Return of the Jedi, Malakili begins weeping when Luke kills his charge. He's not just sad. He's devastated. In Chuck Wendig's Life Debt, a novel that chronicles the chaos following the Battle of Endor, Malakili wanders the Tatooine desert, contemplating suicide, when he's attacked by outlaws and rescued by some self-made law keepers. Malakili settles into a new life in Freetown (formerly known as Mos Pelgo). In Wendig's follow-up, Empire's End, he uses his beast-taming skills to strike an alliance with the Tusken Raiders and to help fight off the Red Key crime syndicate, finally giving him the peace that Luke Skywalker so cruelly took away.
He used to be a hermaphrodite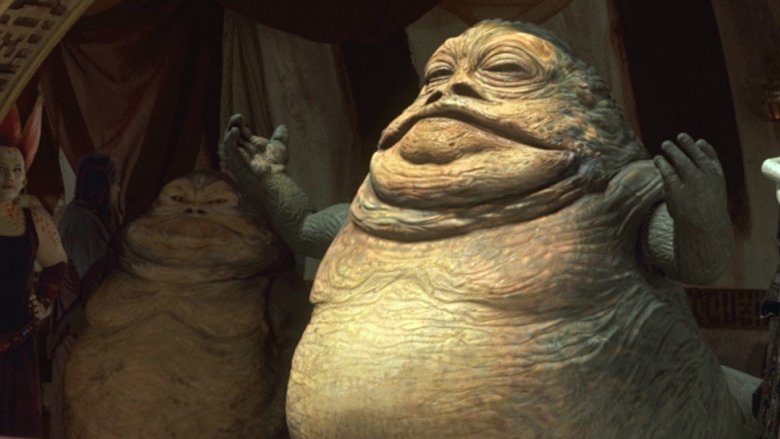 No, your eyes don't deceive you: Hutt physiology is really freakin' weird. For one thing, according to reference books like The New Essential Guide to Alien Species, Hutts don't have skeletons, although they do have a "mantle" that helps give their head that distinct, blobby shape. They sweat mucus, which helps keep them cool in the harsh desert heat. Like some types of snakes, Hutts can unhinge their jaws to consume prey — including humans, as depicted in the 1995 comic Jabba the Hutt: The Dynasty Trap.
Oh, and while Jabba has a son, don't go looking for Mrs. Hutt. She doesn't exist. In Star Wars' old continuity, Hutts were born with both male and female reproductive organs, and could mate with themselves if they wanted to. According to Karen Traviss' novelization of Star Wars: The Clone Wars, that's exactly what Jabba did. In the book, Jabba holds his son and admires "his own flesh and blood, and only his, because Hutts needed no partner to produce a child."
As such, any perceived gender markers, like feminine makeup or sex-specific pronouns, are up to individual Hutts themselves, although The New Essential Guide to Alien Species says that "many 'normal' Hutts consider this behavior a perversion, and scorn those who choose gender roles." At least, that's how it used to be. In 2012, after Disney purchased Lucasfilm, the Mouse House wiped most of Star Wars' non-film continuity clean. As part of this reshuffling, the Hutts got definitive genders. Jabba's hermaphroditic past is gone. For better or worse, he's now a dude, and only a dude.
His tattoo means more than you think — and more than its creator thinks, too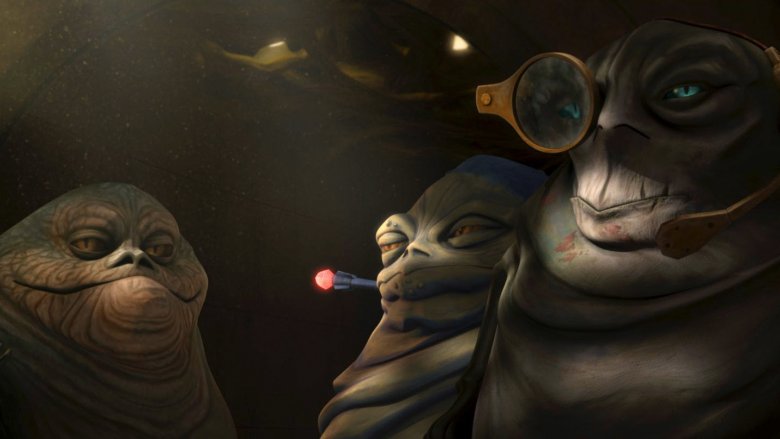 Jabba's arm tattoo isn't supposed to be important. It was just supposed to look cool. That's what John Coppinger, the man who sculpted Jabba the Hutt, says, anyway. During an interview with ScifiNow, Coppinger recalled, "I put a tattoo onto Jabba's arm, as a finishing touch, when the painting on set was finished." This is Star Wars, however. If there's something to explain, it'll be explained. "Now if you Google 'Jabba Tattoo' there you'll find yards of information about Huttese tribal markings," an exasperated Coppinger added. Coppinger might've helped design the Hutt, but the slovenly alien has taken on a life all of his own.
In James Luceno's novel Darth Plagueis, Jabba's tattoo is revealed to be the symbol of the Desilijic kajidic, or clan. After all, the guy's full name is Jabba Desilijic Tiure (you didn't really think his last name was "the Hutt," did you?), and he's got little use for anyone who's not immediate family. That's pretty much Desilijic tradition. Members of the Desilijic tribe are known just as much for their fearsome loyalty as they are their greed, their opulent tastes, and their fondness for humanoid women.
They're not always financially responsible, however. After Jabba's father, the Desilijic leader Zorba the Hutt, was arrested for smuggling rare gems, the Desilijic's podracing empire fell into disarray. Jabba was left to pick up the pieces, and eventually transformed the kajidic into the reigning Hutt syndicate.
All that from a simple decorative flourish. Star Wars canon is crazy, y'all.