Whatever Happened To Babette From Gilmore Girls?
She loves jazz, adores her cats, protects her friends, and, according to the shirt, she eats oatmeal. That's Babette Dell (Sally Struthers), the beloved wife of Morey (Ted Rooney) and neighbor to Lorelai (Lauren Graham) and Rory Gilmore (Alexis Bledel) on "Gilmore Girls" which is filled with heartfelt moments. Babette is first introduced in Season 1, Episode 2, "The Lorelais' First Day at Chilton." After waking up late for Rory's first day of school, Lorelai heads to Luke's Diner, where she tries to relax with a cup of coffee. But her plans are interrupted by an urgent phone call from Babette, telling Lorelai that strangers are lurking around her home. 
Upon arrival, Babette and Morey share the details of these surprise guests, including a gnome-kicking incident. That's when Lorelai finds out that her mother, Emily (Kelly Bishop), has hired a company to install DSL internet at her home. This would be the first of many breaking news stories that Babette would cover over the course of the show's seven seasons.
"Gilmore Girls" bid bon voyage to its original run in 2007, and Struthers has since continued to grow her decades-long acting career.
Struthers has been a constant presence on TV for decades
Sally Struthers has been a comedic force for decades, first making a name for herself as Archie (Carroll O'Connor) and Edith Bunker's (Jean Stapleton) daughter Gloria Bunker-Stivic on the hit sitcom "All in the Family" (which inspired "Family Guy's" theme song). During her time on the show, Struthers would earn five Primetime Emmy nominations, including two wins. In an interview with the New York Post, Struthers recalled the moment she auditioned for the role of Gloria. "I had laryngitis, and they handed me a yelling scene to do. I'm sure that's why he [Norman Lear] remembered me ... It was just another job. There was no way to know what it was to become," she said. The show would lay the groundwork for several spin-offs, including "Gloria," which focuses on the title character as she raises her son amid a separation from her husband Michael (played by Rob Reiner on "All in the Family").
Following "Gloria," Struthers would continue to grow her small-screen credits with the TV adaptation of "Nine to Five," the prehistoric sitcom "Dinosaurs," and the family series "Still Standing." She would become a Stars Hollow resident in 2000. Following the show's final episode, Struthers would head to "American Dad!" where she played the voice of Clara during Season 7, Episode 3, "A Ward Show."
Struthers returned to Stars Hollow and has done a lot of theater work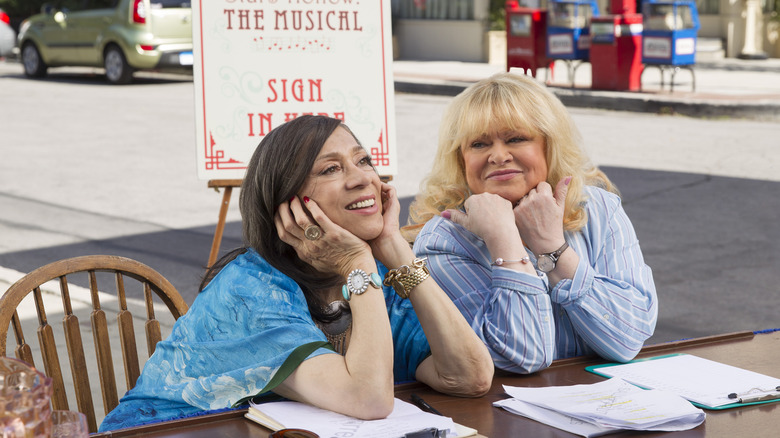 Saeed Adyani/Netflix
The coffee and town gossip was again brewing in Stars Hollow in 2016 when Netflix released "Gilmore Girls: A Year in the Life," which revisited Lorelai and Rory as they each faced new challenges. Of course, Sally Struthers would return to the role of Babette in the four-part revival, giving her signature advice and sharing her town knowledge in Episode 2, "Spring," and Episode 3, "Summer." When asked by Variety about her feelings upon returning to the iconic town, Struthers said, "I'd say a dream come true, except I never dreamt it."
The revival lasted for one season. Struthers has since joined the cast of a few films and is doing a lot of theater work. In 2022, Struthers starred in a revised "Young Frankenstein" production in California (via Playbill). In the spring of 2023, she will step into the shoes of Mrs. Peacock during a stage adaptation of the movie "Clue," which is taking place at The Gateway on Long Island (via Broadway World).