Whatever Happened To Robin Charles From Chicago Med?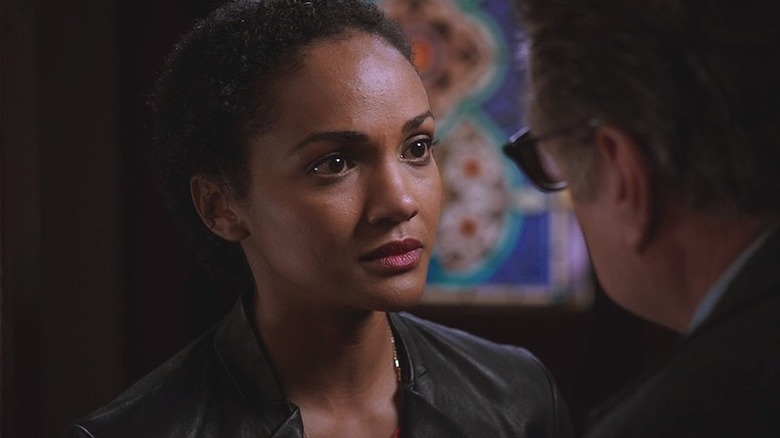 NBC
When producing a TV series, executives will always want the best actor for any given role. And with any good actor, they'll help to elevate the material, showcasing both their talent and the writing of the series. However, that can also be a double-edged sword for the producers. While they're putting in an excellent performance for one show, others will start to notice their acting chops, potentially leading to more opportunities. It becomes a bittersweet situation because although the cast and crew are sad to see that person go, they're happy for them as they move on to bigger and better roles.
It seems like this happened to Mekia Cox while she was playing Robin Charles on the hit NBC medical drama "Chicago Med." Introduced in Season 2, Cox played a skilled epidemiologist who carries resentment toward her estranged father, Dr. Daniel Charles (Oliver Platt). Cox got to flex her acting abilities when she gave a killer performance exhibiting alarming signs of what initially appeared to be schizophrenia. Though the cause for Robin's hallucinations was discovered and treated, her road to recovery consisted of many bumps. Not wanting to be a burden to her loved ones, she leaves to stay with her mother, leading to Cox's first exit from the series. In Season 4, Robin comes back with her mother, who is seeking treatment for lymphoma at Gaffney Chicago Medical Center. Robin returns for one episode in Season 5, bidding farewell to her mother, giving Cox her second exit. Since then, Cox has not reprised her role. 
As talented of an actor as Cox is, it makes sense that people would notice and they definitely noticed her. On two separate occasions, Cox left "Chicago Med," and that was because each time, she was offered arguably bigger and better roles.
Mekia Cox left Chicago Med twice for two different roles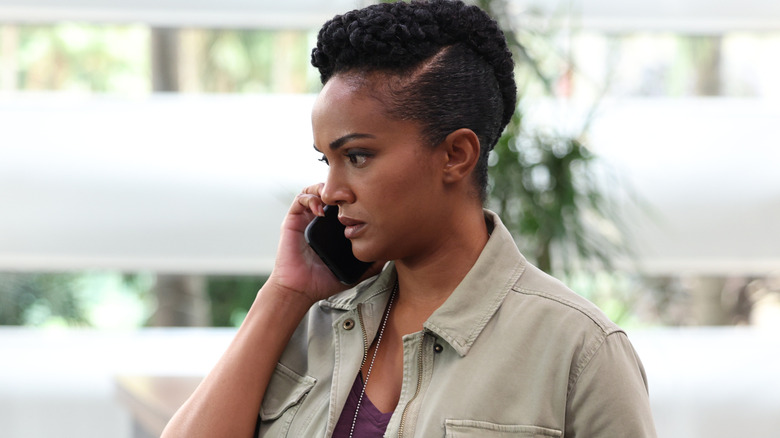 ABC
After Season 3 of "Chicago Med," Mekia Cox left her role as Robin Charles primarily due to being promoted to series regular on ABC's "Once Upon a Time" (per Us Weekly). Featuring characters from Disney's library of animated fantasy films, the series focuses on a town full of fairy tale characters who were deposited in the real world without their memories due to a curse. Cox played Tiana in the final season of the show before its cancellation.
At the time, Cox was playing both Tiana and Robin simultaneously, meaning that Cox was commuting between Vancouver, where "Once Upon a Time" is filmed, and Chicago. The strain of travel took a toll on Cox, as she explained in an interview with fan site One Chicago Center. "It was a lot for me because at the beginning of the week, I'd be in Vancouver and then half the week, I'd have to fly to Chicago," Cox explained. "It was a lot of back and forth for me, so eventually it does sort of start to wear on you." 
"Once Upon a Time" was canceled after Season 7 in 2018, allowing Cox to return to "Chicago Med" for Season 4. In 2019, Cox reprised her role in "Chicago Med" one last time in a Season 5 episode before leaving for good.
That same year, it would become clear that Cox exited the "One Chicago" universe because she landed a role on ABC's police procedural "The Rookie." Starting in Season 2, Cox began playing Nyla Harper, a former detective who returns to patrol work to be more present in her daughter's life. She continues to play Nyla in Season 5 of the series, which began airing in September 2022 (via Variety).