14 Actors You Totally Forgot Showed Up On The Fresh Prince Of Bel-Air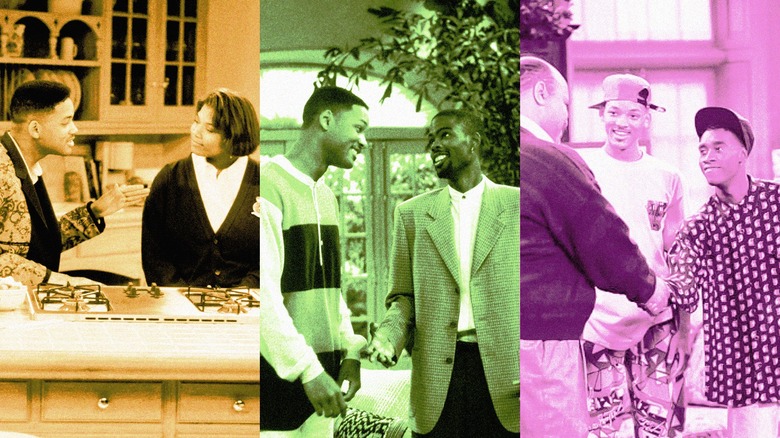 "The Fresh Prince of Bel-Air" ran for six hilarious seasons in the early 1990s and made rapper-turned-actor Will Smith a household name. Although it went off the air in 1996, the series has maintained a loyal following for over two decades. Smith stars as the eponymous main character, a young man from Philadelphia inspired by the actor's real-life personality. After changing coasts to live with wealthy Uncle Phil (James Avery) and Aunt Viv (Janet Hubert), young Will slowly goes from a quintessential fish-out-of-water to an irreplaceable part of their household.
However, Smith and the rest of the main cast are just some of the draws for this beloved sitcom. Throughout its tenure, "The Fresh Prince of Bel-Air" also featured cameos from some of the biggest names in 1990s Hollywood. Some performers had already enjoyed long careers in show business, while others were just getting their start. These actors each brought their signature brand of comedy and drama to the series, making their minor characters truly memorable.
Brad Garrett (Season 5, Episode 5)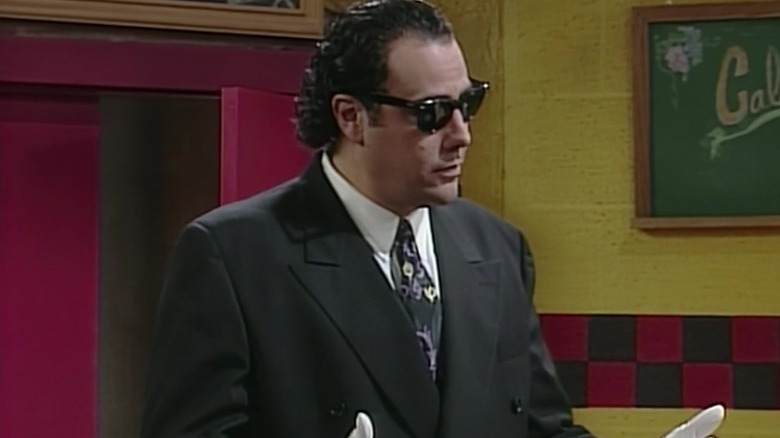 NBC/Hulu
Many people remember Brad Garrett as the lovably neurotic Robert Barone from "Everybody Loves Raymond." However, the actor had a single-episode cameo in "The Fresh Prince of Bel-Air" just two years prior to that show's premiere. In the Season 5 episode, "Fresh Prince, The Movie," Garrett stars as John "Fingers" O'Neill, a hitman at the heart of an outlandish tale concocted by Will and his cousin, Carlton (Alfonso Ribeiro). The pair create the O'Neill story to distract Will's friend, Jazz (DJ Jazzy Jeff), who cheats during a poker game.
This episode is a departure from the usual storylines of the series and takes the Banks family to Deliverance, Alabama. Their lives are far from their pampered existence in Bel-Air, but the relocation is a necessary component of a witness protection program designed to keep them safe from O'Neill. The relentless gangster is recognizable for his dark sunglasses, pristine suit, and perpetually gloved fingers. Unfortunately, O'Neill tracks them down in Alabama and attempts to silence Will for good. The story is dramatic enough to break Jazz's winning streak and gives fans a unique early look at Garrett's comedic acting skills.
Kathy Griffin (Season 1, Episode 4)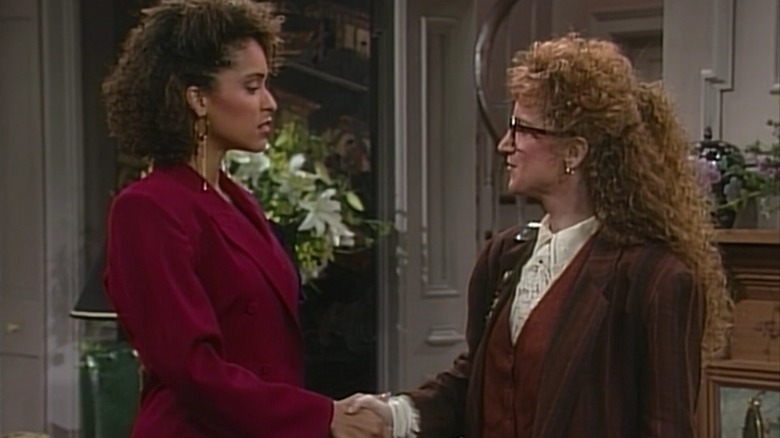 NBC/Hulu
Uncle Phil's career as a judge makes him a pillar of his community, which earns him an Urban Spirit Award in Season 1's "Not With My Pig, You Don't." Phil's parents take a last-minute flight to California to celebrate this momentous occasion. After their arrival, Phil's mother, Hattie (Virginia Capers), shares hysterical stories about Phil's upbringing in North Carolina. Early in the episode, comedian Kathy Griffin appears as Susan Klein, a reporter who plans to profile Phil before the awards ceremony.
This single-episode cameo was one of Griffin's earliest television roles and her first appearance in a sitcom. Griffin is very convincing as Susan, a no-nonsense journalist who doesn't miss a beat during the family interview. However, Will overhears her complaining about how boring his uncle is after the interview. To save the story, Will good-naturedly shares some of Grandma Hattie's anecdotes about young Phil. Susan loves this unexpected side of the prominent judge and uses the details Will provides as the heart of her report. Unfortunately, the story causes strife in the Banks family after it runs in the local newspaper.
Michael Clarke Duncan (Season 6, Episode 4)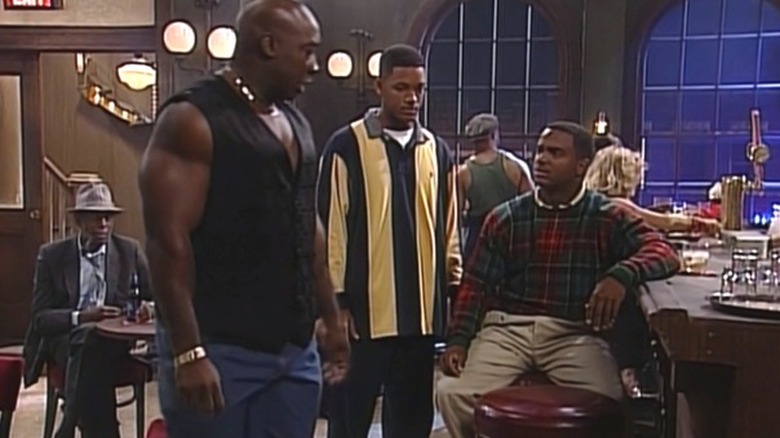 NBC/Hulu
Michael Clarke Duncan is likely best known for his unforgettable roles in popular 1990s movies such as "The Green Mile" and "Armageddon." However, the actor also had a long history of playing minor roles in television series. For example, Duncan joined the cast of "The Fresh Prince of Bel-Air" for a single episode appearance in 1995. He appears as the ironically-named Tiny, a vest-wearing bar patron in Season 6's "Bourgie Sings The Blues."
Carlton and Will briefly encounter Tiny in a blues bar, where Carlton is drowning his sorrows in ginger ale and having second thoughts about Princeton. Although he has mere moments of screen time, Duncan's imposing presence and funny delivery make for a worthwhile cameo. Carlton tries to get Tiny to join them in conversation, but the gruff bar patron doesn't give the cousins the time of day. Tiny was among the late actor's first-ever television appearances, so fans may have missed this cameo when the episode originally aired.
Nia Long (Season 5, Episode 6)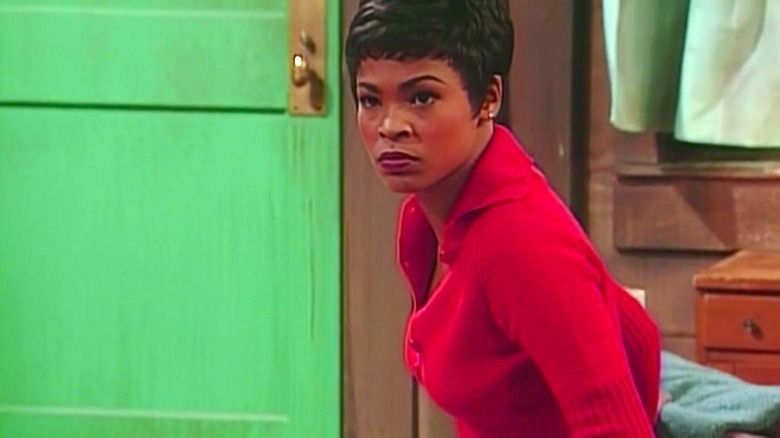 NBC/Hulu
Will does his fair share of womanizing, but he meets his match in Season 5's "Will's Misery." In this episode, "Friday" actress Nia Long begins her tenure as Lisa Wilkes, a young woman who teaches Will a lesson about his behavior towards women. Lisa has no patience for chauvinists and believes that men like Will should be shown the error of their ways. As part of a prank orchestrated by Carlton, Lisa takes Will on a date to a secluded cabin and ties him to a chair, intent on making him regret his past indiscretions.
When the prank backfires, the two join forces and turn the tables on Carlton. In the process, Lisa earns the favor of a sorority at her college and begins a romantic relationship with Will. Although Long is only part of the series for one season, her character is crucial to Will's maturity. He and Lisa get engaged in a later episode, but their wedding plans never come to fruition. The pair call off the wedding in the season finale, "For Whom The Wedding Bells Toll," which marks Long's final appearance as Lisa. Diehard fans of the show will also remember that Long actually first appeared in Season 2's "She Ain't Heavy," as Claudia, who Will takes to a school dance.
Chris Rock (Season 6, Episode 2)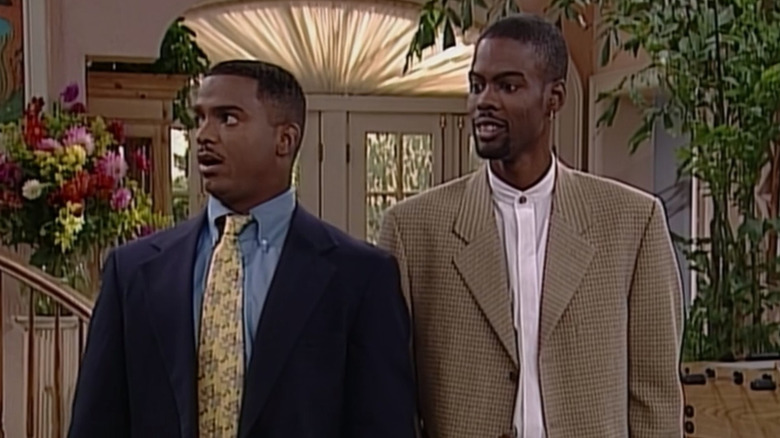 NBC/Hulu
Throughout its six seasons, "The Fresh Prince of Bel-Air" features many up-and-coming comedians. For example, comedy great Chris Rock stars as Maurice Perry in the Season 6 episode, "Get A Job." Despite appearing in multiple movies and television shows before this episode, Rock was relatively new to sitcoms. Maurice is a comedian at the beginning of his career, who the oldest Banks sibling, Hilary (Karyn Parsons), invites as a guest on her talk show. Will and Carlton compete to be Hilary's assistant talent coordinator, and the victor gets an exciting prize: the chance to entertain Maurice's sister, Jasmine (Rock).
Will eventually edges out his cousin, but regrets landing the job when he finally meets Jasmine. In a funny, unexpected twist, she looks exactly like her brother, Maurice, and has a very similar personality. Although she shows interest in Will, the feeling is not mutual. Rock expertly plays both siblings, but Jasmine's curly blonde wig and bold leopard print dress steal the show. Will barely survives his encounter with Jasmine, and "Get A Job" gets the season off to an excellent start.
Pam Grier (Season 4, Episode 22)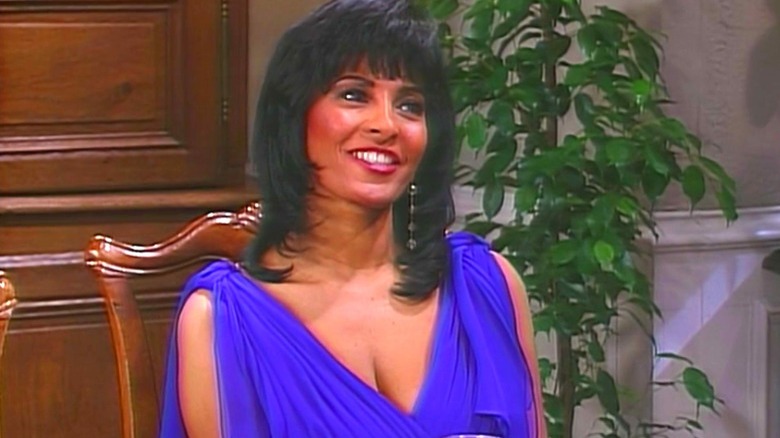 NBC/Hulu
Pam Grier became a star as the incomparable Foxy Brown and has been part of countless successful film projects. However, the actress has also made memorable appearances in several television shows. In Season 4's "M Is For The Many Things She Gave Me," Grier stars as Janice Robertson, Uncle Phil's college girlfriend. Phil describes Janice as a missed opportunity and admits to settling for his current wife after the relationship with his old flame failed.
The situation quickly becomes awkward when Janice visits the Banks family at their home. She is flirtatious and charming towards all of the Banks men, even with Phil's wife watching. Unsurprisingly, her presence makes Viv uncomfortable, but Uncle Phil isn't the only family member Janice has in her sights. Instead of solely trying to rekindle her romance with Phil, Janice also seduces unsuspecting Will and sleeps with him. Although Phil is initially upset with this outcome, Janice's actions help him realize how lucky he is to have Viv by his side.
D.L. Hughley (Season 3, Episode 22)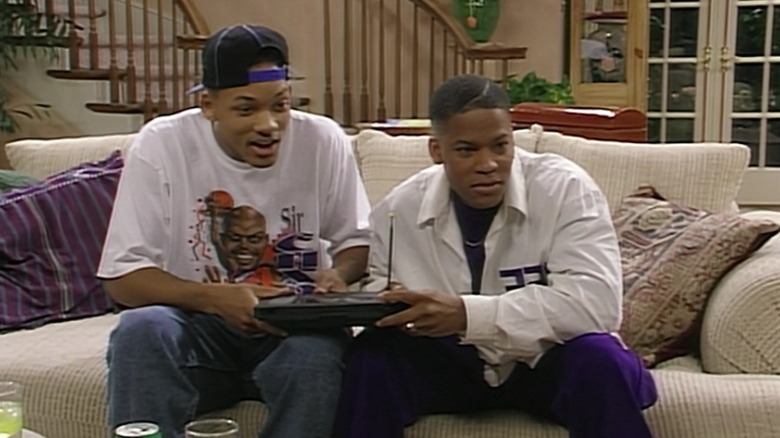 NBC/Hulu
In the Season 3 episode, "Ain't No Business Like Show Business," Will gets another visit from a familiar Philadelphia face. D.L. Hughley appears as Will's friend, Keith Campbell, an aspiring young comedian who dreams of achieving stardom in Los Angeles. This storyline fit young Hughley well since his comedy career was still in its early stages in the 1990s. Will accompanies Keith to audition for a local comedy showcase and inadvertently lands himself a spot in the competition.
Although the two young men have shared a long friendship, Will's inability to take the showcase seriously causes friction between them. Despite this friction — and Uncle Phil's disapproval — Will insists on participating in the competition. Unsurprisingly, Will's performance on stage reflects his lack of practice and receives an overwhelmingly negative reception from the audience. Conversely, Keith performs well in front of the crowd and is far more successful than his friend. Ultimately, Will learns the importance of educating himself before assuming he can succeed at a new venture.
Hank Azaria (Season 1, Episode 6)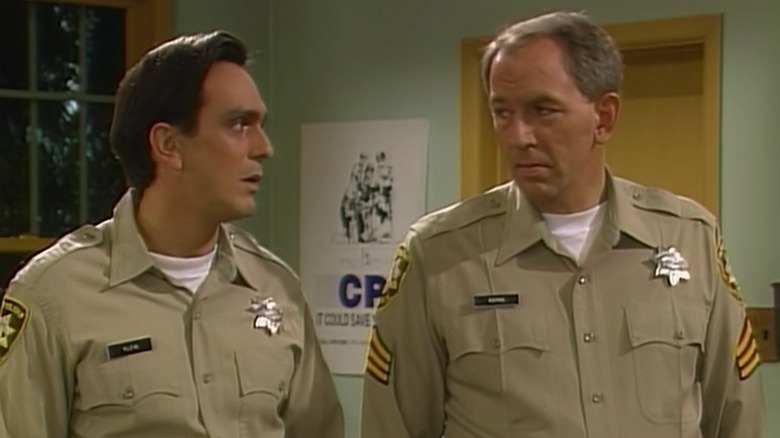 NBC/Peacock
Most television viewers in the 1990s likely recognized Hank Azaria as the voice of multiple characters on "The Simpsons." However, the actor also has a long list of live-action roles to his credit. For example, in the Season 1 episode, "Mistaken Identity," Azaria has a small role as a police officer, Jerry, who Will and Carlton encounter during a traffic stop. While most sitcom episodes focus on making audiences laugh, "Mistaken Identity" raises important questions about how police officers treat African Americans.
Azaria's character racially profiles both young men and subsequently arrests them for "stealing" the Mercedes Carlton is driving. However, the car actually belongs to one of Phil's associates, Henry Furth (John Petlock), who asked the pair to drive it to Palm Springs. Unfortunately, Jerry and the police sergeant (Dan Desmond) don't believe Will or Carlton's explanations of the facts. As a result, the two find themselves waiting in prison for the rest of the Banks family. The police officers only agree to let the young men go free when Furth — the only white character defending their honor — corroborates their story.
Queen Latifah (Season 2, Episode 8)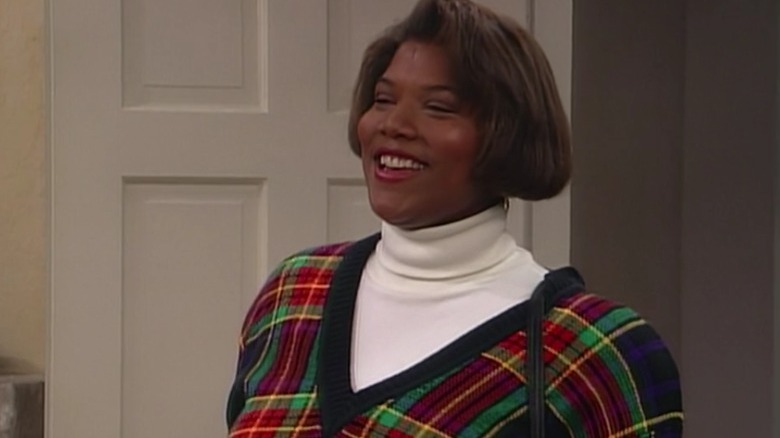 NBC/Hulu
Rapper and actress Queen Latifah appeared in several 1990s movies and sitcoms, including two episodes of "The Fresh Prince of Bel-Air." In her first appearance in Season 1's "Working It Out," Latifah appears as actress Marissa Redman, who Hilary works as an assistant for. In the next season, Latifah returned to the show to star as Dee Dee in Season 2's "She Ain't Heavy." In this episode, Dee Dee gives Will a much-needed lesson in appreciating people for more than just their looks. The two go on a blind date and have a great time, bonding over their shared love of basketball. However, Will is more concerned with what his friends will think than with how much he likes his fellow student. 
Although she is funny and charming, Dee Dee doesn't look like most of the girls that Will dates. After Will's friends tease him about her size, he gives into peer pressure by refusing to ask her to the upcoming school dance. Instead, he takes a girl who more closely resembles his friends' narrow-minded ideals (Long's Claudia). Will later regrets this decision when he has a terrible time with his date of choice. Luckily, Dee Dee forgives Will for rejecting her, and the two reunite for the remainder of the dance. 
Jaleel White (Season 6, Episode 7)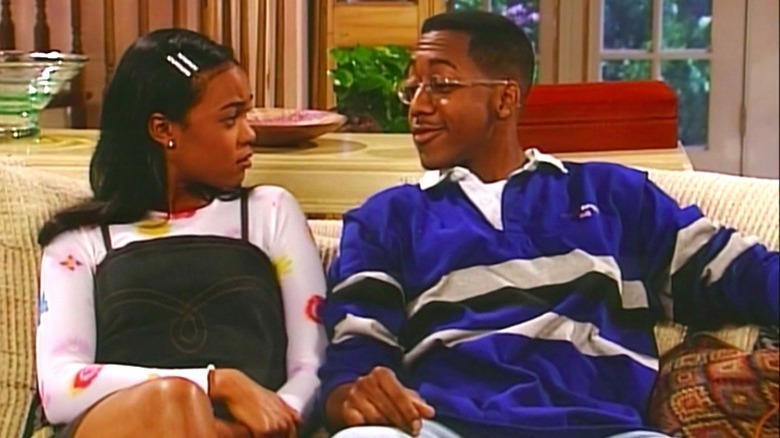 NBC/Hulu
Jaleel White isn't always lucky in love as Steve Urkel from "Family Matters," but his chances seem better as Ashley Banks' (Tatyana Ali) long-distance boyfriend, Derek. Although he wears glasses similar to Steve's, Derek is far more refined than his nerdy counterpart. The smooth-talking college student appears in a single "The Fresh Prince Of Bel-Air" episode: Season 6's "Not With My Cousin You Don't." This episode aired in the middle of White's tenure on "Family Matters," so the actor briefly captured sitcom audiences on two different networks.
Derek and Ashley are childhood friends, but Derek stirs up trouble when he suggests they become lovers. Although Hilary is supportive of any decision Ashley makes, overprotective Will and Carlton treat Ashley like she is still too young for intimacy. They believe Derek is trying to pressure her, but the young man graciously accepts Ashley's decision when she refuses to be intimate with him at the end of the episode. Derek never reappears, but the encounter teaches Ashley a valuable lesson about trusting her instincts.
Vivica A. Fox (Season 1, Episode 19)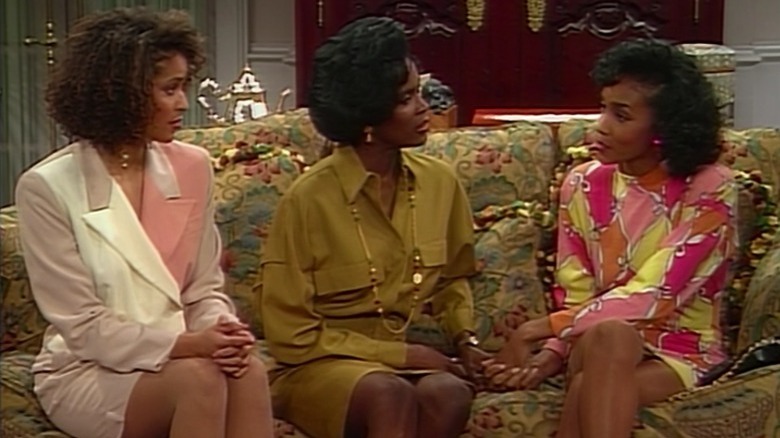 NBC/Peacock
Vivica A. Fox has built a successful career in Hollywood across three decades and has made multiple appearances in sitcoms. In 1991, Fox added "The Fresh Prince of Bel-Air" as an early entry on her resume with Season 1's "It Had To Be You." Fox stars as Janet, Jazz's sister, who is new to Bel-Air. Whereas her brother struggles to fit in with the locals, Janet looks perfectly at home in the presence of the Banks women.
Will agrees to take Janet on a date as a favor to Jazz but has never seen her before. When they meet, Will feels instantly attracted and discovers Janet has a crush on him, too. However, Will's delight soon turns to dismay when he realizes that Janet has already envisioned their entire future together. She is possessive, jealous, and insistent on having things go her way. Surprisingly, Carlton is the one who brings out Janet's calm, charming side when he later catches her attention. Since Will is typically more successful in dating, Janet's approval is a refreshing victory for the aspiring Princeton student.
Don Cheadle (Season 1, Episode 5)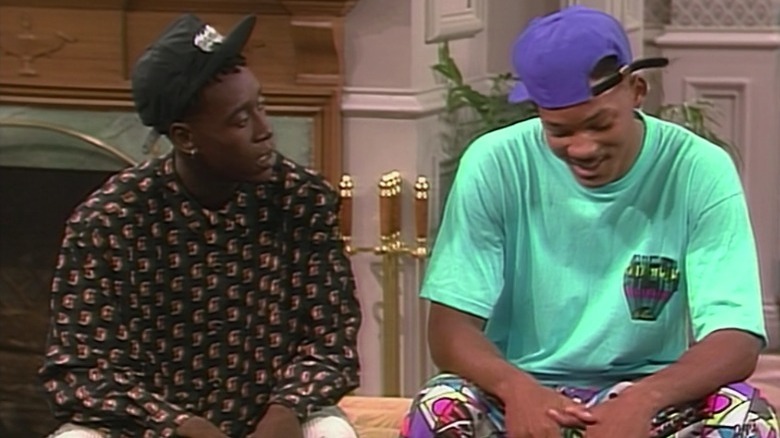 NBC/Hulu
Don Cheadle has appeared in television and film projects since the mid-1980s, with a career spanning multiple genres. However, years before he became a well-known actor, Cheadle appeared as Ice Tray in Season 1's "Homeboy, Sweet Homeboy." Tray, Will's old friend from Philadelphia, gives him a welcome taste of home when he visits Bel-Air. The two reminisce about their time together in Philadelphia, and Tray offers Will updates on his old neighborhood. The believable chemistry between Smith and Cheadle makes this reunion especially heartwarming for fans.
Although Will's aunt and uncle invited Tray to visit, they soon regret this decision when Tray builds an unlikely bond with Hilary. Viv and Phil decide to fake their support of Hilary's desire to date Tray, hoping their approval will make the potential relationship less appealing to their rebellious young daughter. When Will discovers the plot, Tray's presence raises thought-provoking questions about how the Banks view their less-privileged nephew.
Naomi Campbell (Season 1, Episode 10)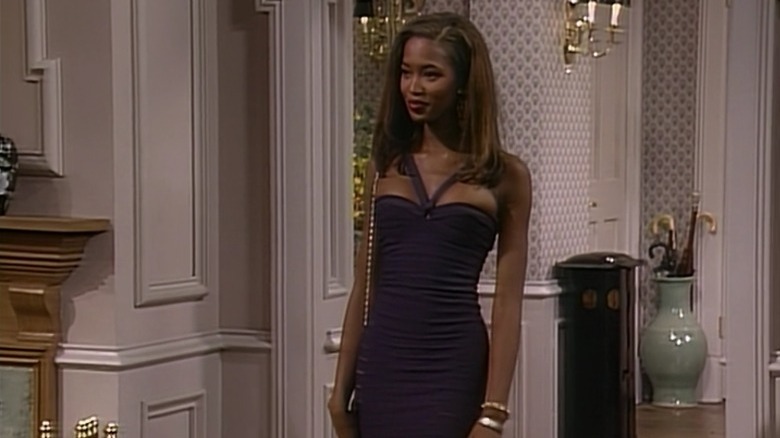 NBC/Hulu
Some of the best cameos in "The Fresh Prince of Bel-Air" come from performers in the early stages of television stardom. For example, model and actress Naomi Campbell makes a cameo in the Season 1 episode, "Kiss My Butler," as a poised English woman named Helen Carter. When Will decides to find the family's butler, Jeffrey (Joseph Marcell), a blind date for his birthday, he initially struggles to find a suitable bachelorette. However, Ashley makes the perfect suggestion when she mentions her friend's nanny, Helen. 
Although Jeffrey is delighted by his surprise date, another household member quickly falls for the lovely Helen. Shortly after meeting her, Will decides that Helen would be the perfect woman for him and tries to break up the new couple. After Will makes an utter fool of himself, Jeffrey concedes and gives the young man Helen's phone number. This episode is one of Campbell's earliest appearances in a sitcom, and her short-lived cameo is an excellent mid-season highlight for many viewers.
Quincy Jones (Season 1, Episode 9)
As Smith revealed in his 2021-released memoir, "Will," Quincy Jones was the key to him landing his iconic role in "The Fresh Prince of Bel-Air" (via Vanity Fair). According to the excerpt, Jones invited Smith to a party and asked the then-aspiring actor to do an impromptu audition for the role. Jones served as an executive producer for the series, but he also lent his acting talents to the second part of Season 1's "Some Day Your Prince Will Be In Effect." In this single-episode cameo, Jones appears as himself to ask Will for a favor. 
This episode is full of cameos from other actors, musicians, and even football player Bo Jackson, but Jones' appearance is especially memorable. He arrives at the Banks' home mid-episode to request that Will help him finish a record in his music studio. The accomplished producer looks humble and anxious in Will's presence, an amusing reversal of their real-life relationship at the beginning of the series. Since Will is too busy with homework to help, he calls another friend, singer Al B. Sure!, who comes to Jones' rescue. But, of course, all of this is a hilarious fantasy Will creates to try (and fail) to one-up Carlton and win femme fatale Melinda's (Paris Vaughn) heart.