The Office Fans Are Still Questioning Jim's Decision To Room With Cathy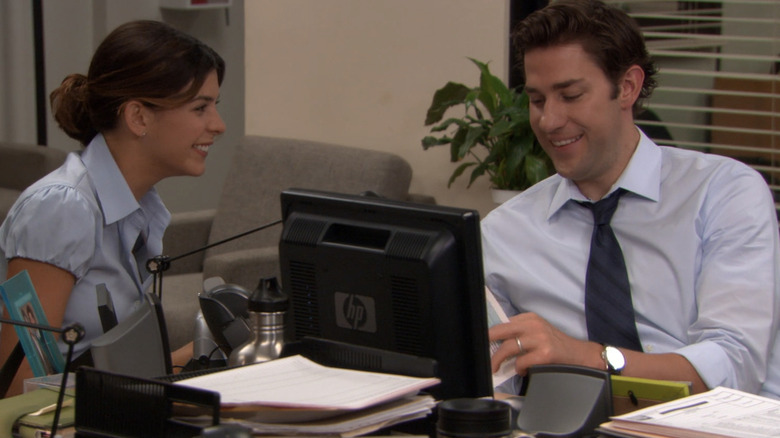 NBC
A group of zany characters, outrageous stunts, and cubicles. Put it all together and you get "The Office." NBC's hit sitcom follows a group of people working at Dunder Mifflin, a paper company in Scranton, Pennsylvania. While the office antics left viewers in stitches, Jim Halpert (John Krasinski) and Pam Beesly's (Jenna Fischer) romance became the heart of the show. In Season 1, Pam is engaged to Roy Anderson (David Denman) but later calls it off. Jim goes through a few relationships before finding true happiness with Pam. The couple would finally tie the knot in Season 6, Episode 4, "Niagara Part 1" and Episode 5, "Niagara Part 2."
Nothing can stand in the way of Jim and Pam, but one person does try in Season 8. Dunder Mifflin asks Cathy Simms (Lindsey Broad) to fill in for Pam while she's on maternity leave. In Season 8, Episode 7, "Pam's Replacement," Pam tries to get Jim to admit that he finds Cathy attractive, but Jim denies any feelings for her. Cathy later reveals her feelings for Jim while on the phone, believing that his marriage is on the rocks. This all leads up to Season 8, Episode 16, "After Hours" where Cathy makes her way into Jim's hotel room during a business trip. And it's a storyline that has left some fans questioning Jim's decisions.
Redditors believe there were easier ways to get Cathy to leave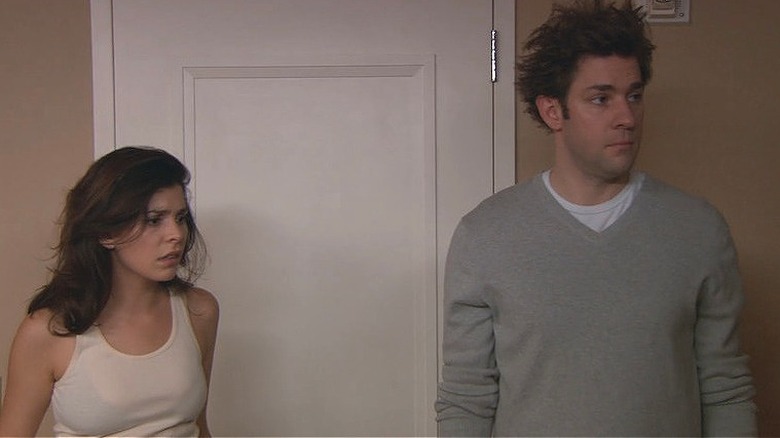 NBC
In Season 8, Episode 16, "After Hours," Cathy asks to hang out in Jim's room, noting that her room is under maintenance. Jim lets her in and automatically becomes uncomfortable. He tries to ask Stanley (Leslie David Baker) for help but is unsuccessful in his attempt. That's when he calls Dwight (Rainn Wilson), telling his co-worker that there are bedbugs in his room. Dwight runs to the rescue, but this bedbug intervention only leads Cathy to take a shower in Jim's room. Jim ultimately asks Cathy to leave, stating that he is happily married.
Dwight's approach to bedbugs may bring laughter to many, but fans in the subreddit r/DunderMifflin are wondering why Jim didn't take other approaches to Cathy's unwanted advances. U/MsCardeno wrote, "I'll never understand why Jim didn't just say he's going to hang out at the hotel bar or something. Like he literally didn't have to be in the room with her. Just leave ..." U/rachelle_makes_stuff thought that Jim should have told Cathy that he was tired and asked her to leave. Another Redditor, u/AsgardianOrphan, added that Jim may have been trying to avoid confrontation.
Fans are also speculating about Dwight's bedbug battle, wondering if Dwight knew what was going on with Cathy. "He was oblivious to the Cathy problem," wrote u/ReasonableCup604. But u/Rough-Culture disagreed. "Pam was his best friend in the office. I've always assumed he was in on it at least a little," they wrote.
How the episode was originally supposed to go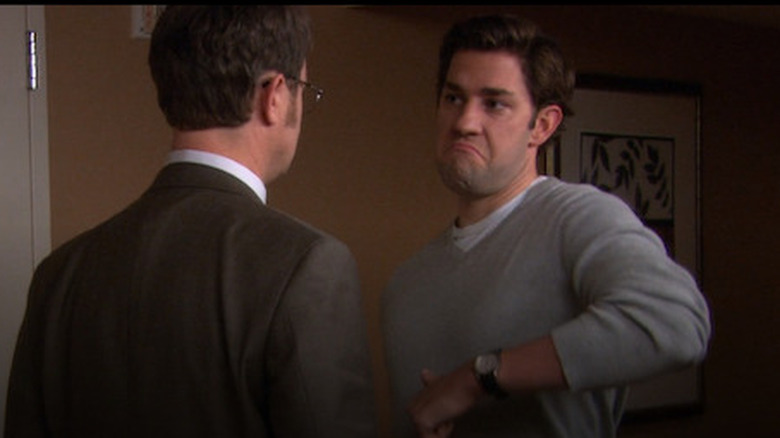 NBC
Audiences witness Jim protecting his marriage, but the episode wasn't always written that way. According to People, the book "Welcome to Dunder Mifflin: The Ultimate Oral History of The Office" shares that Jim was originally supposed to cheat on Pam. In the book, John Krasinski said that series creator Greg Daniels suggested that Jim and Cathy kiss, but Krasinski was totally against the idea. "I remember saying things that I never thought I'd say before, like, 'I'm not going to shoot it,'" he was quoted as saying, adding that he felt the idea would not be in the audience's best interest. "I remember saying to Greg, 'My feeling is there is a threshold with which you can push your audience ... We have shown such great respect to them. But there's a moment where if you push them too far, they'll never come back. And I think that if you show Jim cheating, they'll never come back," he said. Krasinski ultimately won the battle, never kissing Cathy. 
Instead of having an affair, the episode ends with Jim and Dwight hanging out in a hotel room while Dwight avoids unwanted advances from Nellie Bertram (Catherine Tate). While Dwight and Jim don't always see eye-to-eye, this episode proves that the two co-workers always have each other to lean on.