The Sweet Jay And Claire Moment On Modern Family That Was Completely Improvised By Julie Bowen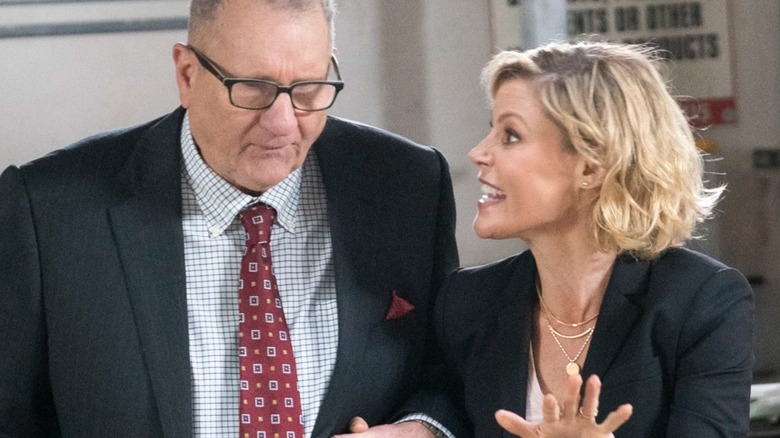 Ron Tom/ABC
"Modern Family" (which could've been a completely different show) became a hit in no time, resulting in a small screen reign that lasted over a decade and made it one of the most popular sitcoms of its era. As one could imagine, it didn't reach such incredible heights by mere chance. Rather, it combined several different factors to make itself appealing to a wide swath of potential audience members. It brought comedy, drama, big-name stars, and an endless stream of celebrity cameos, in addition to an ensemble cast of characters that most viewers couldn't help but appreciate throughout their years on television.
With a title like "Modern Family," it shouldn't surprise anyone to know that the show focuses on, well, modern family — multiple families, in fact. The Dunphy, Tucker-Pritchett, and Pritchett-Delgado households all brought something unique to the program, both on their own and when they crossed over with each other. This happened frequently seeing as patriarch Jay Pritchett (Ed O'Neill) took an active role in the lives of his adult children, Mitch (Jesse Tyler Ferguson) and Claire (Julie Bowen), as they worked to get their respective households in order.
Though their relationship wasn't perfect, every now and again Jay and Claire would share in a heartwarming father-daughter moment. One particular example was actually completely improvised by Bowen herself.
Bowen improvised a touching yet subtle Season 1 moment
In Season 1's "Come Fly With Me," Jay and Claire's husband, Phil (Ty Burrell), are in a rough spot. Jay hit Phil in the head with a plane, so he has to apologize to him. He does so as Phil lays on his couch in pain, and by the time he's done, he's at the center of a giant group hug — something he's not too enthused about. Moved by his rare display of emotion, Claire kisses Jay on the head and thanks him. According to Ed O'Neill (via Francesca Crisafulli on YouTube), Julie Bowen improvised this herself. He then gave her credit for coming up with such a special moment on the fly.
While this is a prime example of Jay and Claire's close connection, it also says a lot about the chemistry between O'Neill and Bowen. In fact, pretty much the entire "Modern Family" cast gelled in no time, meaning that filming the show was a breeze. On the flip side, it also meant that saying goodbye to the program after 11 years was no easy feat. During a chat with the Business Journal Daily, O'Neill recalled the final days on set as incredibly emotional. "The last two weeks of shooting, there was a build up of emotion and you could feel it all around you...People were getting choked up, and it built up to that last day," he said.
Nevertheless, "Modern Family" indeed came to an end in April 2020 and countless tears were shed. Thankfully, all involved have 11 seasons worth of unforgettable moments to look back on. Seeing as O'Neill remembers it so well, Bowen's improvised subtle Season 1 exchange between Claire and Jay appears to be among his most fondly remembered.