Billy Dee Williams Was Brought To Tears By Star Wars: The Rise Of Skywalker's Emotional Trailer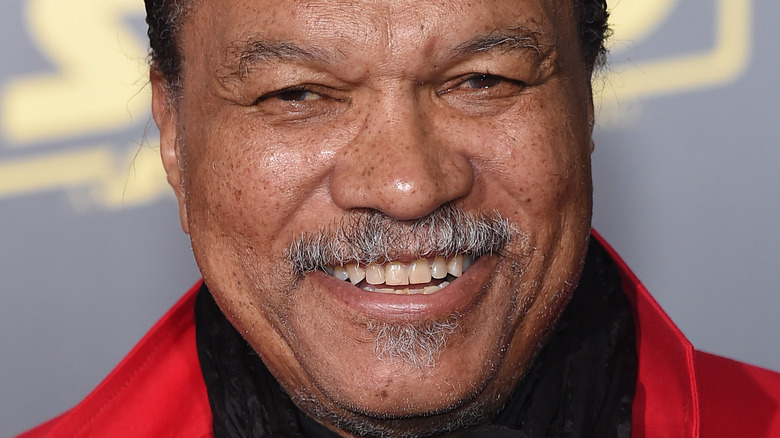 DFree/Shutterstock
The final installment of the "Star Wars" sequel trilogy, "Star Wars: The Rise of Skywalker," debuted in 2019 to reviews that were all over the place (via Rotten Tomatoes), even though it blew everyone away at the box office. Reelfilm called it a "somewhat watchable yet entirely disappointing entry that falls well short of the high-bar set by its two top-flight predecessors." Meanwhile, Filmotomy said, "'The Rise of Skywalker' gives you chills, is an absolute blast overall, and I, personally, am already planning my next trip through the galaxy with it." On the other hand, Drink in the Movies declared it was an "incohesive mess of fan service and B genre plotting."
There is no denying The Skywalker Saga evokes strong emotions, whether positive or negative. This goes beyond just fans and critics, with some actors, like Billy Dee Williams, getting emotional over what was seen in the trailers for "The Rise of Skywalker."
Williams was happy to be asked back to play Lando Calrissian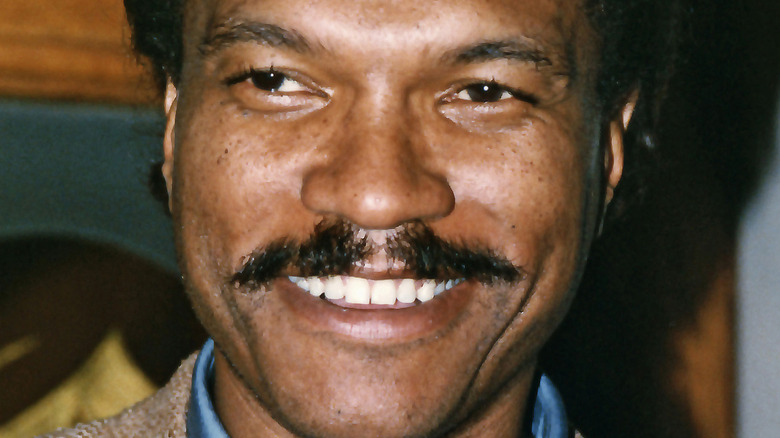 Vicki L. Miller/Shutterstock
Billy Dee Williams appeared in the first "Star Wars" trilogy as Lando Calrissian, Han Solo's (Harrison Ford) friend who betrays him to the Empire but is redeemed by helping rescue him from the clutches of Jabba the Hutt. When Disney announced the sequel trilogy, many hoped Lando would be among the characters to return. Producer/director J.J. Abrams tried to make that happen from the start. 
"Having Lando back in 'Star Wars' is something that (co-writer) Larry Kasdan and I wanted to do in 'The Force Awakens,' just as much as I wanted to have Luke training Rey," Abrams told Vanity Fair. "I was so excited about things that we just realized we could never, ever get to." Although it didn't work out then – or for "The Last Jedi" when the director considered bringing back Lando Calrissian – Abrams brought Williams back for "The Rise of Skywalker." "You just can't deny the guy," Abrams said. "Getting to see him in a scene with our characters, it just feels so right."  This was also a joy for Williams.
"I didn't expect to be back," Williams told RadioTimes.com, "but when I was asked to come back, I just got a big kick out of it. A big chuckle out of it. I was very happy." He also shared this sentiment with D23, explaining how he was thrilled be part of this new adventure.
But 'The Rise of Skywalker' trailer had him crying with emotion
Williams was happy and excited when he found out he was going to be part of the "Star Wars" universe again, and the trailer had an even larger effect on him. 
"It's epic," he said in an interview with HOYTS Australia. "When I see the trailer, I mean, I just sit there and start crying ... there's a lot of emotion in this besides all of the great, exciting adventures."
Disney released three trailers in total, and each was emotional in its own way. The first trailer, for example, was fans' first look at many of the movie's elements, including Lando Calrissian. The second trailer then featured images from the entire theatrical run of the "Star Wars" franchise. The last one focused on themes of friendship, rebellion, and good vs evil. 
Whichever trailer was Williams' focus, though, it's clear he has a strong affinity with the "Star Wars" universe. At the time of the last movie's release, he said to RadioTimes.com that he didn't want anyone else to play Lando while he was alive. He also believed that "The Rise of Skywalker" was just the beginning for the universe of "Star Wars," and he was not wrong.