Rupert Grint Still Misses Alan Rickman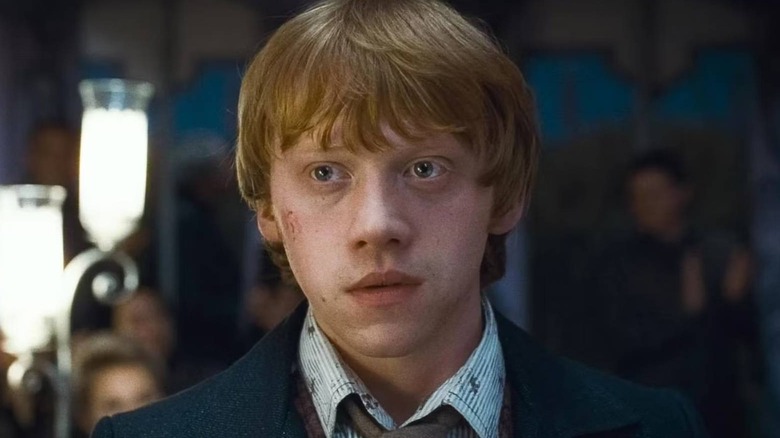 Warner Bros. Pictures
In the aftermath of the "Harry Potter" film franchise, Rupert Grint seems to have followed in the footsteps of his former co-star, Daniel Radcliffe. Both actors have, by and large, forgone major studio productions and have instead focused their most recent projects on smaller, more eccentric affairs. This has largely consisted of television roles for Grint, including "Sick Note," "Servant," and a one-off role in "Guillermo del Toro's Cabinet of Curiosities."
However, in 2023, Grint's coming back to the big screen in a big way with a role in M. Night Shyamalan's "Knock at the Cabin." It's not his first time working with the prolific director, seeing how Shyamalan created the Apple TV+ original, "Servant." But, of course, it only makes sense for Grint to still receive a ton of questions about his "Harry Potter" days whenever a new project gets in the works. And despite the series having ended over a decade ago, Grint still looks back fondly on his interactions with a cast member who's gone but far from forgotten.
Rupert Grint recalls how friendly Alan Rickman was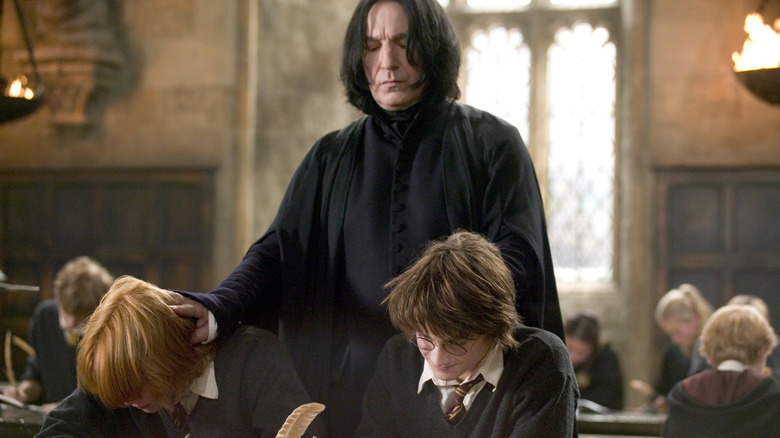 Warner Bros. Pictures
Alan Rickman played Severus Snape in all eight "Harry Potter" movies. He was an intimidating presence throughout much of them, only revealing his true motives and intentions in the final film, where Harry learns that everything he's done was to protect him and honor his mother's memory. But for the most part, he was kind of a jerk, and the true Alan Rickman couldn't have been further apart in terms of personality. 
Alan Rickman died in 2016, and in the aftermath of his death, numerous stories have come out about what a kind presence he was on film sets. And Rupert Grint had nothing but kind things to say of him during his chat with British GQ. Someone asked him about an anecdote involving him, Rickman, and some milkshakes, to which Grint had this to say of his co-star, "He had this quiet, intimidating presence. A lot of people lived in fear of him. He was just such a friendly guy. I really kind of think of him as a strange kind of uncle, really looking out for us. I do miss him."
Rickman was taken from the world too soon, and one can only imagine what kind of performances he would've turned in had he lived longer. But he left an indelible mark on all he worked with, including the impressionable cast of "Harry Potter."