Full Metal Jacket Actor R. Lee Ermey Dies At 74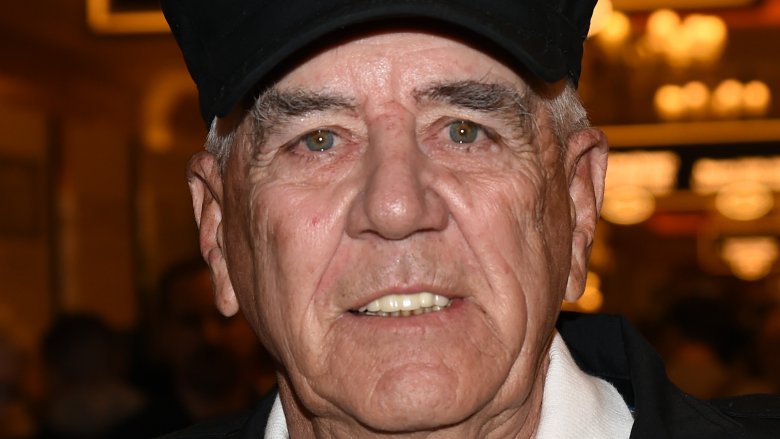 Getty Images
R. Lee Ermey, a Golden Globe nominee for his role in Full Metal Jacket, has died at the age of 74. Ermey's manager Bill Rogin confirmed his passing in a statement on Twitter, writing "It is with deep sadness that I regret to inform you all that R. Lee Ermey ("The Gunny") passed away this morning from complications of pneumonia. He will be greatly missed by all of us. Semper Fi, Gunny. Godspeed."
Ermey, a former United States Marine Corps staff sergeant, enlisted in the military at the age of 17. He began acting in the late 1970s, first appearing in small roles in The Boys in Company C and Apocalypse Now. His breakout role came in 1987's Full Metal Jacket, in which he played Gunnery Sgt. Hartman. In addition to the Golden Globe nomination, the role also earned him a Boston Society of Film Critics Award for Best Supporting Actor.
Emery continued to appear in impressive films throughout the '80s and '90s, including Mississippi Burning, Body Snatchers, Starship Troopers, Gunshy, Action, The Chaos Factor, Dead Men Can't Dance, and Life. He was nominated for an Awards Circuit Community Award for Best Cast Ensemble for his performance alongside Morgan Freeman, Brad Pitt, Gwyneth Paltrow, and Kevin Spacey in 1995's Se7en. In the 2000s, Ermey appeared in Jericho, Saving Silverman, Scrubs, The Texas Chainsaw Massacre, The Texas Chainsaw Massacre: The Beginning, House, and The Watch. 
Ermey was also a prolific voice actor, lending his vocals to Kim Possible, Batman: The Brave and the Bold, Family Guy: Kung Fu Panda: Legends of Awesomeness, The Simpsons, and the Toy Story series, portraying Sarge in all three films. His last credited role was reprising his part as Sarge for the Disney Magic Kingdom video game. Ermey was also the host of GunnyTime with R. Lee Ermey and appeared in a number of military documentaries.
Statement from R. Lee Ermey's long time manager, Bill Rogin:

It is with deep sadness that I regret to inform you all that R. Lee Ermey ("The Gunny") passed away this morning from complications of pneumonia. He will be greatly missed by all of us.

Semper Fi, Gunny. Godspeed. pic.twitter.com/vf4O78JKmb

— R. Lee Ermey (@RLeeErmey) April 15, 2018