Christian Isaiah Recalls The Rat-Infested Alley He Had To Sleepwalk Through While Filming Shameless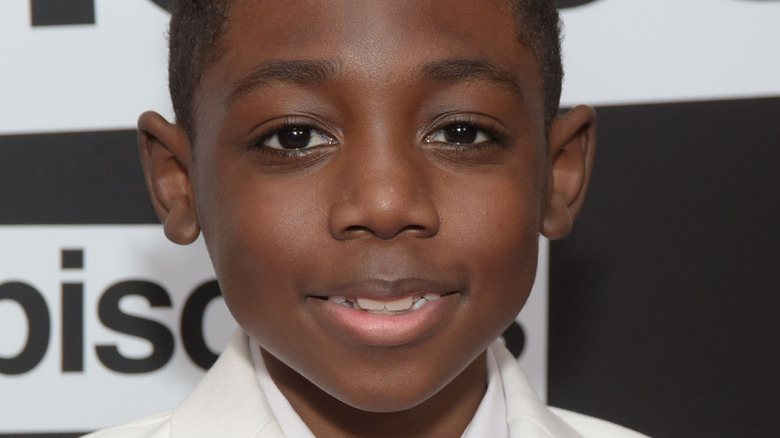 Michael Tullberg/Getty Images
Showtime's hit show "Shameless" took a curtain call on April 11, 2021, after 11 seasons — and fans and critics were not particularly happy with its final season. In fact, many were disappointed with the conclusion of the scrappy and dysfunctional Gallagher family's story.
Headed by do-nothing patriarch Frank (William H. Macy), who would rather spend his pennies getting wasted than spend time with his six children, the remaining Gallaghers showed how resourceful and resilient they could be in complex situations — often of their own making. Oldest sister Fiona (Emmy Rossum), helped by honorary Gallaghers Veronica (Shanola Hampton) and Kevin (Steve Howey), stepped up and took care of her siblings: Lip (Jeremy Allen White), Ian (Cameron Monaghan), Debbie (Emma Kenney), Carl (Ethan Cutkosky), and Liam, a character played by five different actors, but as an older kid by Christian Isaiah.
Isaiah was brought on to play the school-age Liam in Season 8 when he was nine years old, according to Vulture. He replaced twins Brenden and Brandon Sims, who played younger Liam from 2013 to 2017. Isaiah was already a professional when he joined the series, with at least eight IMDb credits under his belt and experience doing plays since age four. And considering the bizarre shenanigans the Gallaghers got themselves into, you know Isaiah had to recreate some batty circumstances himself. One of them involved a rat-infested alley.
Christian Isaiah had some interesting times filming Shameless
Young actor Christian Isaiah reminisced about one of the nuttier situations he had to recreate while playing Liam on "Shameless." During the Season 8 finale, "Sleepwalking," which marked the end of Isaiah's first season on the show, the Gallagher family discovers that Liam is a sleepwalker. His sleepwalking took the character, and the actor, to some very uncomfortable places.
"One scene I had to work first thing in the morning, and it was like thirty degrees [outside] and in the scene, Lip (Jeremy Allen White) finds Liam asleep outside in the wet grass. It was wet and freezing cold in Chicago. Also, another scene in that episode I had to sleepwalk down a dark alley with no shoes on, and there were dead rats in the alley," Isaiah said to StarryMag. "While filming that same scene, we heard gunshots and police helicopters flying over us. Very interesting night!!!"
Fortunately for Isaiah, it wasn't all horrible, and he had fun with the cast. "One time Steve Howey chained Ethan, who plays Carl, his seat to like a wall. And then we put a fart machine under it so when he tried to put it down, he sat in it, and we made it fart," he explained to iHollywoodTV. Sounds like family to us.