Brendan Fraser Is Closer With His Kids Than Ever After Playing Charlie In The Whale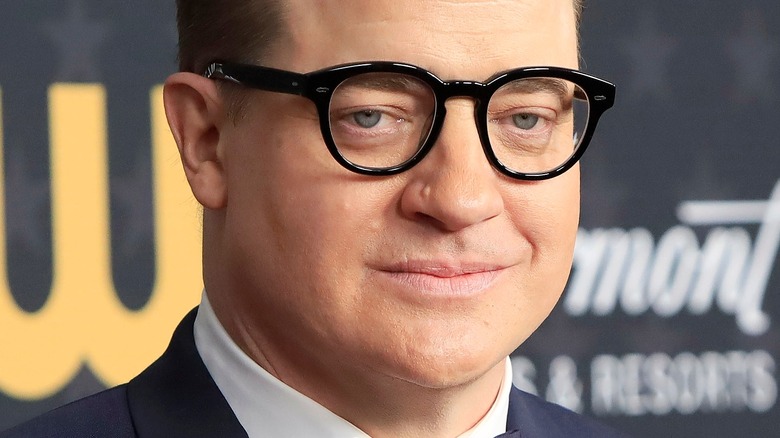 Joe Seer/Shutterstock
Brendan Fraser is experiencing a certain degree of renaissance these days. Some might argue that he never really left the entertainment world on account of his performances in movies like "The Mummy," nor has he ever stopped working, as IMDb notes that he appeared in several episodes of the criminally underrated "Doom Patrol." Perhaps it is simply the right time for Fraser to be rightly recognized as truly skilled. It appears as if the beloved actor is finally earning his well-deserved accolades for his role in "The Whale," including an Oscar nomination.
In "The Whale," Fraser plays Charlie, a reclusive and obese teacher who has become estranged from his family. Charlie manages his job by teaching remotely, though he is ashamed to turn on his webcam to let his students see what he looks like. Charlie's only real friend is his nurse, Liz (Hong Chau), though he is often visited by a missionary named Thomas (Ty Simpkins). Depressed and lonely, Charlie offers his daughter Ellie (Sadie Sink) all of his money to come and visit, and Charlie tries desperately to make some sense out of his life. "The Whale" definitely knows how to play on audiences' heartstrings, and Fraser approaches the role with his trademark warmth. 
Aside from the recent buzz around his performance, it seems as if "The Whale" has also brought Fraser closer with his own children.
Fraser says having children changed his life
While appearing on Marc Maron's podcast, "WTF," Brendan Fraser had a chance to speak about "The Whale" and everything that went through his head while portraying the heartbroken Charlie. Around 54 minutes in, Fraser mentioned that his eldest son, Griffin, is mostly responsible for Fraser's ability to effectively play Charlie. The actor elaborated by explaining that before he had children, he acted for selfish reasons. However, Fraser says that after people have a child, a switch in their head flips, and suddenly they are living their lives for somebody else. Fraser added that he felt like raising a child made him feel whole. On account of this fact, he was able to play Charlie because, as Fraser puts it, the character of Charlie knows what it is like to "love deeply."
"Everyone feels for their kids," Fraser said. "I mean, the thought that ... My own children could be abandoned in a way that Charlie perceptively did the same thing when he left his marriage to be with a new partner whom he had fallen wholeheartedly in love with, but it completely shattered the whole ecology of his life to take that different path. And he just wasn't aware of the fallout that could ensue ... The thought of that personally, doing that myself in the way that Charlie did, is so foreign to me that it breaks my heart to be put in that position."
The Whale brought Fraser closer with his own children
It seems as if Brendan Fraser channeled his real-life experiences into his role of Charlie in "The Whale," which probably helps to explain how the actor is so effectively able to convey such a wide range of potent emotions. At the 58-minute mark of Marc Maron's "WTF" podcast, Maron asked Fraser how his own children responded to his role in "The Whale." Fraser replied, "They were like every other audience member. Devastated. They were giving me on the one hand a, 'Who are you?' kind of look. 'But I know you because you're my dad.' But I think what it did was it actually brought us closer in a way that I wasn't able to appreciate until it happened."
Fraser went on to add that his role as Charlie allowed him to view his own family in a way that he hadn't before the film was produced. "Because I started seeing them as more fully formed young men than children and allowing them to see that vulnerability that I knew it would take to do this, the service it deserved on screen, is a far removal from ... the work that I was doing to pander to my children," Fraser said.
These comments show that Fraser believes his efforts on "The Whale" have resonated with his own progeny and highlight a chapter in every parent's life — that children soon grow up and are worthy of equal respect and understanding. Still, "The Whale" represents another success in Fraser's career, and it is far removed from lighthearted fare Fraser has previously appeared in, like "The Mummy," "Blast from the Past," and "George of the Jungle."