Blue's Clues' Steve Burns Made His Professional Acting Debut On Law & Order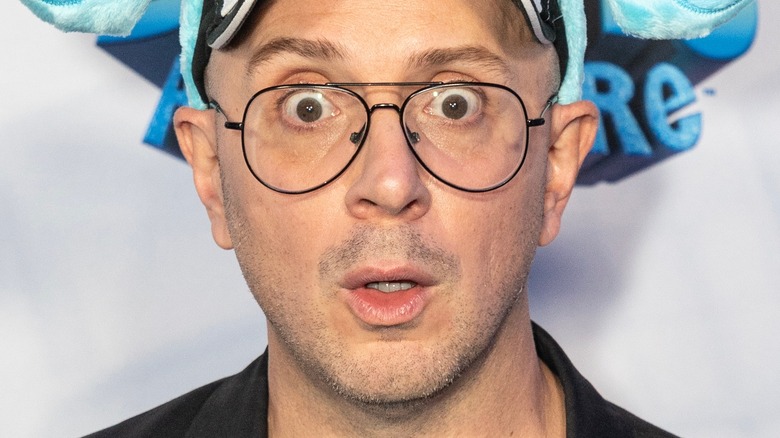 lev radin/Shutterstock
It's often jarring when favorite childhood stars take on serious roles. Just look at Hilary Duff, the innocent face of "Lizzie McGuire," who appears on "Law & Order: SVU" as a party-girl mother accused of causing her infant's demise. Lizzie could never do such a thing, right?
Someone else that the masses grew up watching is Steve Burns, who brought audiences along on his "Blue's Clues" adventures from 1996 to 2001. For an entire decade, youngsters tuned in to help the green-striped shirt-wearing host decipher the paw print clues left by his puppy. From his "handy dandy notebook" and "thinking chair" to catchy tunes like "We Just Got A Letter," Burns created an unforgettable viewing experience.
However, all good things must come to an end, and a nearly 30-year-old Burns felt it was time to let someone else take the reins of solving the clues of Blue. Before returning to the franchise in 2019 as a director, writer, producer, and guest star (via Variety) for the Joshua Dela Cruz-led "Blue's Clues & You!," he appears in a few projects that won't be on Nick Jr. anytime soon. For example, in 2007's "Netherbeast Incorporated," he plays Otto Granberry, a corporate employee who learns that some of his colleagues are vampires (via IMDb).
Still, this isn't the most jaw-dropping role of his career. In fact, one of the most shocking is Burns' first professional acting gig, which saw him portray quite the troubled individual on a 1995 episode of "Law & Order."
Steve Burns plays an autistic man who escapes from an abusive behavioral clinic
Longtime fans of Steve Burns know and love him as the cheerful, singing host of "Blue's Clues." Still, one year before becoming a Nickelodeon regular, he was making his professional acting debut as Kevin Jeffries on "Law & Order" Season 5, Episode 19 ("Cruel and Unusual").
This installment of the long-running crime drama opens with Kevin trying to grab a random man's watch on the street after inquiring about the time. He then does the same to a cop and lands himself in jail. While locked up, Kevin slams his head into the wall, ultimately causing his demise. An investigation ensues when it's revealed that Kevin was autistic and receiving treatment at a behavioral clinic, from which he escaped. The clinic's head Dr. Alan Colter (Lawrence Pressman), is soon investigated for abuse of patients.
Appearing in such a powerful drama seems more on course with Burns' initial career goals. He told Variety that, at 22, he moved to New York to be "an Al Pacino-Dustin Hoffman hybrid." Having "Law & Order" as the first line on his resume was undoubtedly impressive as he joined the likes of Sarah Paulson, Adam Driver, and other big names who got their start on the show (via E! News). Burns never envisioned himself helming a children's program in a bright green shirt, but he's okay with the course change.
"... even at the first audition [for 'Blue's Clues'], there was a thing that I loved: this idea of talking to the camera, like a Charlie Chaplin, Buster Keaton thing," he said. "I thought the interactivity was really a breakthrough. I used to call it 'The Rocky Horror Children's Show.'"