The Last Jedi: How Mark Hamill Really Feels About The Ending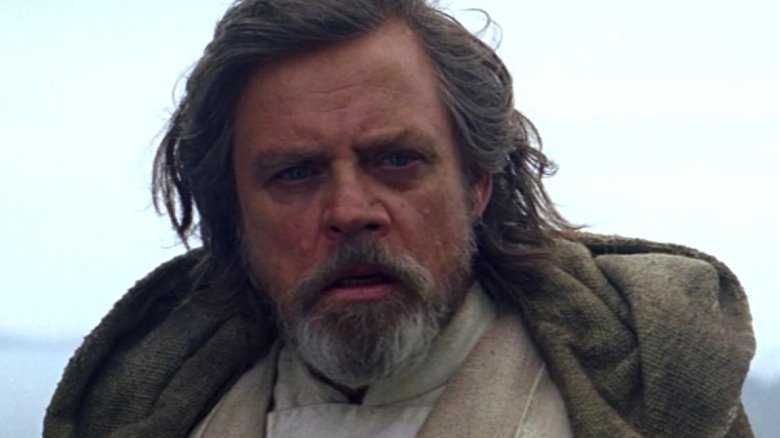 Star Wars: The Last Jedi is perhaps the most divisive Skywalker saga entry to date, practically splitting the fandom in two: those who absolutely hate what writer-director Rian Johnson did, and those who proclaim that the film is the kind of Star Wars movie they'd long been hoping to see. But how does the pic's biggest star, Luke Skywalker actor Mark Hamill, feel about everything — especially that ambiguous (and somewhat confusing) ending?
Speaking with GamesRadar, Hamill gushed about his love for The Last Jedi, revealing that he has a particular fondness for the conclusion, which sees a young Force-sensitive slave boy named Temiri Blagg reach his arm out and pull a broom toward him. Though many viewers were turned off by the ending, which indicated that the Jedi are anything but done for, Hamill adored it and what it implies for the future of the franchise. 
"What I love particularly was — and they didn't have to do this because the movie's over — all of a sudden you cut to the stable and there's that little boy, he puts out his hand and the broom comes to him," Hamill said. "It's so subtle, the first time I saw it I thought he just took it, but if you look he puts his hand out and it moves over for him, implying that yeah, she's [Rey's] the last Jedi... until the next Jedi. It'll go on forever, believe me."
Hamill then quipped that "long after" both he and Rey actress Daisy Ridley are gone, the creatives at Lucasfilm will "be making these films from here into eternity."
A popular fan theory suggests that Temiri (better known amongst fans as "the Broom Boy") might be a tiny leaf on a very important family tree, and that his parentage could be revealed in Star Wars: Episode IX and prove that characters of prominent blood and of insignificant origin (like Rey) are equally important in the galaxy far, far away. Nothing has been confirmed on that front, though it does seem a hypothesis worthy of consideration.
Hamill's Luke Skywalker likely won't make a return for Episode IX, after the whole "vanishing into a cloud of Force ghost smoke" thing happened in the final moments of The Last Jedi, but we will see Oscar Isaac back as Poe Dameron, John Boyega reprise his ex-Stormtrooper character Finn, and Adam Driver slip into his brooding villain role as Kylo Ren for the current trilogy's final installment. Will the Broom Boy also pop up again? Only time will tell.