Birth/Rebirth's Graphic Scenes Are Making Sundance Audience Members Sick
Sundance Film Festival always seems to find horror gems that might otherwise be missed. Over several decades, the event has welcomed the mysterious and macabre as part of its Midnight section; notable entries over the years include Peter Jackson's gore spectacle "Dead/Alive," Daniel Myrick and Eduardo Sanchez's found-footage trailblazer "The Blair Witch Project," and James Wan's franchise-starting "Saw." The 2023 edition is no different as it introduces a new crop of titles (via Sundance).
"Birth/Rebirth" is making a place for itself among titles that leave their mark on viewers. The psychological horror title finds inspiration in 'Frankenstein." Much like Mary Shelley's classic novel, "Birth/Rebirth" sees its characters in search of the answers to creation. A grieving mother teams up with a morgue technician with a surprising secret and the results are shocking. Critics have been positive towards the film, citing its approach to the material as a highlight (via Rotten Tomatoes). 
Audiences didn't know what they were getting into with the project's debut screenings. Their response to the film's graphic scenes went well beyond the usual reactions. It created an event that even first responders were initially unsure about.
One screening left several people too ill to continue the film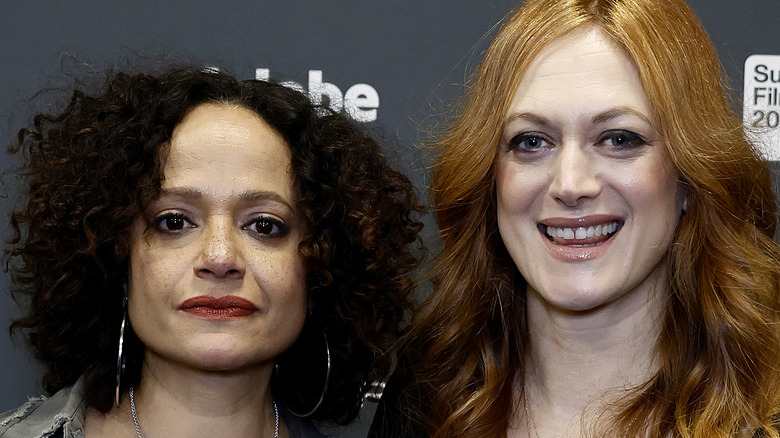 Frazer Harrison/Getty Images
A "Birth/Rebirth" screening at Salt Lake City's Rose Wagner Performing Arts Center had to be stopped due to some audience members becoming ill. First responders arrived on the scene to find those affected in various states of sickness (via World of Reel). A Twitter user who was on the scene described an audience member on the lobby floor and several others sick at one point. They went on to summarize their perspective on these reactions, writing "YES! Its medical horror! Procedures: Staples stitches needles blood. Course they felt sick!" (via @MrLDC)
The whole incident had first responders searching for a cause outside of the film's content. Fire department officials reportedly gave the entire audience a chance to leave the theater before inspecting the area for any noticeable hazards; a subsequent inspection confirmed there was nothing there to cause such a reaction outside of the film itself (via Utah Public Radio). As horror titles go, this real event should raise expectations for the Shudder project's potential.