Sons Of Anarchy's Maggie Siff Was On The Same Page As Fans When Jax Cheated On Tara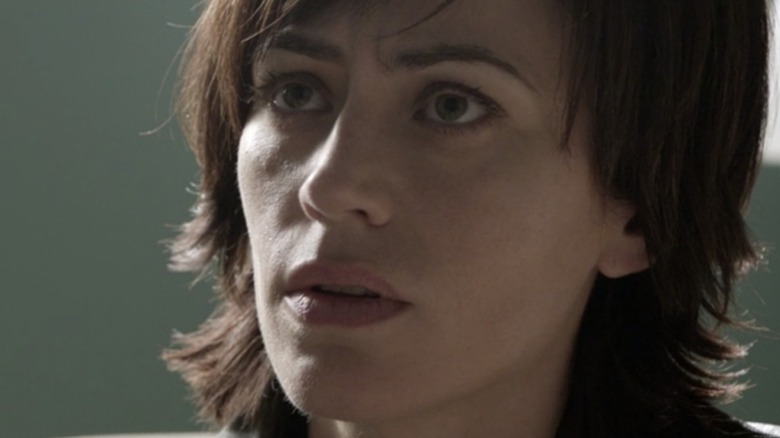 FX
Motorcycles, guns, and a rocking bluesy soundtrack are just some of the main elements that make "Sons of Anarchy" the best biker-themed "Hamlet" adaptation on television. Themes of betrayal, loss, and ambition are prevalent throughout the series as Jax Teller (Charlie Hunnam) goes from Vice President to President of the SAMCRO, all while trying to retain his soul.
But lest we forget, there is one "Sons of Anarchy" element that outshines the rest. The crime drama would be nothing without its relationships. After all, the biker king and queen Clay (Ron Perlman) and Gemma (Katey Sagal) kick off the events of the series by having John Teller (Nicholas Guest) killed. But through all the blood and violence, one relationship holds a place in fans' hearts above all others. Gemma is a character that fans love to hate, and as she tries to keep Jax close, her true enemy for her son's affection becomes Tara (Maggie Siff). Jax's old lady consistently strives to make a better life for their family and leave the crime world behind. Their relationship is the glue that holds the series together, which makes it all the more heartbreaking when Jax betrays the love of his life.
Tara's heart wasn't the only one that was broken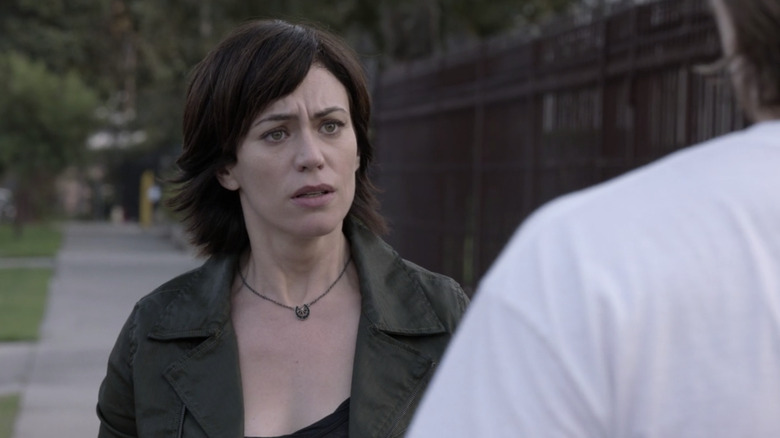 FX
No relationship is easy in "Sons of Anarchy," but Jax and Tara have been through more together than most. Things heat up between the two in earnest after Jax kills Tara's stalker, and it only gets more intense. With Jax's prison stint and Tara set up to rat on the club, the hits keep coming. In Season 6, Tara makes the challenging decision of choosing between her husband and her children. Though Jax isn't consciously aware that Tara is seeking a divorce, he knows their relationship is on shaky ground and finds comfort in the arms of brothel den mother, Colette (Kim Dickens). This enraged fans, a sentiment that Siff shared.
"I'm glad to hear that fans were upset. I was upset as well," Siff told Collider. "I think that they're in such a disconnected place from each other right now. I think that, at the end of Season 5, we saw just incredible disillusionment, on both their parts, with the other person." What the fans are witnessing is the devastating dissolution of a marriage. Tara would not be in danger of going to prison were it not for Jax. And Jax cannot walk away from the club even though he promised Tara he would. This drives a wedge between them on both sides and results in a heartbreaking realization that they may not make it.
Tara and Jax are the heart of the show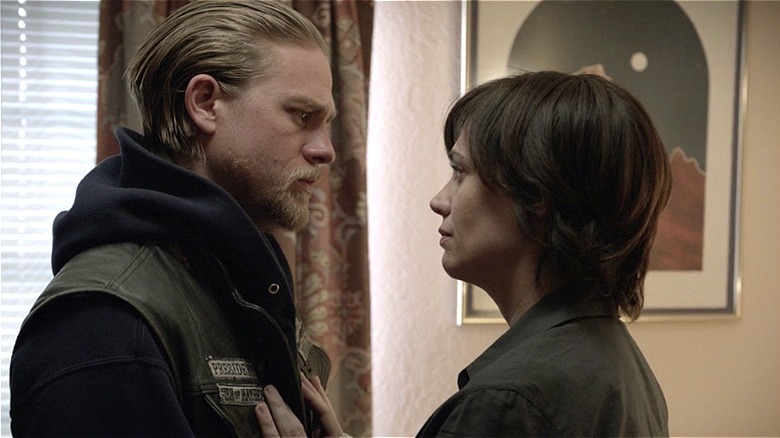 FX
At the end of Season 6, things could not seem worse for Tara and Jax. Convinced that her children will be indoctrinated into a life of violence, Tara plots to steal them away from her husband. Jax has become so hardened by the lifestyle that she scarcely recognizes him anymore. Knowing that Jax would never let them go, Tara believes the club's culture has destroyed her family, and she will never get out alive. But even when the odds are against them, Tara is surprised when Jax proves his love for her is stronger than anything else. He decides to let her go and turn himself into the police for the charges of distributing illegal guns. After all the pain and hurt, Maggie Siff still believed in the bond between the two characters.
"One of the things about the show that really pulls people in is that, no matter how awful things get between people, there is this deep and violently passionate love between the characters, within the family, and between Jax and Tara," Siff told Collider. "It's hard not to, on a basic level, root for that. I root for that. I think we all root for that." Of course, things don't end up how they planned. Tara dies tragically, leaving Jax heartbroken. But Jax's love for Tara still carries through the show until its final moments.