The Big Bang Theory's Kevin Sussman Had A Real-Life Job That Made Him Perfect For The Role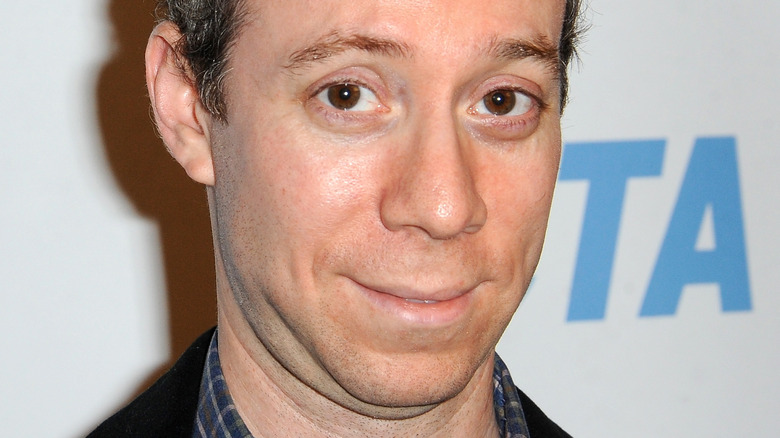 Albert L. Ortega/Getty Images
When Sheldon Cooper (Jim Parsons) and friends need to snag the latest comic book or action figure for their ever-growing collections, they know exactly where to go: the Comic Center of Pasadena, owned by Stuart Bloom (Kevin Sussman).
Stuart makes his grand debut on "The Big Bang Theory" in Season 2, Episode 20 ("The Hofstadter Isotope"), which sees him swoop in and ask Penny (Kaley Cuoco) out on a date. This drives Leonard Hofstadter (Johnny Galecki), who has been trying to make a move, crazy. As we know, Stuart and Penny aren't meant to be, but the comic book store owner does become a regular on the sitcom.
Over the course of the show's 12 seasons, Stuart's screen time significantly increases as more plotlines involve him. For example, his acquaintance with "Star Trek: The Next Generation" actor Wil Wheaton allows Sheldon to finally face his archnemesis. Later, an unexpected bond forms between Stuart and Mrs. Wolowitz (Carol Ann Susi). In Season 6, when Howard Wolowitz (Simon Helberg) goes to space, his friendship with Raj Koothrappli (Kunal Nayyar) strengthens. By the end of the series, he's even babysitting Howard and Bernadette Rostenkowski-Wolowitz's (Melissa Rauch) children.
Of course, not all comic book store owners become this involved in their customers' lives, but Sussman understands firsthand how important these pop culture-filled spots can be for many people. That's because he worked at one prior to appearing on "The Big Bang Theory."
Kevin Sussman's employment at a comic book store helped him embody the role of Stuart
In a 2017 interview with Indulge, Kevin Sussman revealed that his on-screen persona of Stuart Bloom is rather similar to himself. Though Sussman has never owned a comic book store, he was employed at one while attending acting school. "Between working on the show for ten years, and working in a real comic book store for four, I have spent a large chunk of my adult life working in some form of comic book store," Sussman said.
The store, as he revealed to TV Store Online in 2019, was Jim Hanley's Universe (now JHU Comic Books), which sells graphic novels, toys, games, and more, with locations in Manhattan and Staten Island. "Stuart's ironic dryness, his objectivity, his low nerd status, being broke while trying to run a comic book store and how awful that existence is—I can totally relate to," he said. "I didn't own the comic book store that I worked at in New York City when I was in college, but I know the owners of it really felt much the way that Stuart does on the show."
Though Sussman wasn't a fan of comics when started working at JHU, he grew to love them and named "Eightball" his favorite. He's also never forgotten the job he had before becoming famous, urging his Twitter followers in 2018, "The comic store I worked at before I was cast as a guy who works at a comic store is still around – it's @jhucomicbooks and you should shop there, IN PERSON instead of buying your junk online and depriving yourself of that fresh comic book smell."