Tom Hanks Lands Three Razzies Nominations (& He Deserves Every One Of Them)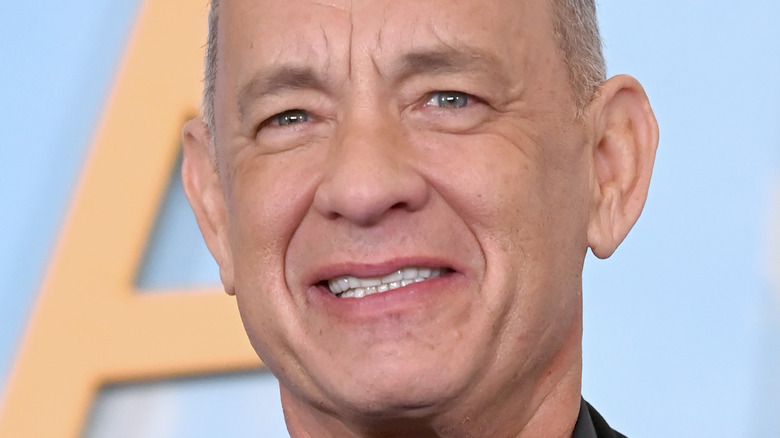 Dave J Hogan/Getty Images
Though Tom Hanks has his share of bad movies, his two consecutive Academy Awards for "Philadelphia" and "Forrest Gump" — as well as his array of other awards, per IMDb — are a pretty good indication that he's no slouch when it comes to acting. Even when the movie around him ends up being a bit of a turkey, his genial air and genuine acting ability can make it very difficult to imagine that someone would genuinely dislike a Tom Hanks performance. It would be even harder to imagine him in the receiving end of a Golden Raspberry award. 
Now, however, all of that has changed. 2022 wasn't a particularly fruitful year in Hanks' big-budget movie career, and as such, 2023 marks the year when Hanks' work has earned him no fewer than three nominations for the infamous Razzie awards. The recipients of the awards will be announced in March 11, and even though it may be jarring to see Hanks' name in this context, an argument could be made that his Razzie nods aren't exactly undeserved. 
Hanks' roles in Pinocchio and Elvis left something to be desired
Tom Hanks indeed landed three separate Razzie nods for two movies he made in 2022, per The Hollywood Reporter. Two of his nominations are for his role as Colonel Tom Parker in Baz Luhrmann's critically-panned "Elvis." Hanks' performance — and his peculiar accent in particular — has been called one of the worst things about "Elvis," and the role indeed earned him a Razzie nomination for worst supporting actor. His other "Elvis" nomination takes things even further, as Hanks is up for a Razzle for worst screen couple together with what the nomination calls "his latex-laden face (and ludicrous accent)."
The live-action Disney "Pinocchio" lost to Guillermo Del Toro's Netflix film in 2022's "Pinocchio" wars, and its unfortunate 28 percent Tomatometer and audience score (via Rotten Tomatoes) make clear that the remake lacks a certain something. Even the usually reliable Hanks hasn't been able to escape the movie's lack of love, seeing as his third Razzie nomination is a worst actor one for "Pinocchio."
Hanks is up against heavyweights like Jared "Morbius" Leto for the worst actor award, so a potential Razzie "win" in that category would no doubt be a hard-fought one. Likewise, Netflix's "Blonde" has two nominations in each of Hanks' "Elvis" Razzie categories, so there's a chance that he doesn't actually end up adding any Golden Raspberries in his proverbial awards cabinet. Even so, considering the movies in question, it's not too hard to understand why he ended up getting the nominations.