The Meg Poster Takes A Shot At Jaws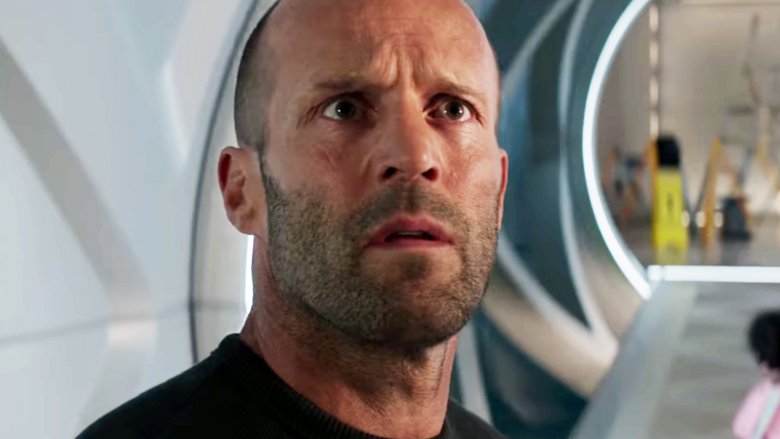 If Robert Shaw's Quint was going to need a bigger boat to escape the titular aquatic beast in Jaws, Jason Statham's Jonas Taylor will need a bigger everything to avoid getting chomped up by the enormous eponymous prehistoric shark in The Meg. 
A newly released poster for The Meg, the Jon Turteltaub-directed film that centers around a crew of researchers discovering off the coast of China the thought-to-be-extinct Megalodon shark that existed 23 to 2.6 million years ago, takes a loving shot at Jaws, depicting just how tremendously The Meg's monstrous ocean dweller dominates its famous film predecessor.
The one-sheet shows a tiny deep sea diver flipping their feet to rise back to the ocean's surface, unknowingly tailed by what should be a rather intimidating Great White shark — one that looks a lot like good ol' Jaws. Shift your eyes down just a few inches and you'll see that the Great White itself is being tracked by the Megalodon, who is so massive that only its many-toothed mandible fits in the frame. 
Take a look below.
Here's the official synopsis for The Meg: "A deep-sea submersible — part of an international undersea observation program — has been attacked by a massive creature, previously thought to be extinct, and now lies disabled at the bottom of the deepest trench in the Pacific ... with its crew trapped inside. With time running out, expert deep sea rescue diver Jonas Taylor (Statham) is recruited by a visionary Chinese oceanographer (Winston Chao), against the wishes of his daughter Suyin (Li Bingbing), to save the crew — and the ocean itself — from this unstoppable threat: a pre-historic 75-foot-long shark known as the Megalodon. What no one could have imagined is that, years before, Taylor had encountered this same terrifying creature. Now, teamed with Suyin, he must confront his fears and risk his own life to save everyone trapped below ... bringing him face to face once more with the greatest and largest predator of all time."
Topping off the international cast of The Meg are Rainn Wilson (The Office), Page Kennedy (Rush Hour), Jessica McNamee (The Vow, Sirens), Ruby Rose (Orange Is the New Black, John Wick: Chapter 2), Ólafur Darri Ólafsson (The BFG, The Missing), Sophia Shuya Cai (Somewhere Only We Know), Masi Oka (Hawaii Five-0, Heroes), Robert Taylor (Focus, Longmire), and Cliff Curtis (The Dark Horse, Fear the Walking Dead).
The Meg will sink its jaws (pun intended) into the box office on August 10.
Cool new poster for "the Meg" #themeg #shark #sharkmovie #horror #horrmovies #redlionpicture pic.twitter.com/We1yEZpGWS

— Red Lion Picture (@redlionpicture) April 11, 2018