Dennis Quaid Entering The Taylor Sheridan Universe For 1883 Spinoff Bass Reeves
Debby Wong/Shutterstock
Even before Taylor Sheridan launched his wildly successful "Yellowstone" franchise at the Paramount Network, he's long been interested in the myth of the American West, perhaps best exemplified in his screenplays for 2016's "Hell or High Water" and 2017's "Wind River." With his "Yellowstone" prequels "1883" and "1923," Sheridan has been able to examine that myth through a historical lens, even if it means uncovering some ugly truths.
The "1883" spinoff "1883: The Bass Reeves Story" promises to be Sheridan's most historically minded outing yet. The upcoming series stars David Oyelowo as famous U.S. Marshal Bass Reeves. Reeves, a former slave, was the first Black man west of the Mississippi River to fill the position, and over the course of his tenure in the late 1800s, he was believed to have arrested over 3000 fugitives. Reeves is also the alleged inspiration behind the Lone Ranger character (via Britannica).   
Now, Dennis Quaid is reportedly joining "1883: The Bass Reeves Story."
Quaid will portray a Deputy U.S. Marshal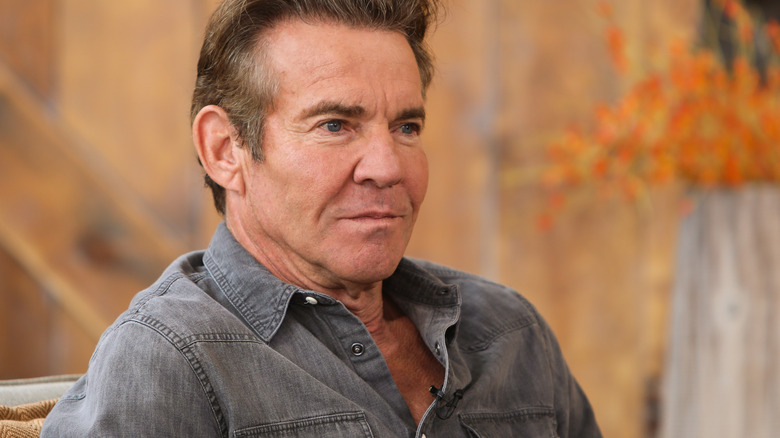 Paul Archuleta/Getty Images
Dennis Quaid is joining the cast of "1883: The Bass Reeves Story," Deadline reports. He will play Deputy U.S. Marshal Sherrill Lynn. Quaid is the latest big-name star that Taylor Sheridan has cast in his "Yellowstone" franchise. "Yellowstone" stars Kevin Costner as the Dutton family patriarch, and the spinoffs "1883" and "1923" have attracted the likes of Sam Elliott, Harrison Ford, and Helen Mirren. Quaid will appear alongside David Oyelowo, who spent seven years attempting to get "The Bass Reeves" story off the ground. No other casting announcements have been made for the show, which is set to air on Paramount+.
Like Sheridan, Quaid was born and raised in Texas, and the actor has dabbled in the Western genre. In 1998, he made his directorial debut with the made-for-TV film "Everything That Rises," which follows a Montana rancher whose land has been passed down over many generations. Sound familiar?
For his part, Quaid sounds excited to work with Sheridan, who serves as executive producer as well as director of the first two episodes of the six-part series. "Riding horses, shooting guns," Quaid said (via Yahoo). "You know, making mayhem at 4 in the morning."