Cobra Kai Never Dies, But The Season 6 Trailer Brings An End To The Saga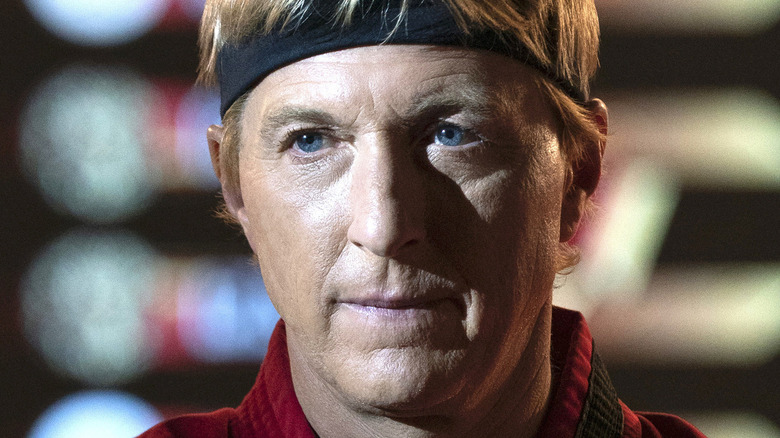 Netflix
When it comes to revivals of beloved franchises, none strike harder than "Cobra Kai." Since 2018, the "Karate Kid" sequel series has seen Daniel LaRusso (Ralph Macchio) and Johnny Lawrence (William Zabka) continue to butt heads while imparting their knowledge and wisdom to a new generation of fighters. That said, the titular dojo is still being run by sociopaths, which forces the old rivals to put their differences aside and fight for the karate scene's soul.
However, the ending of "Cobra Kai" Season 5 indicated that the future might be positive for Daniel, Johnny, and their students. Terry Silver (Thomas Ian Griffith) was arrested after being exposed as a cheater and a fraud, seemingly bringing the dojo war to an end. Of course, John Kreese (Martin Cove) also escaped from prison, and he's bound to create some headaches for his old foes.
It remains to be seen how the events will unfold in "Cobra Kai" Season 6. In the meantime, Netflix has released a teaser trailer to get fans hyped for the final installment.
The Cobra Kai Season 6 trailer teases one last fight
"Cobra Kai" is going international in Season 6, but the first teaser stays close to home. It opens with a clip from "The Karate Kid" which shows teenage Johnny and Daniel squaring off in the All Valley Karate Tournament. We then fast forward to their adult selves staring each other down in the Cobra Kai dojo. Meanwhile, Johnny's narration says, "Against each other, with each other... it's hard to keep track."
Afterward, Daniel's voice recalls the duo's rocky relationship until now, noting that they've come a long way since their teenage years. "The training, the tournaments, the rivalries, the lesson — it hasn't always been smooth. But after all this time, we've built something, together, to be proud of," he says over clips of notable moments from "Cobra Kai." Johnny then asks his frenemy if he has another fight left in him, so it's clear that more trouble is on the horizon for the karate veterans.
Unfortunately, the teaser doesn't tease any storyline developments or share any details about the franchise's future. Hayden Schlossberg previously told GamesRadar+ that the final season of "Cobra Kai" doesn't necessarily mean the end of this universe, but we'll just have to be patient in regard to finding out more information.