How David Koechner's Failed Audition For The Office Led To His Casting As Todd Packer
DFree/Shutterstock
"The Office" is populated with many characters who often straddle the line between adorable and detestable. Michael Scott (Steve Carell) spends Season 1 squarely on the wrong side of that line, but fearing cancellation after the first season, producers Michael Schur and Greg Daniels made intentional changes to Michael's essence. 
According to Showbiz Cheatsheet, Daniels told the writing team, "The reason we're back is largely because of 'The 40-Year-Old Virgin.' We need to take 20% of what is so endearing and likable about that character and swirl it into Michael Scott." Similarly, Dwight Schrute (Rainn Wilson) started the series as Dunder Mifflin's resident off-putting creepy weirdo, but by the series finale, many users had come full circle with their feelings about Scranton's top salesman. On the r/DunderMifflin subreddit, u/DIGGYRULES wrote, "[I] ended up really liking Dwight. Really rooting for him." An unnamed user echoed that sentiment, writing, "I ended up genuinely rooting for him in the finale." 
But one character who had no such positive evolution was traveling salesman Todd Packer (David Koechner), who started and ended "The Office" as the same old boorish, obnoxious blowhard. Koechner often plays his characters big and loud, and he seems the perfect fit for the bombastic Packer.  But it was a failed audition for the part of Michael and his friendship with Carell that ended up landing Koechner the role of Packer.
David Koechner's admiration of the British version of the show was an obstacle in his audition for the part of Michael
On a January 2023 episode of the "Office Ladies" podcast, hosts Jenna Fischer and Angela Kinsey played a clip from a previous talk Koechner gave at a "The Office" fan expo. Koechner said, "I was a huge fan of the British version of 'The Office,' so when I'm reading for Michael's part, I can't get past Ricky Gervais — the way he did it — like, I can't think of anything else.  So I didn't get it, obviously."
Koechner says he moved on to other projects, but after three episodes, "they had hired another actor [as Packer] and it just wasn't working." Koechner was unable to audition for the recasting of Packer at that time because he was shooting the film, "Snakes on a Plane," but he revealed that his then-15-year friendship with Carell (the two had appeared together in "Anchorman: The Legend of Ron Burgundy" the year before "The Office" premiered) prompted Carell to suggest to Daniels, "Why not Koechner?"  Koechner added: "There's a million reasons why not, but they ignored all of those and hired me anyway."
The actor who failed as Todd Packer is a familiar face and voice to TV fans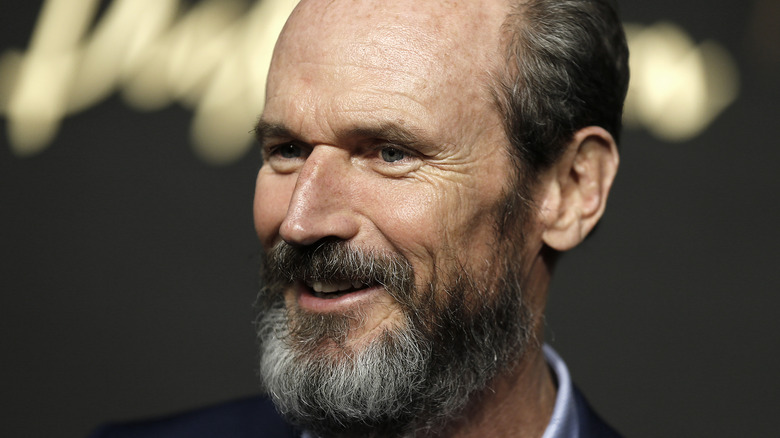 John Lamparski/Getty Images
By now you may be wondering just who that original actor cast as Todd Packer was. Toby Huss made just one voice-only appearance as Packer in "The Office" and that was in the very first episode when he calls Michael during a meeting with their boss, Jan Levinson (Melora Hardin), and makes an inappropriate comment about her on speakerphone. 
The poor fit on "The Office" didn't dissuade Huss from continuing on with his acting career, however, and he went on to rack up an impressive list of credits in both television and film (via IMDb). Huss had an unforgettable appearance as "The Wiz" in one episode of "Seinfeld," but he might be best known as John Bosworth in "Halt and Catch Fire." He also  contributed a five-episode arc in "Brockmire" as Johnny the Hat and made brief appearances in "Veep," "Brooklyn Nine-Nine," and "The Righteous Gemstones." 
The voice that makes the crude comment about Jan can also be heard in 164 episodes of "King of the Hill" as multiple characters, including Hank's father, Cotton, and loyal Strickland Propane employee, Joe Jack. In 2022, Huss also played Weird Al Yankovic's estranged father, Nick, in "Weird: The Al Yankovic story." While Koechner and Huss both went on to enjoy long and varied Hollywood careers, they share only one project in common other than "The Office" — the 2007 table tennis mockumentary, "Balls of Fury."