Hunters' Greg Austin Sees Similarities Between His Character And The Joker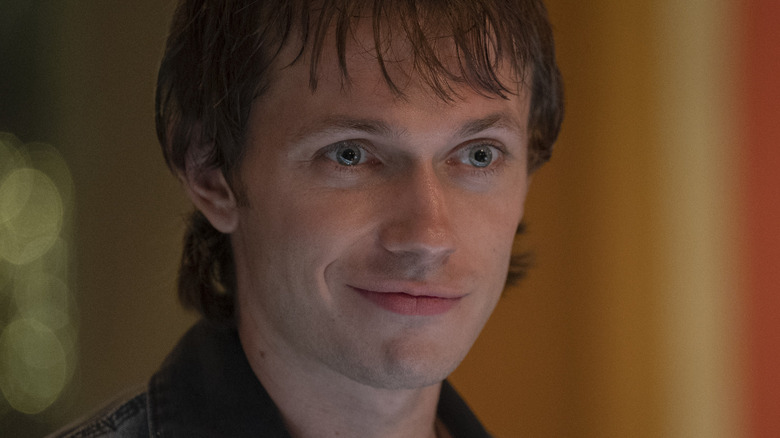 Amazon Studios
Amazon Prime Video's "Hunters," which premiered its second and final season in January 2023,  is set in 1977 New York City and follows Jonah Heidelbaum (Logan Lerman), a young math genius who teams with a group of Nazi hunters to track down a group of escaped Nazi officers who are working to create a Fourth Reich, in succession to Hitler's Third Reich, in the United States. The Nazi hunters, led by philanthropist and Holocaust survivor Meyer Offerman (Al Pacino), include master of disguises Lonny Flash (Josh Radnor), forgery expert Roxy Jones (Tiffany Boone), and combat expert and Vietnam war veteran Joe Mizushima (Louis Ozawa).
On the other side of the coin, one of the central antagonists is Travis Leich (Greg Austin). Travis is an American Neo-Nazi who becomes involved in the Fourth Reich and shows his true colors right away when he kills Jonah's friend, Arthur "Bootyhole" McGuigan, (Caleb Emery), but shows even more evil layers in the Season 1 finale. After being arrested, Travis at first renounces his Nazi beliefs to his parents, only to reveal to a Jewish lawyer that he has no plans to stop his plan with the Fourth Reich — he then kills his lawyer and yells out hate speech.
It's no easy character to play, to say the least, but Austin thinks there are parallels between Travis and another rewarding — and iconic — character: the Joker.
Austin thinks that Jonah and Travis have a Batman-Joker relationship
In a January 2023 interview with ComicBookMovie.com, Austin was asked to elaborate on the hero-villain relationship between Jonah and Travis that audiences have seen play out over the two seasons. In response, Austin compared the characters' relationship to that of another famous hero-villain duo.
"The idea with Jonah and Travis is there's a lot of comic book themes throughout the show, and there was always a slight Batman-Joker sort of vibe to them," Austin said. Further, he expressed his admiration for his scene partner in creating that dynamic. The actor continued, "I love Logan. He's great. He's super chill, and just effortlessly professional, and wonderful at his craft. So, getting to chase him around all season for the last two seasons has been an honor, and yeah, it's just been fun. Logan is wonderful, as I've said. It's been an honor."
When asked what it was like filming the action scenes, Austin replied, "Just walking on-set on the day of doing these scenes generally, and just blocking out any movement we're doing, any action we're doing together, and Logan is super chill and giving as an actor, so, it's always incredibly easy and painless working with him. So yeah, it was simple, honestly."
Creator David Weil has spoken about his decision to keep Travis alive in the series finale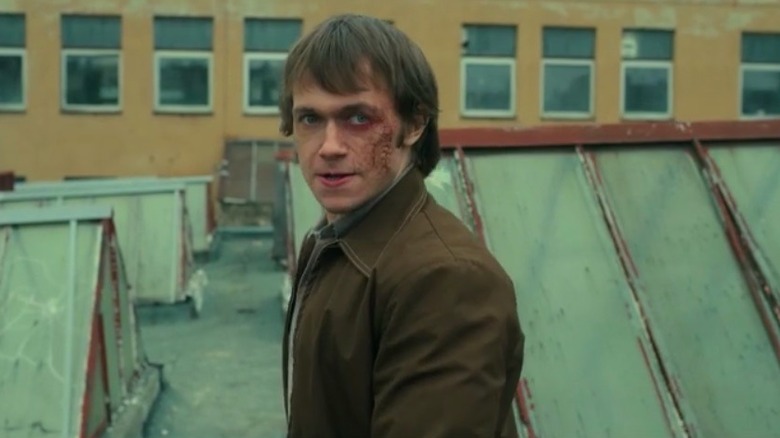 Amazon Studios
Following the release of "Hunters" Season 2, creator David Weil spoke to The Hollywood Reporter and was asked why he decided to keep Travis alive in the end instead of killing him off in what would have been a cathartic moment, especially had Jonah been the one to do it.
Weil said, "Travis surviving this season represents how the scourge of antisemitism, Neo-Nazism, Holocaust denial lives on through 2023. Unfortunately, evil will always exist, and as our characters say in the piece, 'Evil does not retire. So, why should we? How can we?'" The creator went on to say that they treated Travis as a kind of personification of all types of ongoing evil in the world. Thus, they didn't want the story to be tied up too neatly with Travis dying because it doesn't reflect the real world.
Travis being alive is also a solid reason for Jonah to continue hunting, which he ultimately decides to do after contemplating giving it up. Weil said, "It is safe to assume that [Jonah's] birthright responsibility and legacy is still going to weigh very heavy on him for the rest of his life, yes. Travis is still out there, and Travis really is the character that brings us to the present with the advent of antisemitism, Holocaust denialism, Neo-Nazism. So, Jonah's journey, his birthright, I think becomes more and more important as the years go on."