1923's Marley Shelton Recalls Bonding With Helen Mirren Over Buggy Driving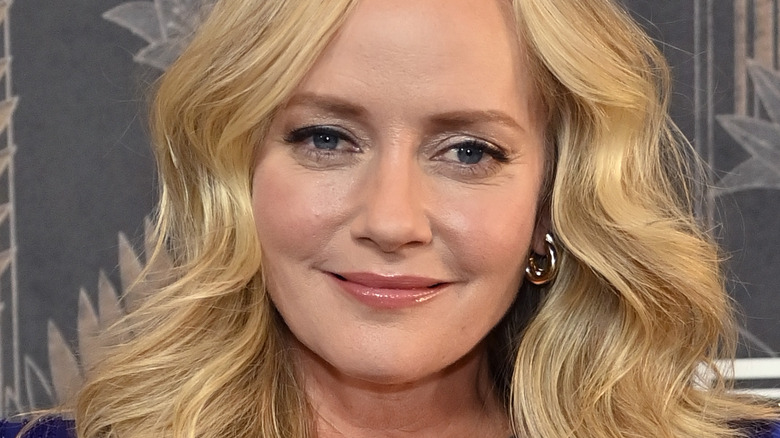 David Becker/Getty Images
The most recent "Yellowstone" spinoff, "1923," premiered the first half of its first season in December of 2022, with it set to resume in February of 2023. Created by Taylor Sheridan, "1923" — which comes sequentially, after "1883" — follows one generation of the Dutton family, including Cara (Helen Mirren) and Jacob Dutton (Harrison Ford), as they face various hardships of the time, such as Prohibition and financial depression. Ford's character, Jacob, is the brother of James Dutton (the "1883" character played by Tim McGraw).
Additionally, actress Marley Shelton plays the recurring character Emma Dutton, the wife of Jacob's nephew, John Dutton Sr. (James Badge Dale). Shelton is joined in the supporting cast by the likes of Brandon Sklenar, Julia Schlaepfer, Jerome Flynn, Darren Mann, and Timothy Dalton. But of course, the main stars of the show are Mirren and Ford, two big names, both of whom would easily be considered a significant get for the series.
Thus, it's understandable if Shelton, or any of the other cast members, may have been a bit starstruck — but Shelton has a fond memory of how she and Mirren bonded on set. Here's what the "1923" actress says about getting to know her famous co-star.
Shelton learned how to drive a buggy together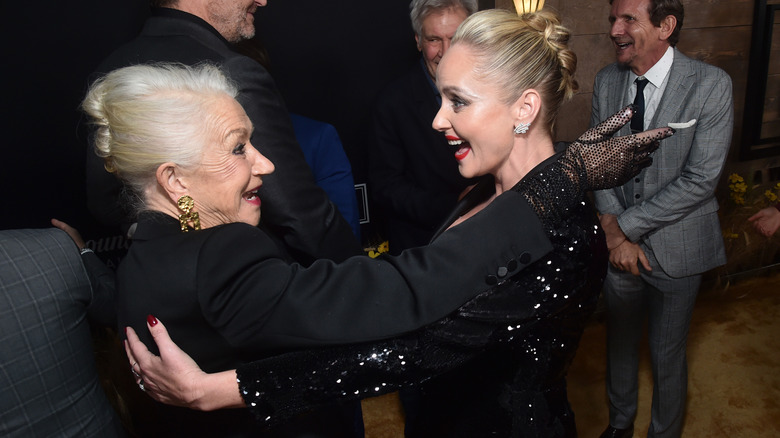 Alberto E. Rodriguez/Getty Images
In December of 2022, Emma Dutton-portrayer Marley Shelton, alongside her co-star (and on-screen husband) James Badge Dale, spoke with Decider about their characters' arcs and their experience working on "1923." During the discussion, Shelton described what it was like to work with Helen Mirren.
Noting that they met during "cowboy camp," Shelton said, "She came floating in during breakfast and came up to our table before our morning ride. She said, 'You must be the actors' and asked if she could sit down. We were all pretty star-struck, and she just immediately put everybody at ease as she does. She has such a great sense of humor. Like that, we were just off to the races."
After their first meeting at breakfast, Shelton and Mirren had the same task: learning how to drive a buggy. Naturally, they connected over the experience. Shelton said, "Both Helen and I had to learn how to drive a buggy, so we bonded over the challenges of buggy driving. She was so game and ready to dive in. She set the tone really for everybody on set just by her amazing work ethic and playfulness."
Describing what the bonding experience looked like from the outside, Dale chimed in, "We'd be at Cowboy Camp, just hanging with the wranglers and horses, and you'd see Marley and Helen going 60 miles an hour on a buggy. It was wild!"
Mirren was glad to drive a buggy — so that she didn't have to learn how to ride a horse
In December 2022, Helen Mirren sat down with The Wrap for an interview — and during the discussion, she too touched upon the fact that she had to learn how to drive a buggy. As it turns out, the whole buggy idea came down to one crucial detail: Mirren didn't think she could convincingly ride a horse.
Mirren said, "I have actually ridden a horse many times, but I can't ride. I've fallen off a horse many times. And I'm older now. I said to [creator] Taylor [Sheridan] right at the beginning, 'I don't ride, I can't ride.'" Mirren thought Sheridan would respond by saying they'll find a way to teach her properly. However, Sheridan had another idea. The actress continued, "Happily, he didn't say that. He said, 'No, it's all right. I'm going to put you in a buggy.' I did learn how to ride a buggy, drive a buggy, a horse, and a carriage, as we say in England. But I didn't have to learn to ride. I was quite relieved about that."
All in all, Mirren is happy to return for a second season of "1923." Mirren concluded, "Yes. It's been a journey into the unknown, the whole experience, and very, very exciting."